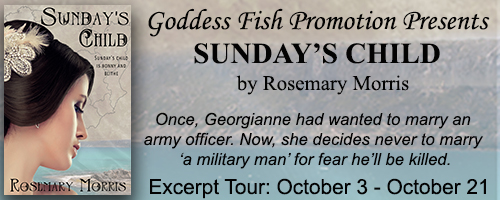 This post is part of a virtual book tour organized by
Goddess Fish Promotions
. Rosemary will be awarding a $20 Amazon or B/N GC to a randomly drawn winner via rafflecopter during the tour. Click on the tour banner to see the other stops on the tour.
Georgianne Whitley's beloved father and brothers died in the war against Napoleon Bonaparte. While she is grieving for them, she must deal with her unpredictable mother's sorrow, and her younger sisters' situation caused by it.

Georgianne's problems increase when the arrogant, wealthy but elderly Earl of Pennington, proposes marriage to her for the sole purpose of being provided with an heir. At first she is tempted by his proposal, but something is not quite right about him. She rejects him not suspecting it will lead to unwelcome repercussions.
Enjoy an Exclusive Excerpt:
"I daresay there is much a gentleman does not remark upon to his family."
She inclined her head; her frown deepened. Why should his sister, whom she had never met, take the slightest interest in her?
The earl's smile did not warm his eyes. "I dare say you wonder why she mentioned your name."
"I confess to curiosity, my lord."
"She described several eligible young ladies."
"I am not eligible because I have not yet entered polite society."
"It does not mean you are ineligible, Miss Whitley."
He approached her. Wary of his intentions, Georgianne moved away from the hearth. She mistrusted the feverish glitter in his eyes.
"The daughter of a hero of good family is most definitely eligible. After all, one cannot thank our brave soldiers sufficiently for keeping Napoleon's brutal army at bay. Besides, I am not seeking a lady from a noble family to be my wife; I am seeking a modest young lady of good birth to marry me. One who will be grateful to me for a title and all else I have to offer." She eyed him with distrust as he continued. "Doubtless, like me, you are still in mourning. My sons are dead: one died on the hunting field, the other in battle."
"My condolences, my lord." She retreated from his steady advance until she stood with her back to the window.
About the Author: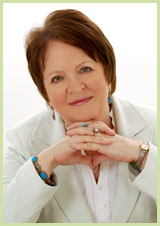 I write historical fiction, so I am fortunate to be only a 20 minute train journey from London, which offers so many possibilities for research about times past. So many things spark my imagination. During the last two years I took an open tour bus ride around London. Amongst the sky scrapers and modern buildings Old London can be discovered, including the street which J.K.Rowling used as a model for Diagon Alley in her Harry Potter series.
For as long as I can remember, I enjoyed studying history, reading historical non-fiction, historical fiction and its sub-genres. I enjoy novels in which the characters' behaviour is appropriate for the era in which they lived.
The more I read the more fascinated I become, and the more aware of the gulf between historical periods and my own. Our ancestors shared the same emotions as we do, but their attitudes and way of life were different to ours. One of the most striking examples is the position of women and children in society in bygone ages.
I don't think it is possible for a novelist to be 100% accurate about life in former ages. However, the characters in my novels are of their time, not ones dressed in costume who behave like 21st century women. Of course, it is almost impossible to completely understand our ancestors, but through extensive research I ensure my characters observe the social etiquette of their lives and times.
My previously published novels, set in the early 18th century and in the ever popular Regency era, and my previously unpublished historical fiction will be published by Books We Love as e-book editions and paper books.
Website | Goodreads | Blog | Facebook | Twitter
Buy the book at Amazon or Barnes and Noble.