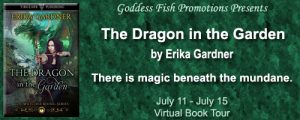 This post is part of a virtual book tour organized by
Goddess Fish Promotions
.Erika Gardner will be awarding off Amazon her book to five-six winners, one per day of the blog tour, to randomly drawn winners via rafflecopter during the tour. Click on the tour banner to see the other stops on the tour.
Suck it Up, Buttercup- We All Need Critique
Let's face it. Most people don't really want constructive criticism. Oh, they say that they do, but that's akin to the lady raving about how fabulous those bricks she calls bran muffins are. You know you'll be reaching for one of the yummy chocolate chip ones as soon as she leaves.
In general people crave affirmation. They long for someone to say, "This is a fabulous bit of writing! Don't change anything!" I mean maybe you as a critique partner can add a couple of commas, point out a run-on sentence, but that's about it.
That may be what people want, but it's not what they need. It's really not what their manuscripts need. Those fledgling stories need to be examined by fresh eyes, eyes who aren't in love with the newborn prose on the page. In other words, not their creator. Your works in progress must be their very best to survive in an increasingly competitive industry. In the writing process your precious story may have to be gutted and then put back together again. Repeatedly.
The gutting part sucks.
Believe me, I've been there. Heck, you've probably never met a bigger cry baby. Well, except perhaps some of the other gals in my critique group. I am very fortunate in that I am part of a tight knit and high-functioning group. Three are published, two more work locally as reporters, one even teaches writing at the local junior college. We meet weekly, whether we have submissions to discuss (aka eviscerate) or not. In the beginning the road ran bumpy (understatement). Again, critique is hard. No one wants to hear that their protagonist is unlikeable or that their plot premise is contrived. That witty bit of dialog? Does nothing to advance the plot. It's cute- now, cut it. Oh, and your big "twist" … snooze. Water works city.
At first I couldn't help being resistant to some of the group's suggestions. I'm the author, after all. I don't have to take their feedback to heart. That all changed a few years back. I was running through like the fifth draft of the book being featured here today, The Dragon in The Garden. It was a good story, fun characters, had all the glimmers one hopes, but something didn't quite jell. Like a car engine running a tad rough. One of my partners, Jen, stepped up and undertook figuring out where the malfunction might be. She spent a lot of time on it and, frankly, marked the crap out of my baby.
It hurt. As she ran through the list of "tweaks" I needed to make my heels dug in and stubborn took over. Jen glanced at me and said, "You know I've spent a lot of time I don't have on this. I have my own work that needs attention." I remember straightening, blinking back tears, and, finally, listening. You see, if someone is willing to put the work into your piece then they believe in you. They care enough to make the manuscript better. Believe me, they have other things to do. Don't shut down. Shut up and take it all in.
The secret lies in remembering that critique is not tearing you down. It's bringing the standard of your work up. This industry demands a thick skin. If you can't handle hearing a different opinion on your work then maybe you aren't ready for what the industry agents, editors, reviewers, readers will throw at you.
That which does not kill us makes us stronger. Period. Mic drop.
There is magic beneath the mundane and in The Dragon in the Garden, Siobhan Orsini witnesses it all. No lie can fool her, no glamour or illusion can cloud her Sight. She sees through them all and wishes she could close her eyes. Returning to face her past, Siobhan inherits her grandparents' house in California's wine country. She encounters a talking dragon, a hot fallen angel, a demon lord, a Valkyrie, and, oh yes, her ex-boyfriend. And that is just in the first twenty-four hours.

It's time to find out why she has this power.

Siobhan seeks out the Oracle and learns that only her Sight can help mankind navigate the travails of an ancient war. Our world is the prize in a battle between the dragons, who would defend us, and Lucifer's fallen angels, who seek to take the Earth for themselves. Using her gift, she will have to make a choice that will decide humanity's future.
Enjoy an Excerpt:
I'll never, for all my days, be able to explain the dread radiating from its presence. The sensation came from the thing's eyes. They burned with an electric red, yet, this flame burned in a cold fire, devoid of any warmth or compassion. Though it wore a humanoid form, nothing remotely human emanated from it.
I drew in breath to scream for Daisy, Turel, anyone. More than anything I wanted to call for help, to be as loud as possible. Instead, I whimpered. No other sound came. The thing turned its withered head to the man in the chair. "Abraxas, it speaks. Never do they talk."
"That's because they usually don't wake up and even if they did, they couldn't see you," explained the man named Abraxas. "This one is special."
"Yes," it rasped. "I see it is. I like it, so delicious, my ducky." The thing's voice rasped as thin and emaciated as its form. The death rattle sound of those words conjured nightmares from the dark corners of my mind, places where nameless terrors lurked, and my fears scurried like beetles under a rock. The faint smell of death and decay clung to the air around us.
"What are you?" I managed to whisper. My voice sounded faint, a breath, nothing more.
The thing floating over me cackled, an insane, evil sound. "Now it speaks to me. I love its fear. See it? So pretty, wants to run and hide, but can barely move." It drifted an inch or two closer to me and I cringed, but couldn't look away; its hellish eyes consumed me. "Soon it will never move again. Never, ever move, little pig."
About the Author: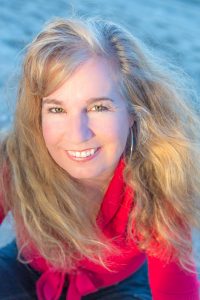 Erika is a sixth generation San Franciscan of Irish descent. She attended the University of California at Davis and completed degrees in Medieval History and Biological Sciences. A lifelong lover of books and a scribbler of many tales from a young age (her first story was completed at age five) she turned to writing full-time in 2011.
On a personal level she loves spicy food, twilight, dark chocolate (with sea salt-yum!) and nickel slots at Vegas. Erika lives for time with friends, a nice glass of red wine, "Buffy the Vampire Slayer" & "Doctor Who" and good conversation. Her favorite things to do are running, cooking, reading, needlework, gardening… and of course, writing. Erika's music of choice is heavy metal. To pick her out in a lineup you should know that she is very short, fairly loud, and has dark eyebrows. The rest, as her hero Anne McCaffrey once said in her bio, "is subject to change without notice".
Erika resides in Northern California with her incredibly hot husband, their three amazing kids, and their chocolate Labrador named Selkie. To reach Erika regarding her books, wine recommendations, or to debate which Iron Maiden album is the best (clearly, it's Brave New World), you can find her online at her website.
Website | Blog | Twitter | Pinterest | Facebook | Goodreads.

NOTE: THE BOOK IS $0.99 AT AMAZON.

Buy the book at Amazon, iTunes, Barnes and Noble, Kobo, or Smashwords.