This post is part of a virtual book tour organized by
Goddess Fish Promotions
. p.m. terrell will be awarding Celtic necklace containing the Tree of Life. USA only to a randomly drawn winner via rafflecopter during the tour. Click on the tour banner to see the other stops on the tour.
Strangest Experiences
A funny thing happened this morning. Given a list of blog topics to choose from, the oddest memories began creeping into my consciousness. For example, when I considered my favorite recipes, all I could think about was my mother's cooking. She was the only mom in the neighborhood that would make grilled cheese sandwiches for all the neighborhood kids and forget to put the cheese in. Then there was the time that she remembered but didn't realize each slice of cheese was individually wrapped. In both instances, the expressions on my friends' faces were priceless.
Mom was thrilled when cake mixes were introduced. But when she read the instructions about adding eggs, she thought that certainly you weren't expected to add raw eggs to a cake, so she scrambled them. The result was layers about the depth of pancakes with large lumps of scrambled eggs interspersed throughout.
Then there was the meatloaf. While biting into a chunk, my tooth hit something hard—a penny. Turned out, it had several nickels and pennies in it. I had this vision of Mom tossing in bread crumbs and money with the ground beef.
Long after I was married with a son, we visited my mom. I remember my son biting into macaroni and cheese and asking me why it crunched the way it did. I told him to inspect every bite because her cooking was always suspicious. Fortunately, no one was ever harmed; no one ever broke a tooth or had to have their stomachs pumped out.
I eventually became a good cook, or so I'm told, by watching cooking shows and following cookbook recipes, though anything more than five ingredients makes me panic. And I don't believe I have ever cooked a full meal without thinking of my mom and wondering what she was thinking as she cooked. She passed away ten years ago, and I still miss her cooking.
CIA operatives Vicki Boyd and Dylan Maguire are back in the 6th book of the award-winning Black Swamp Mysteries Series. Vicki and Dylan journey to Ireland for their honeymoon and while they are there, they agree to pick up a package from a Russian spy containing plans for Russia's latest stealth technology. But when the Russian decides to defect, they find themselves trying to get him safely out of the country. They also discover the Kremlin has uncovered their identities and now Vicki and Dylan flee across the island. With breathtaking descriptions of Ireland's rugged coast and the Northern Lights, romance and suspense come together again.
Enjoy an Excerpt
Dylan set the kettle on to boil and made his way to the kitchen door. He opened it quietly, lest he awaken Vicki, and stepped outside onto the small stoop. It was half past seven but the skies were still dark; it would be another hour before the sun had fully risen. It had rained during the night, leaving behind a heady perfume of wet sod and sweet winter jasmine.
His eyes traveled the length of the tree-lined winding drive, watching the branches dip as though bowing to an invisible monarch. He wasn't able to see beyond the far lawn; a person could be standing just on the edge of the grass and the mists would obscure him completely. But that's the way it was here in Ireland, he thought. The mists and the fogs could morph in front of one's eyes and if he allowed himself to go there, they would take his mind into places better left alone.
A sudden gust rounded the corner of the house and struck him fully and for the briefest moment, his weight was shifted to his toes as he fought to keep his balance. Ah, the wind, he thought as he settled again. She was as much a part of Ireland as the rain. Never referred to as it, it was always she: She's a blustery one today or She must be sleepin', she's so slow. She because the winds were just like a mistress: they could wrap their cool arms around you and calm your nerves; they could give you that extra push up the hill or propel you down one; or they could change in an instant from cajoling to wicked, catching you when you were least prepared. And then there were the lazy winds; the winds that rolled in from the Atlantic or the North Sea on a bitter winter day; lazy because they wouldn't take the time to go around you, they'd go straight through you instead.
He looked up, registering the gray clouds against the dark skies. She's comin' in from the Atlantic, he thought as he watched them roil and tumble toward the east. But there was no more rain in her, at least not now; perhaps later in the day, there would be a mist or two. Now, she was simply playing; skittering across the fields, rippling the grasses, awakening the sheep and the cows as they were set out to pasture half-groggy with sleep.
The teakettle began to whistle and reluctantly, he moved back inside and removed the kettle from the massive stove. He would keep the stove on for awhile, at least; it helped to chase away the chill that inevitably found its way into every nook and cranny. Besides, there was breakfast to be made.
While his tea steeped in a china cup, he placed another peat brick in the fire. The fireplace was along the wall between the kitchen and the living area and visible from both rooms. His eyes dropped to the bearskin rug that lay rumpled in the living area.
He could still see Vicki lying there as she had last night, the fur soft against her skin, the glow from the fire illuminating her curves, her long hair tumbling over her breasts. He had kissed and licked her nipples until she was writhing under him; he had followed those curves with kisses, spreading her legs to find her filled with desire. She had pulled him down to her, her moans filling the air, her fingers threading through his hair, kneading his back, feeling his want. The world around them ceased to exist, his vision filled only with her: amber eyes radiant, silky skin glistening, legs that wrapped him in a cocoon of love.
About the Author: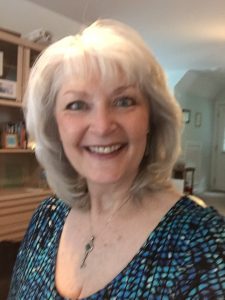 p.m.terrell is the pen name for Patricia McClelland Terrell, the award-winning, internationally acclaimed author of more than 20 books in several genres, including suspense, historical and non-fiction. Prior to becoming a writer, she owned two computer companies in the Washington, DC with a specialty in combatting computer crime. Her clients included the CIA, Secret Service and Department of Defense. Technology is often woven through her suspense thrillers. Terrell is of Irish descent, and Ireland often figures prominently in her books as well. She has been a full-time author since 2002 and currently travels between her home in North Carolina and Northern Ireland, the home of her ancestors. She is also the founder of Book 'Em North Carolina's Writers Conference and Book Fair and The Novel Business.
Website | Blog | Twitter | Facebook | YouTube | Pinterest | LinkedIn
Buy the book at Amazon.