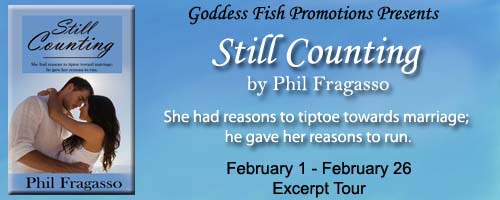 This post is part of a virtual book tour organized by
Goddess Fish Promotions
. Phil will be awarding a $25 Amazon or B/N GC to a randomly drawn winner via rafflecopter during the tour. Click on the tour banner to see the other stops on the tour.
Adam Donatello and Nina Morales share an immediate and powerful attraction, and their future together seems assured. But love is difficult enough without adding complications – real or imagined – to the mix. Nina sees life as a thousand shades of gray, while Adam tends towards black-and-white. He wants to move fast; she needs time. Nina sees her past liaisons with women as immaterial to their relationship, while her disclosure drives Adam to a state of irrational jealousy. He doesn't know how he could compete with a woman; and his suspicions – which Nina views as hypocritical – lead them both to make decisions they may live to regret.
Enjoy an exclusive excerpt:
Nina got into the driver's seat and I leaned in to kiss her. She shook her head.
"Kissing in the car is gross," she said. "How many times do I have to tell you?'
I extended my arm towards her. "Can we at least shake hands?"
"We could, but that would be stupid." Nina handed me one of those sleep masks that the airlines give you on red-eyes and international flights. "Put these on, please."
"You're kidding, right?"
"Do I look like I'm kidding?"
Actually she did. She had scrunched her face into a scowl and narrowed her eyes, but the combination was far more comical than frightening. Plus, she was struggling to keep from giggling.
"Isn't it a little early in our relationship to get kinky?" I said.
Nina crossed her arms. "I'm not into kink and I'm not into backtalk. So put on the damn blinders or go back upstairs. Your choice."
"Yes, ma'am." I slipped the sleep mask over my head and adjusted the straps.
"Can you see anything?" asked Nina.
"Nothing at all."
"How do I know you're telling the truth?"
"Test me."
"How many fingers am I holding up?"
"Four."
"You little liar. You can see perfectly well."
She pronounced "perfectly" the way I would imagine an English nanny scolding a wayward child.
"It was a lucky guess, I swear. I can't see a thing."
"I know. I wasn't holding up any fingers. So at least I know you're honest. I like that in a man."
Nina shifted the car and off we went.
"So where we going?" I asked.
She poked a finger into my shoulder. "If I wanted you to know where we were going do you really think I would have blindfolded you?"
"Good point. So how was your day?"
Nina cleared her throat. "Did I say you could talk?"
I shrugged. Maybe this chick really was a psycho who forgot to take her meds this morning. "I guess I thought it was assumed. It's kind of what people do on this planet."
"Things work a little different on Nina's planet. So I'll do the talking for both of us."
"Uh, okay," I stammered. "Sorry?"
At that point the giggle Nina had been suppressing turned into full-body, spasmodic laughter. "You are way too easy. You're like the most gullible person I've ever met."
About the Author: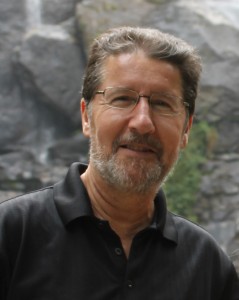 Phil Fragasso sold his first article at the age of 16. Since then he has written and published a wide variety of books, articles and essays. After many years as a corporate marketer, he left to pursue endeavors that were more fulfilling personally and more contributory on a societal level. Today he focuses his time on writing and teaching.
Buy the book at The Wild Rose Press, Amazon, iBooks, Barnes and Noble, or Kobo.