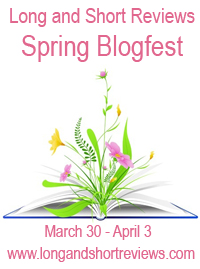 Win an ebook copy of Not Bound by Time by commenting on this post. Also click on the banner to enter the rafflecopter to win a $25 Amazon/BN GC, one of four book packs, or one of four swag packs (US only on book and swag packs).
What better way to celebrate Easter than with my Inspirational Romance short story, "Like a Lily"? The novella was on Amazon's genre Christian Fiction Collections and Anthologies best seller list for several weeks and on the Top Rated Christian short stories for over a year.
It's a quick read with a clean contemporary romance just right for a quiet moment during the Easter festivities.
Excerpt:
It was official! The day had finally arrived. On most February mornings, Susan Williams would bury under the covers, but she couldn't sleep. Today was the grand opening of her florist shop. She jumped out of bed and planted her feet firmly on the circular braided rug, then shoved her icy toes into warm slippers and padded across the polished hardwood floor. She peered outside. The sun hadn't yet risen over the snow-capped mountains to the east.
She'd graduated from the state university with a degree in business two years ago, but sitting in a stuffy office behind an oversized desk didn't suit her. Even as a little girl, she loved her mother's flower garden and picked roses, carnations, and sweet peas for her Nana. Susan would arrange them in a vase and carry them next door for her grandmother's praise. Susan sighed. That was a very long time ago. Nana always told her she'd make a wonderful hostess, wife, and mother. She hadn't met any of her grandmother's expectations, not yet anyway.
Susan had her heart broken once—and once was enough. She'd dated Michael for four years. The week before graduation she discovered she would not be included in his plans to transfer to another state for his law degree. Michael gave her the usual speech that it would be better for both of them, and if they were meant to be together, then they'd find each other again. Susan said goodbye, vowed she wouldn't give her heart away so easily a second time, and held little hope of finding anyone in such a small town. Winton Springs just didn't have a thriving, unattached male population.
The reviewers said:
"Set in a small town, Like A Lily is a charming Easter story of an unexpected romance. I loved this novella. Once I started reading, I could not put it down until the final word." Penelope Childers
I enjoyed the beautiful descriptions of the spring and Easter blossoms in the shop and the way the novel kept a smile on my face from beginning to end." L. Paley
I'm sure you'll enjoy it, too. ~Victoria
She decided long ago to be called Susan, not exactly the name her parents had given her, but the one she'd chosen…

When she first opens her dream shop, Susie's Flowers, on a cold February morning, a new chapter in her life begins. She doesn't anticipate it will include meeting the most eligible bachelor in tiny Winton Springs.

Then Ben Turner, the new minister at North Point, walks into Susan's shop to order flowers for the Easter service, and decides to ask her for help. He needs to find an apartment and a volunteer for the missions committee.

She assumes he wants friendship. He'll take that, for now, but when he discovers her real name, things change…

Will their friendship be enough for her, too, or will she break her vow not to give her heart away a second time?
About the Author: Victoria Pitts Caine is a native Californian. Her varied interests include genealogy and exotic gemstone collecting both of which she's incorporated into her novels. While her genre is inspirational, she has branched out into other areas such as her current release, Not Bound by Time, and a YA mystery/suspense.
The author has received recognition from: Enduring Romance Top 10 Picks for 2008, William Saroyan Writing Conference, Byline Magazine, Writer's Journal Magazine, HI Families Magazine and The Southern California Genealogical Society. Her first novel, Alvarado Gold, was published in 2007. To complete the trilogy which began with Alvarado Gold, Cairo was published in 2013 and The Tempering Agent in 2014.
She is the mother of two daughters. Victoria and her husband enjoy travel, church service and emergency radio communications.
Website | Blog | Facebook |
Twitter
Buy the book at
Amazon
.