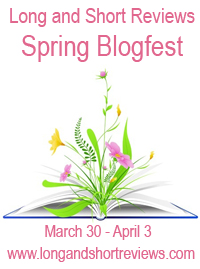 Win a $25 gift certificate for Amazon by commenting on this post. Also click on the banner to enter the rafflecopter to win a $25 Amazon/BN GC, one of four book packs, or one of four swag packs (US only on book and swag packs).
New Beginnings—a Symbol of Spring
Many years ago my husband, two small sons, and I moved to a neighboring state away from my hometown where my parents still lived. Our two-generational family remained close, despite the increased distance now separating us. Yet despite the miles, we spent major holidays together, and I cherished the fact that my sons had this opportunity to build and store memories of special times spent with their grandparents.
Easter was one of those special times. My mother always made Hungarian nut roll to complement our assortment of Easter breads on Sunday morning, a tradition that had been passed down in her family for generations. There were also family Easter egg hunts in the backyard if the weather cooperated, and if it didn't, then the family room became the temporary "backyard." And oh yes, the annual egg hunt on the sprawling lawns of the college campus in our town, sponsored by the Kiwanis club for nearly 100 years, also rated high on our list of weekend activities. Finally—the highlight of all—joyous Easter morning celebrations the next day.
One year in particular as my folks drove the Interstate on their way to our home to celebrate Easter with us, they stopped at one of the busy rest stops that dotted the route. The rest stops were often located in rural, wooded waysides, and such was the case where they had parked their car. While Dad waited for my mom to visit the coffee cart, an added bonus provided by volunteers during busy travel times, he meandered down a sidewalk that bordered the parking lot. He'd wanted not only stretch his legs but stretch the horizons of his soul–for indeed my father had been dealing with a number of chronic illnesses that had caused him discouragement and depression. Suddenly, off to the side of the pathway, Dad spotted a young brown rabbit sitting very still in the knee-high, spring-green grass, whiskers twitching as it eyed Dad with liquid dark eyes. Ah, an Easter message, my father had decided. An epiphany, of sorts. A sign from above.
Yes, Dad later told me how seeing the young rabbit in the new spring grass had given him new hope, new courage, new strength to carry on, in spite of his many health challenges. Now every time I see a wild rabbit, I can't help but remember that conversation with my father. I reflect on the beauty of all things new—and weave them into the tapestry of my own ever evolving life.
Sarah Pendleton, a first grade teacher in Portland, Oregon, feels duty-bound as she returns to her hometown of Mistletoe Valley–and to her conflicted past. While growing up in her small, rural community Sarah lived with her grandparents, who served their community well–especially her grandfather, a pastor. Yet Sarah despised being the "perfect preacher's kid" in a small town where everyone knew everyone else's business. Rebellious, she fell for a stereotypical "bad boy" during high school and after graduation, they married. When they learned she was pregnant, he left her for parts unknown. Unable to support the baby, Sarah gave her up for adoption, yet ever since, guilt has consumed her. She believes she doesn't deserve to have a second chance at being a mother again.

Now a decade later, she is the sole inheritor of her grandparents' estate. She must decide whether to sell the property, or make the painful choice of staying in a town where folks remember her rebellious past.

She meets the strikingly handsome real estate agent Rich Stevens. He also works as a youth pastor at the church where her grandfather had served. Her attraction to Rich is immediate and powerful, but she's faced with not one, but two prickly thorns: He is a grieving widower, and his 8-year-old daughter, Carly, is grieving too. He believes that there can never be another woman in his life, and he can succeed in raising his daughter alone.

Sarah grapples with her own push-pull feelings for Rich. Should she hire him to sell her grandparents' property, knowing full well he's more than just a business acquaintance to her? Should she stay in Mistletoe Valley, or go back to her job in Portland? The truth is, if she were to fall in love with him, a man of the collar, she'd be right back to where she started as a child—struggling in vain to live up to others' expectations. Worse, Rich's daughter, Carly, is the embodiment of the baby she left behind, and if Sarah allows herself to get too close to Carly, that would only complicate her feelings for Rich.

Can Sarah and Rich overcome their personal demons and making a lasting commitment to each other? Can the two of them—plus Carly–become a forever family?
About the Author:Sydell Voeller grew up in Washington State, but has lived in Oregon for over thirty years. Throughout her twenty-plus-year writing career, her published novels for teens and adults have reflected her love for the Pacific Northwest's ocean beaches, inlets and waterways, evergreen forests, and mountains. Sydell resides in Oregon with her husband. They married in 1972 and have two grown sons and five grandchildren.
Pet lovers, the Voellers have provided a home for several cats, a dog, gerbils, hamsters, and a turtle–especially when their sons were growing up. (A small rodent cemetery still occupies one corner of their backyard.) She and her husband enjoy camping, reading, playing Scrabble, day trips to the Oregon coast, and spending time with their two pampered feline.
When Sydell isn't writing, she enjoys camping, walking, amateur astronomy, reading, and surfing the web. In 1987 after the publication of her first novel, she was named by the Washington County Mushaw Center, Woman of the Year in Communications.
Formerly a registered nurse, Sydell now teaches long distance learning writing courses, sponsored by the Long Ridge Writer's Institute. Visit Sydell on her website to view her book lists, bio, and photos.
Website | Blog | Facebook | Twitter
Buy the book at Amazon.