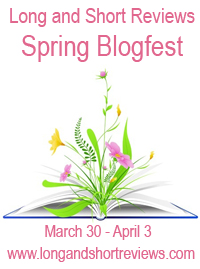 Win one of three free digital copies of Storm Rising by commenting on this post. The author will choose the three best comments. Also click on the banner to enter the rafflecopter to win a $25 Amazon/BN GC, one of four book packs, or one of four swag packs (US only on book and swag packs).
Spring in Cornwall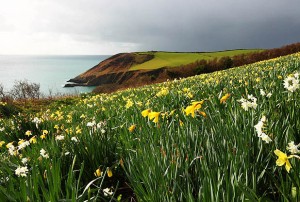 It's a beautiful spring day today. The sky is blue, the birds are singing and the fields and gardens are alive with daffodils. Spring in Cornwall is a glorious time of year, and one that makes you feel glad to be alive. There was a hint of frost when I got up at seven this morning, indicating that winter is still trying to hang on, battling it out with spring for as long as it can. A few snowdrops are still visible in the hedgerows as well, harking back to the colder days.
As I've been writing this, I've realised that I very rarely set any of my books in the springtime. I always seem to choose a season with more extremes of weather. A cold winter night when my characters can cuddle up together in front of a roaring fire, or get stuck up a mountain during a snowstorm; or a hot steamy summer's day when the heat of the sun causes passions and emotions to run high. I've had them caught in a violent summer thunderstorm whilst being chased by a lunatic with a gun; had them make love in a wind-lashed caravan by the sea, in November; but so far I haven't had any scenes set in the spring. The closest I've come to that so far, is in the book I'm currently writing. It opens with the hero bird watching on an almost deserted beach in late January. Hardly spring, but heading that way!
Spring is probably the season with most potential. The whole of the year is ahead of it; the hopefully, hot, barbecue-filled summer days; the wonderful luscious, fruitful autumn with the newly harvested fields lying golden in the sinking sun; and the exciting, cosy lead-up to Christmas. All in all, most definitely a season to set a book in!
Frontman of the grunge rock band NightHawk, Gideon Hawk has had enough of the rock star life. He is jaded, disillusioned, and haunted by the memory of an unresolved heartbreak. On a whim, he leaves the band in New York and heads to England in search of answers.

After attending the funeral of her estranged mother, Abigail Thomson makes a shocking discovery in her parents' attic. The still-raw memories that surface, along with even more startling discoveries, force Abi to face a devastating truth that leads to a series of life-changing events. She and Gideon must race against time to reclaim the life stolen from them a decade before.
About the Author:Rachael Richey lives in Cornwall, England, with her husband and children. Her first book, Storm Rising was published by The Wild Rose Press earlier this year, and three others in the series are due to follow soon. She likes chocolate, pizza, and Pinot Grigio.
Website | Blog | Facebook | Twitter
Buy the book at the publisher.