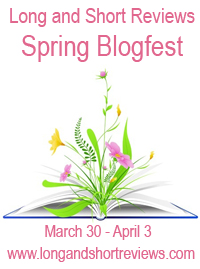 Win a $10 gift card to Amazon by commenting on this post. Also click on the banner to enter the rafflecopter to win a $25 Amazon/BN GC, one of four book packs, or one of four swag packs (US only on book and swag packs).
Ah, spring! Not my favorite season but a very welcome one :-) Living in Vermont, winter can last a long time, so seeing nature bloom once more renews both energy and hope. It's an incredibly refreshing sight when the trees start to bloom, the grass is once again green, and the flowers begin to grow. After a long winter, those things are almost enough to bring someone to tears…or throw a party :-)
I also get a big burst of energy to get things organized for the rest of the year. Things that can be done ahead of the next winter (which isn't fun to think about after just getting rid of the snow lol), so that I don't have to worry or leave them for the last minute and scramble to get them done. The weather is still iffy—we get snow in April and, on occasion, May, and the spring flooding from the snow melt—but that snow isn't going to be around long, and the temperatures warm.
That same renewal of life also helps refresh my imagination. When March rolls in, I start getting so many ideas for books it's overwhelming. I write a few pages to a chapter for each one so I won't lose the voice of the character that came to me. Some of those ideas will become novels or novellas, maybe a short story or two, and some will never get written because there is not enough time in one life to write all the books that are floating around in my mind!
Two of my favorite scents of the season are the smell of lilacs and the smell of maple syrup being made—Vermont has the best maple syrup.
What are your favorite things about spring?
Leave a comment below for a chance to win a $10 Amazon gift card!
Eight years ago, slayer Tuck Houston lost two of her closest friends to a Damned vampire named Josef Dragos—a beast who traded the sun for darkness and blood. She's been hunting him since the day she walked into the carnage he created. But Josef has hidden himself well in the underground, from both slayers and other vampires.

When slayers around the globe start disappearing in a familiar pattern—Josef's pattern—she's put on the hunt. And despite the painful memories and very real threat to her future that come with tracking him down, Tuck is certain of one thing: she is going to make Josef Dragos wish he'd never been born.
About the Author: October Weeks is a dark fantasy/horror writer and a reader with too many books and not enough shelves!
She lives in Vermont. Autumn is her favorite season—October and November are her favorite months.
Loves: reading, writing, movies (horror, sci-fi, and fantasy especially), taking walks, fishing, and family
Obsessions: Lindt dark chocolate and the SyFy Channel (Haven!).
Website | Blog | Facebook | Twitter