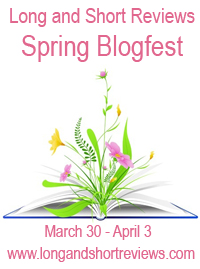 Win a $10 Amazon Gift Card by commenting on this post. Also click on the banner to enter the rafflecopter to win a $25 Amazon/BN GC, one of four book packs, or one of four swag packs (US only on book and swag packs).
The Easter Bunny
Do you ever wonder what the lovable Easter bunny has to do with the religious holiday of Easter? And more importantly, how did the Easter bunny ever come to lay eggs?
Most scholars agree that the Easter Bunny dates back to pagan Saxon Germany. It seems that the Saxons also had a springtime celebration in honor of Eostra, the goddess of fertility.
The 8th century monk, St Bede, mentions her,
"Eosturmonath has a name which is now translated 'Paschal month', and which was once called after a goddess of theirs named Eostre, in whose honour feasts were celebrated in that month. Now they designate that Paschal season by her name, calling the joys of the new rite by the time-honoured name of the old observance." -Bede, The Reckoning of Time, AD 725
How does the rabbit fit into this? Some myths say that Eostra's favorite animal was a rabbit because they breed like…well…rabbits. Other scholars say that the goddess changed a songbird into a rabbit. The songbird wasn't happy about this, and so once a year, at springtime it was able to change back into a songbird and lay eggs.
It wasn't unusual for Christians to adopt pagan celebrations and give them a Christian twist. And so the holiday of Eostra became Easter. This isn't as big a leap as you might think. A pagan spring ritual commemorating a renewal of life can easily be converted to God rising from the dead. Both are about life and hope. When German settlers came to Pennsylvania they brought the symbolic Easter Bunny with them, although it wasn't until the 1950's and 60's that the Easter Bunny became the massed marketed creature we know today.
When her dissolute husband insists that Lady Annabel Peters bed one of his villainous cohorts to repay a gambling debt, she is scandalized. But she is forced to agree because he controls every aspect of her life.

A physically and emotionally crippled war hero, James Drake has retreated from society. At the request of his brother, he manipulates events so he can interrogate Annabel, a woman he thinks may be part of a ring of thieves.

Neither of them count on an instant and overwhelming attraction. James may now believe Annabel but she suspects her husband plans to kill her. As one of her husband's friends, James is not to be trusted.

Yet how can she escape a man who has the ability to control her with a gentle kiss?
About the Author: After being thrown out of England for refusing to drink tea, Marlow Kelly made her way to Canada where she found love, a home and a pug named Max. She also discovered her love of storytelling. Encouraged by her husband, children and let's not forget Max, she started putting her ideas to paper. Her need to write about strong women in crisis drives her stories and her curiosity regarding the lives and loves of historical figures are the inspiration for her characters.
Website | Blog | Facebook | Twitter
Buy the book at Amazon.