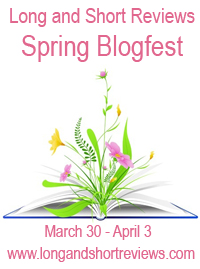 Win a $10 Amazon gift card by commenting on this post. Also click on the banner to enter the rafflecopter to win a $25 Amazon/BN GC, one of four book packs, or one of four swag packs (US only on book and swag packs).
Easter traditions – by Marin McGinnis
Easter is one of my favorite holidays. I am not a particularly religious person, so although it is one of Christianity's most important holidays, I am fond of it for its traditions. My mother started making Easter Pigeons—sweet dinner rolls shaped like birds—when I was a teenager, and she continues to make them every year. (I tried to make them once and failed miserably—sadly, baking is one talent that I did not inherit, although the lamb roast I make every year is pretty tasty.) My father, a graphic artist, introduced me and my sister to the tradition of Ukrainian Easter Eggs when we were younger. I remember spending hours blowing the yolks out of eggs and applying hot wax and colors to the eggs in elaborate patterns, despite our distinct lack of Ukrainian heritage. And then, of course, there was the Easter basket.
As a writer of Victorian era romance, I am always interested in uncovering the origins of traditions and learning how (and whether) traditions that we love today were celebrated in the Victorian era. Easter, of course, has been celebrated for nearly two thousand years, and people have been dying Easter eggs since the 12th century and eating chocolate eggs since the 19th. Victorian children would have dyed Easter eggs much like we do today, although they would have used beets and onion skins, among other things, to dye them. According to The Virtual Victorian, the Cadbury Egg beloved of so many today is a creation of the Victorians. John Cadbury introduced his first solid chocolate egg in 1842, and the hollow egg in 1875. Instead of the fondant used now, it was filled with dragees (yes, I had to look this up—they are candies with a hard outer shell, like those tiny candy balls, Jordan almonds or, I suppose, M&Ms), marzipan, or icing. The Victorians also embraced other traditions, largely from Germany, that we practice today—Easter cards, Easter egg hunts, the Easter bunny, and Easter lilies.
Today my favorite tradition is still the chocolate. I buy my son a big chocolate bunny every year, and he slowly nibbles away at it every day as long as it lasts. As for me, my favorite is Cadbury's mini eggs—I buy two bags and stash one in the freezer, so I can make them last longer than my kid's bunny.
What's your favorite Easter tradition?
Seeking to escape an abusive husband, Theodora Ravensdale answers an ad in The Times for a job as cook in a country home. A fortuitous house fire enables her to fake her own death and flee to northern England and live under an assumed name. But Theodora's refuge is not all she would wish, when she stirs emotions in the heir to the estate, Jonathan Tenwick, and in herself.

Meanwhile, as the connection between Theodora and Jonathan grows, her husband learns she did not perish in the fire, and searches for her. Fearing he is close to finding her, Theodora must flee again to protect the family and the viscount for whom she cares deeply. In the final confrontation with her husband, Theodora learns she is stronger than she ever knew, and love is worth fighting for.
About the Author: Clevelanders are tough, a bit cynical, and just a little crazy, and Marin McGinnis is no exception. She writes smart and sexy tales of Victorian-era romance.
When she's not chasing after big dogs or watching tween-aged children skate around Ohio hockey rinks, you can find her hanging out online.
Website | Blog | Facebook | Twitter
Buy the book at The Wild Rose Publishing.