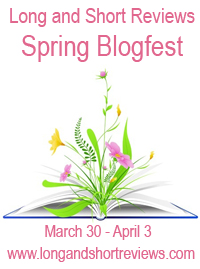 Win a digital copy of STORMEE WATERS (two winners) by commenting on this post. Also click on the banner to enter the rafflecopter to win a $25 Amazon/BN GC, one of four book packs, or one of four swag packs (US only on book and swag packs).
March is the month when my desire for Spring begins to take on elements of reality. Setting my clocks forward and getting my patio area ready for Spring planting are activities that revive my energy and, somehow, my imagination. It's the only time of the year that I write in longhand while sitting outside during the morning and evening hours. I find the switch from a computer/office environment to sunshine and gentle breezes brings on a frenzy of new ideas. Not only do I get to enjoy nature's beauty, but the word count on my current writing project flourishes alongside the newly budding plants.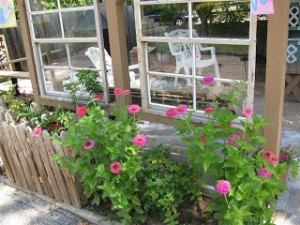 My patio area is covered with a deep purple Wisteria that blooms in early summer, and there are two beds of Knock-Out roses on either side. I have several beds of Zinnias, one of my favorite summer flowers because they can thrive in our Texas heat. Windows and a fireplace completes the illusion of an outdoor room, making me feel comfortably at-home in my environment.
Two years ago, my latest book release, STORMEE WATERS, was started in longhand on my patio. This Spring, I plan to complete the first draft of a new series I've been mulling over all winter while enjoying that same space.
So, now it's your turn. When writing or reading, how does your environment matter? Tell me what you like, or don't like. Do you write or read in different genres during different seasons? Does the great outdoors free your creative senses, or do you find it distracts and lessens your productivity or reading enjoyment?
Dirk Savage never fails to acquire what he wants until he encounters Stormee Waters and a backwash of trouble…

Stormee Waters knows about hard times. Needing to care for her aging grandmother and teenage brother, she moves to Houston, Texas and takes a writing job for a popular magazine. Her first assignment is to interview a successful business man for a series of articles entitled, Make My Man Texas-Sized. Her target, Dirk Savage, appears to have the right criteria. He's adventurous with the air of a conqueror. Admired by his peers and coveted by beauty queens and debutantes, he's just the type of man that Stormee needs to make her first article sizzle and sell. But can she handle the heat when she catches his attention?

Dirk Savage is used to acquiring what he wants, except in the illusive quest for the one woman who can fill his heart. The shock of discovering her in the naive young woman assigned to interview him sets his jaded emotions on high alert. Can he convince her that his pursuit is genuine?
About the Author:Lynda is an author of contemporary romance that lingers in a reader's mind long after they've closed the book. She lives in Northeast Texas with her husband of fifty years. They enjoy traveling, trying new foods, spending time with family and friends, and doing community service work together. When she feels the need to take a break from writing, she enjoys creating fabric art. She offers an open invitation to view both her writing and fabric art on her blog.
Blog | Facebook | Twitter
Buy the book at The Wild Rose Press.