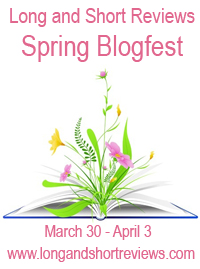 Win Lured From the Path ebook by commenting on this post. Also click on the banner to enter the rafflecopter to win a $25 Amazon/BN GC, one of four book packs, or one of four swag packs (US only on book and swag packs).
We're coming up on the Beltane season, and magic is in the air. Beltane is an ancient concept that had largely been abandoned by the mid-twentieth century, though it's been revived in many neo-pagan religions. While it was meant to mark the beginning of summer, Beltane is a springtime festival, as well as the spring season, and most of us who have heard of the celebration hold mental images of roaring bonfires and lusty orgies to usher in the change from winter's dearth to summer's abundance.
Bonfires are very much a part of Beltane celebrations, though there are conflicting theories as to why. Maybe the fire's light represented an end to the cold, dark winter. Perhaps the fire and smoke offered a blessing for the livestock and crops, or perhaps it's more romantic—and definitely warmer—to conduct an orgy next to a roaring blaze. Maybe the ancient pagans who celebrated were a bunch of exhibitionists who simply wanted to see the revelry, and electricity was not yet a concept humans could dream of.
A festival of light and love, or an appeasement and a prayer to deities during a precarious time filled with hope yet shadowed by winter's leftover chill? Whatever Beltane used to be, today we remember it as a celebration of fertility, growth and change, and the season is upon us—just in time for my first release with Totally Bound. Though unseen, a Beltane celebration is the catalyst for my story—a story of an epic love challenged by a deep distrust, a fated connection threatened by greed and insanity.
Betrothed, the first of my Magic Matched series, begins ten years after a Beltane night shared by Silviu Lovasz and Georgeanne Davenold, the rarest of witches. Their talents prompted their families to betroth them at the moment of Georgie's birth, and both have been groomed to do whatever it takes to achieve positions of power in a modern society constrained by archaic traditions. In a world where magic and politics are the only things that matter, marriages are still arranged for advantage rather than love, and theirs is an alliance that defies divisive coven politics.
But Beltane is a season where love can take root and bloom. Ten years ago, Silviu found Georgie outcast and lonely while the bonfires blazed in the distance. He didn't stop to consider the consequences of his actions, and neither did she. Her first taste of passion saw Georgie banished, and left her convinced Silviu had used her to further his political goals.
Marriage is forever in the witching world. The betrothal contract between Silviu and Georgie is unbreakable, and they are Magic Matches with the ability to wield great power, if their affection grows strong enough to stabilize their talent. Silviu is convinced Georgeanne is the true love his soul has been hungering for, and he'll have a chance to convince her when they reunite in Poland at his sister's betrothal celebration.
Magic Matched is a four-part series about two witches who must open their hearts to each other in order to unlock their full magical potential. But with all that stands in their way—archaic traditions, murder plots, and a betrayal that threatens all they can be—Silviu and Georgeanne will need every advantage to navigate the dangerous world of witches, and the dark magic stalking them every step of the way.
In witching society, magic and politics are the only things that matter, and marriages are arranged for advantage rather than love.

But neither Ileana Lovasz nor Eliasz Levy are looking for love. Humiliated by a string of broken betrothals, Ileana only wants freedom from her manipulative grandfather. Eliasz simply wants an alliance with Ileana's brother Silviu, a man rising through the witching ranks. That is, until the Lovasz woman arrives at his home and stirs up emotions he'd never thought to feel.

Silviu has bigger things on his mind than his sister's marriage. Georgeanne Davenold, Silviu's betrothed and the key to his rise in power, is back in his life after a ten year separation that left her distrustful of his intentions. Their union is a novelty, spanning the divide between Matriarchal and Patriarchal Families. Their union is also alarming, combining the influence and magic of two witches only heard of in myth and legend.

Ileana, Eliasz, Silviu and Georgie must build an alliance that will help them all get what they want but, with too many lies and too many enemies, the game they're playing turns deadly. When the two women come under attack, neither Silviu nor Eliasz knows which is the target. They only know they will protect the women their hearts have claimed as their own, even though that means defying the traditions of witching society, risking every goal they hold dear and confronting the dangerous members of their own families.
About the Author: Lola White writes what she writes, which is erotic fiction. Sometimes horror, sometimes paranormal, sometimes romance. It's all sexy, but never predictable because she likes to twist reality at its edges in her stories. She likes delving into the emotions of her characters, finding their strengths and weaknesses, and seeing (and showing) how they get themselves out of whatever trouble has found them—if they can.
Website | Facebook | Twitter
Buy the book at Totally Bound.