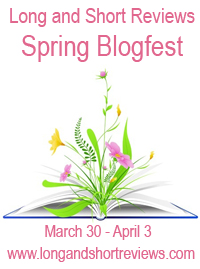 Win one E-copy of Angelea's Dreams of Yesterday by commenting on this post. Also click on the banner to enter the rafflecopter to win a $25 Amazon/BN GC, one of four book packs, or one of four swag packs (US only on book and swag packs).
Welcome To Spring!!
Hi everyone, well spring is here and Easter is not too far away. I wanted to wish all you bloggers and visitors out there a very Happy Spring and show you what happens at my house every year.
My father, the dear man that he is, moved into a smaller place and decided to give us the giant Santa that had graced his house every year.
The thing turns on any time someone goes by it and just for fun anytime a treasured family pet or small child went by it would go off with a variety of Christmas songs, scaring the heck out of all of them. He got quite a kick out of that and wasn't happy when he found out I wouldn't do the same thing with dear old Santa, but I did figure out an idea for it when he passed it down to me.
I knew he missed it and all the fun it bought him every year. So one year I left it up and changed old Santa up a bit then had the pictures made into a calendar for him for the following Christmas. I got as many holidays as I could get to dress him up and took pictures each year for the years that followed.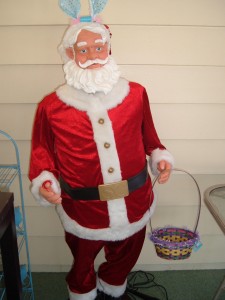 Since Easter was one of the holidays I thought I'd show you this picture and maybe if you have one of these Santas around you can use him the same way. Have a very Happy Easter and a Merry Spring!!
Nothing short of a miracle will convince Angelea she's the person everyone claims she is. She thought she was just waking up from a nightmare, but her nightmare is just beginning. Her doctor tells her she's someone named Angel Bennett, someone she's never heard of and the bruises on her body tell her something horrendous has happened to her, but what? That's something no one can figure out.
Nate Matthews knows who Angelea really is. She's his lover and he'd hoped his future wife. But when she awakens in the hospital after a routine surgery and she claims she's married to a man named Alexander from a time long ago, he knows they will both be up against something no one has ever had to face before. Maybe something evil. How will he convince the love of his life she is not married to a pirate?
About the Author:Linda L. Picl got her love of reading from spending time in a tiny library under a police station in a small town in Illinois. From there she went on to work at many of the libraries in suburbs all around the Chicago area which only fired up her love of romance novels.
Following her favorite authors Robyn Carr and Nora Roberts she went on to write sweet romance books and produced her first book Next Time Love Comes and then Solitary Dreamer, both second chance at love romances. Not everyone gets lucky on their first try. Those are the types of books Linda loves to write and she has more books on the way. Right now she's working on getting ready to publish a paranormal romance…no vampires or raunchy sex but a few ghosts and pirates.
Linda lives in a suburb of Milwaukee, Wi with her husband and mini-poodle.
Website | Facebook | Twitter
Buy the book at Amazon.