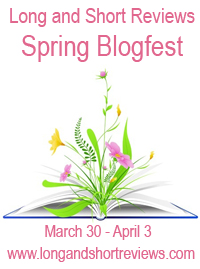 Win one digital copy of Callahan's Fate by commenting on this post. Also click on the banner to enter the rafflecopter to win a $25 Amazon/BN GC, one of four book packs, or one of four swag packs (US only on book and swag packs).
When we emerge from the long, chill months when evening falls early and sleet tick-tacks against the windows all too often, we discover spring. As the world renews itself, there's a promise in the warm sunlight and the emerging leaves. Those first flowers of spring are so precious, so beautiful. We crave the outdoors and seek it. Longer daylight hours energize us and it's not just teenagers who fall in love all too easily in the spring.
Although we knew each other from high school, when my husband and I met again more than a decade later, our whirlwind courtship unfolded against a spring backdrop and we married in July. Our emotions were heightened and our passions increased just because it was spring or so I like to believe.
As a romance author, I have to keep some of those springtime passions and that wonderful joy of the season alive year round. It adds to the deliciousness of falling in love, even in fiction. Just as we experience that newness when we fall in love, spring offers a similar feeling so perhaps that's why spring is considered a time for lovers.
In Callahan's Fate, the season isn't spring but the setting is one of my favorite places on earth – New York City. When this Missouri girl first hit the Big Apple, I fell in love with the energy, the history, and just the sheer beauty of the place. I'm a creature of the heartland, born and bred, but those urban canyons, the view of skyscrapers lit by night from a rooftop, the Brooklyn Bridge, and the view of Manhattan from the harbor riding the Staten Island Ferry captured my heart.
One thing I like most about writing romance is that I can fall in love over and over, with a variety of different men in various places and times. I can capture the sweetness, the angst, the tension, and the passion to share with readers.
Come meet Callahan. He's a New York City cop with a little bit of an attitude and a lot of baggage. Get acquainted with Raine. She's a Missouri girl too and she's about to fall hard for Callahan but fate has some challenges before they can find a shot at a happy ever after. Fall in love through their emotions and take a little spring trip to New York City, whether it's your first time or your fiftieth!
He's a cop, one of New York City's finest. She's a transplanted teacher, new to the Big Apple. Callahan is streetwise and world weary. Raine is lost in the urban setting. When they meet, the attraction and the emotional connection are powerful. When a former student stalks Raine, he's also part of Callahan's unfinished business. The closer they become, the more their lives intersect, the greater the danger. Callahan must put his past and burden of guilt aside. Raine needs to adapt to big city life. Both seek a happily ever after together but with old scores to settle, they have to survive first.
About the Author: Growing up in historic St. Joseph, Missouri, Lee Ann Sontheimer Murphy scribbled her stories from an early age. Her first publication – a poem on the children's page of the local newspaper – seems to have set her fate. As a full time author, she has more than two dozen full length novels published along with assorted novellas and short fiction. Her publishers include Astraea Press. A contributor to more than two dozen anthologies, her credits include Chicken Soup For The Soul among many collections of short fiction. She is a member of Romance Writers of America, Missouri Writers Guild, and the Ozark Writers League. Lee Ann earned a Bachelor of Arts degree from Missouri Southern State University as well as an Associate Degree from Crowder College. She has worked in broadcasting, retail, and other fields including education. As a wife and mother of three, she spends her days penning stories, cooking, reading, and other daily duties. She currently makes her home in the Missouri Ozarks, living in what passes for suburbs in a small town and works as a substitute teacher in the local school district.
Blog | Facebook | Twitter
Buy the book at Amazon.