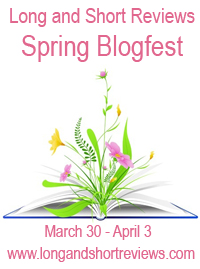 Win a pair of pierced earrings handcrafted specially for the release of
Dead Handsome: a Buffalo Steampunk Adventure
, with surgical steel hoops and genuine crystals (US only, please!) by commenting on this post. Also click on the banner to enter the rafflecopter to win a $25 Amazon/BN GC, one of four book packs, or one of four swag packs (US only on book and swag packs).
Spring Madness
In the spring, so they say, a young man's fancy turns to thoughts of … what? Love? Lust? After a winter spent shut inside, watching snow hit the windows and waiting to go out and shovel YET AGAIN, men in the northeast of the US, where I live (both young and not-so-young), might be forgiven if they turned their thoughts to tearing open the doors, ripping off their clothes and running amok through the daffodils.
But toward what do women's thoughts turn at the onset of spring? Our grandmothers looked forward to tearing down the curtains and ripping up the rugs for a good spring clean. I don't know about you, but even after a winter spent hibernating, the promise of housework does nothing to delight my soul. Do young women's fancies also turn to love? To the possibility of a proposal? A June wedding?
As a writer of romance, I hope everyone's thoughts turn to love in the spring, to the breathless wonder of a first glance, to fingers touching and lingering, to the hope of something more. Love, like spring, always comes new … no matter how hard the winter—or a past relationship—has been. Hearts rise and bound at the promise of a new lover, or a new season. Also like spring, I think love lends a kind of madness to those whom it infects. We tend to throw off our coats—and our inhibitions—and charge fearlessly into a future unseen.
What could be better than a new romance novel for this new season? Between the pages (or, indeed, the electronic clicks) love always springs new and each story is a beautiful beginning. And where better to turn than to my publisher, The Wild Rose Press, where each tale is a flower in the garden? I hope you'll include a little romance in your spring, and partake of the wonderful madness!
Clara Allen needs a husband in order to keep a roof over the heads of her assorted dependents, a roof her nasty grandfather will re-appropriate unless she is married by her 21st birthday, only a few days away. Strong-minded, unwilling to take orders from any man, she decides to solve her problem by raising a murdered prisoner from the dead and marrying him. She expects an empty-headed puppet; she certainly never dreams he'll be so devastatingly handsome.

Liam McMahon doesn't recall much about his life before his hanging in the prison yard, other than being Irish. He does remember the kiss Clara bestowed as she brought him back to life. Every time he looks at her, his desire gets out of hand. But his former life is chasing him down like a steam engine, and when a couple of mad geniuses decide he'd make a fine experiment, he wonders if he'll live long enough to claim Clara's heart or if he'll die all over again.
About the Author:Born in Buffalo and raised on the Niagara Frontier, Laura Strickland has been an avid reader and writer since childhood. To her the spunky, tenacious, undefeatable ethnic mix that is Buffalo spells the perfect setting for a little Steampunk, so she created her own Victorian world there. She knows the people of Buffalo are stronger, tougher and smarter than those who haven't survived the muggy summers and blizzard blasts found on the shores of the mighty Niagara. Tough enough to survive a squad of automatons? Well, just maybe.
Website
Buy the book at Amazon.