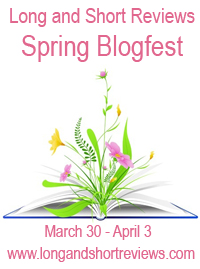 Win one PDF copy of With Every Touch by commenting on this post. Also click on the banner to enter the rafflecopter to win a $25 Amazon/BN GC, one of four book packs, or one of four swag packs (US only on book and swag packs).
Spring: A Time for Beginnings
Spring has always been my favorite season. All the dingy brown and gray snow melts, and the grass turns green again. Trees that have been bare for months bud and then sprout leaves. The weather warms up. People emerge from their winters of hiding from the cold. (At least here in New England. I know some places have warm winters. Lucky!)
I love new beginnings. One of the things I've learned in life is that you're never too old or too far gone to start over. It isn't easy sometimes, but there's no such thing as no second chances, whether you're talking about career, family, or love. That's what I like best about spring. Every year, it reminds me of all the times I've changed my own life, and of all the possibilities for the future. The entire world starts over in spring. To me, that's an amazing thing.
Starting over in love is sometimes the most difficult thing to do. It's something I know a bit about; I was divorced in 2006 and met the man I refer to as my "real-life romance hero husband" in 2008. On April 17, we'll celebrate our fifth wedding anniversary. When I was in my first marriage, I didn't believe I would be able to get out. And after I got out, I didn't believe I would ever meet anyone who would make me want to be married again. But I did. I started over.
In my new novel With Every Touch, the hero, Erich Zahn, is trying to start his life over after a bitter divorce caused by his wife leaving him for another man. The heroine, Sheila Holloway, is debating beginning a relationship with Erich even though her last relationship, over a decade earlier, ended with abuse. And as their trust and love for each other grows, Sheila is also faced with the choice of keeping her current job as a reporter at a TV station in Portland, Maine, or beginning a new chapter of her career by accepting her dream job with a station in Boston.
New beginnings. Starting over. All of us have times in our lives when we're faced with change. Let spring help you remember that if the world can begin anew every single year, you can handle whatever comes in your life.
TV reporter Sheila Holloway is jaded on love. Plumber Erich Zahn is still reeling from a nasty divorce. Neither is looking for a relationship, but when Erich is called to fix Sheila's shower, sparks fly and they begin a friends-with-benefits arrangement.

Before long, both realize that being just friends isn't enough. They're falling for each other, and might have a future together, until Sheila receives her dream job offer from a TV station in Boston. If she chooses her job over the man she loves, will their relationship survive?
About the Author:As a child, beginning at age five, Karenna Colcroft used writing as an escape. As an adult, Karenna shares stories of strength, survival, and loving despite one's past and fears. A trauma survivor, Karenna has spent years healing and growing. She considers herself a work in progress as she navigates the land mines her past has planted, but she lives a positive, happy life with her two children and the man she calls her ""real-life romance hero husband.""
Raised by parents who believe everyone should be equal, and having spent time as a teen with three "uncles" who lived as a committed triad, Karenna finds it difficult to compartmentalize and label love and relationships. Regardless of gender or number, Karenna sees love as love, and wishes the rest of the world saw it that way too. For this reason, she writes both heterosexual and male/male romance, as well as some polyamory.
Karenna began writing erotic romance in 2006 on a challenge from a friend, as part of her journey. In her books, Karenna shows that no matter what someone has been through, they can overcome and go on to find love and healthy relationships. Her characters may be afraid and may need to heal, but no matter what, they learn that they and their relationships are worth the effort. Love isn't a magical cure for trauma or mental illness, but having that special person or people in one's life can be motivation and support for healing. Even in the dark times, light and hope exist.
Website | Facebook | Twitter
Buy the book at the publisher.