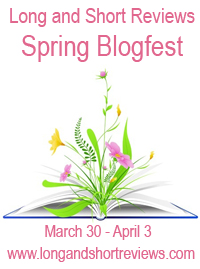 Win one ebook copy of
A Demon's Gift
by commenting on this post. Also click on the banner to enter the rafflecopter to win a $25 Amazon/BN GC, one of four book packs, or one of four swag packs (US only on book and swag packs).
Hi! Thanks for stopping by.
Spring is here and I'm thrilled about it!
The fruit trees are blooming, my vegetable garden is planted, the frogs have woken up and are jumping around the yard (which makes my dogs happy), it's not too hot and not too cold, and there's more daylight. Yay!
Spring is also a great time to create cool refreshing drinks with delicious fresh fruit. I love spring!
Here's a recipe for you to try out if you're feeling adventurous and don't forget to enter my giveaway below.
Super Sangria
Ingredients
2 (750-milliliter) bottles Spanish red wine
12 ounces Cognac
12 ounces orange liqueur
12 ounces freshly squeezed orange juice
8 ounces Simple Syrup
2 cinnamon sticks, broken
3 to 4 medium lemons, cut into thin wedges
3 to 4 small oranges, cut into thin wedges
12 strawberries, sliced
Ice
12 to 24 ounces lemon-lime soda (optional)
Instructions
1. Place the wine, Cognac, orange liqueur, orange juice, simple syrup, and cinnamon sticks in a 4-quart container and stir to combine. Add the fruit and stir to combine. Cover and refrigerate overnight or up to 2 days.
2. Fill a pitcher two-thirds full with ice. Pour the sangría into the pitcher (depending on the size of your pitcher, you may have some sangría left over) and top with the desired amount of soda, if using. Add some of the soaked fruit to garnish and stir to mix.
3. Serve over ice in an Old Fashioned glass or wineglass, and garnish with some of the fruit.
Note: If you're not going to drink it all within a short time, you might want to leave the ice out of the container and just add it to the glasses. That way the drink won't get watered down.
Giveaway
I'm giving away one ebook copy of A Demon's Gift, an erotic paranormal romance. Let me know what you love about Spring!
Cordelia is a demon hunter in training. Passing her final test will allow her the freedom to celebrate her first Christmas, but one demon stands in her way. As much as she tries to fight it, to convince herself he repulses her, her body comes alive, betraying her, each time he's near.

Argoth, a sex demon, is locked in a cell, used as a punching bag for the demon hunter trainees. The only thing he looks forward to is his training sessions with Cordelia. The first time her fist connects with his face, he knows she's different and that he has to have her, to save her, to make her his.

When Argoth's truth turns Cordelia's world upside down, will she give in to her desires or run for her life?
About the Author: Jocelyn was born in Iowa and currently resides in hot-as-hell Texas. She shares her home with her very own 6'4″" alpha male and varying numbers of spoiled cats and dogs. Teaching one of her dogs to file his nails is one of her all-time favorite accomplishments.
She thinks dragonflies are awesome, spiders are creepy and it's rumored that she sleeps with a machete by her bed in case zombies attack in the middle of the night.
Jocelyn writes paranormal and contemporary romances that include humor, lust, love, and four-letter words on the way to a Happily-Ever-After.
Website | Facebook | Twitter
Buy the book at Amazon.