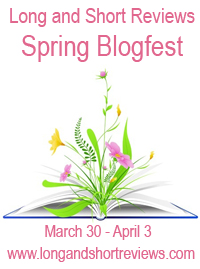 Win a digital copy of Becoming Andy Hunsinger (a zip file containing the book in both .pdf and MOBI formats) by commenting on this post. Also click on the banner to enter the rafflecopter to win a $25 Amazon/BN GC, one of four book packs, or one of four swag packs (US only on book and swag packs).
Easter plays a featured role in my newly released novel, Becoming Andy Hunsinger. It's on Easter Sunday 1977, at the dinner table, that college senior Andy informs his parents and brother he's gay. This was a pretty shocking thing to do in the mid-1970's, especially in conservative Pensacola, Florida.
Here's how Andy describes the moment:
***
Halfway through our meal, my mother turned to me with her forehead furrowed. "Andy, you're only picking at your food. What's wrong? Are you not feeling well?"
I looked down at the barely touched meal on my plate, and then the room seemed to shrink. My vision blurred and I felt tightness in my chest. I drew a breath. Then I looked up at my mother and spoke.
"Mom, I'm gay."
My mother's face slacked while her eyes blinked.
My father dropped his fork; it tap-danced on his plate while his face turned as white as an egg. He looked as though he'd just witnessed a fatal car accident.
I continued.
"I know Easter dinner might not be the best time to tell you this, but I feel you should know about my private life. I don't want to hide it any longer."
"Are you sure you're gay?" my mom asked. "Are you positive?"
Before I answered her question, I looked at Jake. He stared into his plate, his face expressionless. He looked as though he'd been stomach-punched.
I said, "I've known I was gay since I was twelve or so. I never liked girls, not in a sexual way."
My dad spoke up. "Son, have you actually been with another man?"
I looked at him and nodded. "It's what's right for me."
Dad lowered his chin; he drew circles on his plate with the fork he'd dropped.
"I don't wish to be indelicate," my mother said, "especially at the table. But exactly what do you and your lovers do when you're in the bedroom?"
Jake leapt to his feet; his face grew beet red. "For Christ's sake, Mom, you don't ask a guy something like that." Jake threw his napkin on the table. Then he strode from the room, heading for the hallway that led to our bedrooms.
***
This novel is not autobiographical, although I did attend law school at Florida State University in Tallahassee at the time the events in Becoming Andy Hunsinger unfold. 1976 was a tough time to be a young gay man in the Florida Panhandle, with Anita Bryant's homophobic "Save Our Children" campaign raging through the state.
In the winter of 1977, several friends and I organized FSU's first gay student organization; we obtained the university's official recognition, and we were granted office space in the student union building. It was all pretty daring stuff at the time, and looking back I sometimes wonder how I summoned to the courage to live my life as an openly gay man. But I'm sure glad I did.
It's 1976, and Anita Bryant's homophobic ""Save Our Children"" crusade rages through Florida. When Andy Hunsinger, a closeted gay college student, joins in a demonstration protesting Bryant's appearance in Tallahassee, his straight boy image is shattered when he's "outed" by a TV news reporter. In the months following, Andy discovers just what it means to be openly gay in a society that condemns love between two men. Can Andy's friendship with Travis, a devout Christian who's fighting his own sexual urges, develop into something deeper?
About the Author: I'm Jere' M. Fishback, a former journalist and trial lawyer, and now a full-time writer of short fiction, novels and memoirs. My Young Adult novel, Josef Jaeger, won multiple awards after its release by Prizm Books in 2009.
In late 2013, Prizm published my YA novel, Tyler Buckspan. The American Library Association's Rainbow Project placed Tyler Buckspan on its recommended reading list for LGBTQ teens, one of twenty-one novels selected for this honor. As of November 2014, Tyler Buckpsan was on the shelves of ten public libraries throughout out the country and in Canada, including the Seattle and Toronto Public Libraries.
In December 2014, Prizm published my Edgy Young Adult novel titled Becoming Andy Hunsinger. The story takes place in 1976, in the Florida Panhandle. It's all about becoming yourself and discovering who you are, even if your needs clash with society's norms.
I live on a barrier island on Florida's Gulf Coast, west of St. Petersburg. Besides writing, I enjoy surfing, walking the beach near my home, working out and swimming laps at the YMCA, cooking for friends, and watching sunsets with a glass of wine in my hand. You can read more about my writing, and my life as a writer, by visiting my website.
I also offer free fiction at my website, so you can sample a taste of my writing style.
Website | Facebook