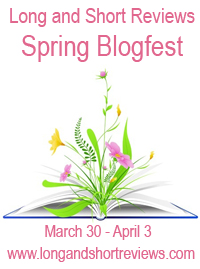 Win a $5 Gift Certificate for The Wild Rose Press by commenting on this post. Also click on the banner to enter the rafflecopter to win a $25 Amazon/BN GC, one of four book packs, or one of four swag packs (US only on book and swag packs).
Easter Traditions
When my daughters were small, one of our favorite Easter traditions was dying hard boiled eggs in a rainbow of colors. We weren't very artistic; we simply dipped the eggs in little pots of dye until they turned the desired shade. The Easter egg hunt was always a hit with the kids. We adults hid chocolate eggs around the house and the back yard, doing our best to be creative with our hiding places. The kids always had a blast searching for them; in fact, the thrill of the hunt was often more fun than eating the chocolate!
Spring traditions have been around since before there was an Easter. Some claim that the word Easter derives from Eostre, a pagan goddess of spring and fertility. According to folklore, Eostre found a bird dying from the cold and turned it into a rabbit so its fur would keep it warm—but that rabbit still laid eggs like a bird. In appreciation, the rabbit painted his eggs as a gift for Eostre. I love that bit of folklore!
The tradition of the Easter Bunny bringing chocolate at Easter began in 19th century Germany and France. Children were told to make nests so the Easter Bunny had someplace to leave the chocolate eggs. Some believe that chocolate was chosen because it was one of the things, along with real eggs, that Christians sacrificed during Lent, the forty day run-up to Easter. On Easter Sunday, all restrictions are lifted, and chocolate can be enjoyed once more.
Every country has their own special Easter traditions. Belgium and France celebrate the tradition of the "Bells of Rome". The belief is that on Holy Saturday, all the bells in Belgium magically go to Rome, where they ring out together in the holy city, leaving Belgium silent. Holy Saturday is known as "Silent Saturday" in Belgium.
In France, the "Easter Bells" bring Easter eggs — the church bells remain silent from Thursday to Easter Sunday, which is when they return to France, dropping chocolate eggs to good children on their return.
In the Czech Republic, people take part in an unusual Easter tradition that involves men symbolically whipping women with a handmade whips made of woven willow twigs. The legend is that the whipping will ensure the women remain beautiful and healthy throughout the year. It's also a way for men to show that they find a woman attractive. The following day women extract their revenge by pouring a bucket of cold water over the men.
The same whipping ceremony is a tradition in Poland, but these days it has evolved into playful water fights and roughhousing. Polish Christians enjoy an Easter feast that includes a Baranek wielkanocny, a lamb made of butter representing the resurrected Christ.
Throughout the Caribbean most cultures hold a carnival, a colorful public celebration with parades and costumes. Carnival usually occurs at the beginning of Lent. Kite flying celebrations are also a popular Easter pastime.
In Finland and Sweden, children dress up as witches and go door to door in search of candy much like Halloween in North America. People enjoy a Holy Saturday dinner of herring, eggs, potatoes and salmon.
For Christians in Africa, Easter Vigil involves assembling at churches to sing hymns, beat drums and dance outside the church after mass. The celebration is then carried to their homes, where they enjoy food and drink with family and friends. Easter is a reason to bring everyone together, both Christian and non-Christian, to celebrate common bonds.
Every culture and every family has rituals attached to Easter and spring. What are your favorite Easter traditions?
Dr. Alex Campbell has an agenda—finish his contract to provide medical services in Maine, pay off his medical school debt, and head back to his real life in San Diego. But when he meets Julia, all his carefully laid plans are put in jeopardy.

Julia Stewart, Lobster Cove's high school principal, swears she'll never let another man drag her away from the home she loves. Her aging parents need her, and the Cove is where she wants to raise her daughter. When her mother's illness brings her and the big city doctor closer together, panic sets in. Her marriage taught her men don't stay.

Can she put aside the heartaches of the past and trust Alex enough to accept the love he's offering? Or will her fear of abandonment mean she'll send him away forever?
About the Author:Jana Richards has tried her hand at many writing projects over the years, from magazine articles and short stories to full-length paranormal suspense and romantic comedy. She loves to create characters with a sense of humor, but also a serious side. She believes there's nothing more interesting then peeling back the layers of a character to see what makes them tick.
When not writing up a storm, working at her day job as an Office Administrator, or dealing with ever present mountains of laundry, Jana can be found on the local golf course pursuing her newest hobby.
Jana lives in Western Canada with her husband Warren, and a highly spoiled Pug/Terrier cross named Lou. You can reach her through her website.
Website | Blogspot | Facebook | Twitter
Buy the book at
The Wild Rose Press
.