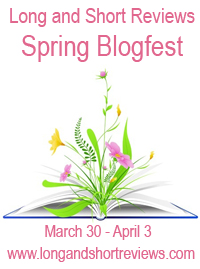 Win a kindle copy of To Love a Dragon (one winner) or an audiobook copy of The Witch's Vampire (one winner)(Winners must be 18 or above) by commenting on this post. Also click on the banner to enter the rafflecopter to win a $25 Amazon/BN GC, one of four book packs, or one of four swag packs (US only on book and swag packs).
Spring is here and that means it's time to clear out the cobwebs, clean out the closets, plant the seeds of new flowers, and prepare for the warmth to come. Being a relationship coach, hypnotherapist and romance author I thought it would be fun to create a new series of posts on spicing things up in your relationship. Open up the box and allow the spring to fling free so to speak (pun intended).
We'll start this series of posts with tips to sweep away the cobwebs in the bedroom. If things are getting stale in that arena with your partner it is probably time to do some spring cleaning and open yourself up to new ideas. Missionary is fine and dandy for the occasional romp but can get monotonous over time. Trying different positions can really be fun and if done in a safe environment with solid communication it can help create stronger bonds (no pun intended).
I'm getting ahead of myself. Let's take a step back and talk about communication. There are two important parts to communication for it to be effective. Talking and listening. If both parties in the conversation are not participating in both sides of the conversation it won't be effective. Start by bringing the topic of bedroom play up with your partner. Ask your partner questions like; are you interested in trying different things, have you ever had a fantasy unfulfilled, what is your favorite part about our bedroom play, etc.? This will get the conversation started, ideas flowing, and eventually the motors will start revving.
Hopefully this will send you on a path to trying new, exciting things and being open to communicating with your partner on your likes and dislikes. Readers can even get some great ideas from their favorite romance novel… heck, suggest your partner read one and see what ideas spring forth from those written words.
Another component to successful communication that will be built along way is feeling safe to share your thoughts and ideas. Sometimes we allow ourselves to get repressed from experiences and/or beliefs that were built up over time. This can keep a person from speaking their minds, which in some cases is a lesson in tact but in other cases can be a hindrance. It's important to feel safe when communicating with your partner. This keeps the passive aggression at bay and that is a very good thing. It also helps to freshen things up in your relationship. Building this safe haven in communication takes time. Being open and honest takes time but with the right nurturing, just like a flower seed begins to grow with the spring so shall the relationship.
The long and short of this post, the biggest tip of the day to help inspire growth in your relationship is to start opening a dialogue with your partner. It doesn't have to be on bedroom play right away. You can build up to that. Start simple, water, feed and watch that communication seed bloom. Before you know it the bond will grow too.
Be sure to subscribe to my blog to make sure you get more tips on relationship nurturing and growth as well as my book/contest updates. The blog is a great way to get to know me better and the thoughts that inspire the books I write. You can subscribe by email at the link at the top right hand of my page or here<.
Check out and sign up for my newsletter for lots of great updates and monthly giveaways.
Thanks for stopping by and have a wonderful day.
Homicide Detective Charity Holiday comes across some interesting characters when she works on a murder case of a stripper. One of those characters happens to be her mate.

Malick Pendragon isn't thrilled when his mate, who happens to be a witch, walks into his life. The timing is completely wrong. What he doesn't expect is her life to be threatened or that he'd have to save her or risk dying himself.

**This story contains adult language and situations. It is not intended for audiences under 18**
About the Author: Jami M Brumfield has a passion for the paranormal, supernatural, and mythological worlds for most of her life. She believes there is a kernel of truth in every story and loves playing detective to discover what that hidden truth is. She has written most of her life. She started with poems and short stories, then graduated to journalism working for online websites. It was only a natural progression that her love of writing and her passion for the unknown would combine. Her books are a product of that union. Check out all nine of her paranormal series on Amazon.
Website | Blog | Facebook | Twitter
Buy the book at Amazon.