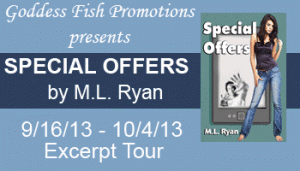 This post is part of a virtual book tour organized by
Goddess Fish Promotions
. M.L. will be awarding a $25 Amazon gift card to a randomly drawn commenter during the tour. Click on the tour banner to see the other stops on the tour.
Meet Hailey – possessed by an otherworldly being who was trapped in her Kindle.
Hailey Parrish was quick-witted, irreverent, and hadn't had a date in three years. She only wanted an eBook reader because her collection of paperbacks threatened to take over her small living space. Little did she know that the "special offers" that prompted the purchase included much more than a reduced price in exchange for a few ads. The device came pre-loaded with the essence of Sebastian Kess, an erudite womanizer with magical abilities from a parallel dimension. When she inadvertently releases him and he inhabits her body, she finally has a man inside her, just not in the way she imagined. And soon her predicament introduces her to yet another supernatural, the handsome could-be-the-man-of-her-dreams Alex Sunderland. Can Alex and Hailey find a way to return Sebastian to his own body, stay one step ahead of the criminals who want to keep him where he is, and not lose their sense of humor?
Special Offers, the first book of the Coursodon Dimension Series, combines paranormal romance, urban fantasy, a bit of science fiction and a healthy dose of quirky humor.
Enjoy the following excerpt:
My "hello" was followed by silence, and then a rich baritone male voice on the other end said, "I'm returning a call from this number, you must have hung up just before I had a chance to answer."
"You must have the wrong number, I haven't called anyone," I responded politely.
"I don't think so," he countered. "I hit redial."
"I don't know what to tell you. It wasn't me."
"And no one else might have used your phone?"
I was beginning to get tired of this conversation. "No, no one else used my phone." I spoke slowly thinking it might be more comprehensible that way. "You have the wrong number. Bye now."
I hit the end button, jammed the phone into my pocket and went back to the bills. About a half hour later, I was interrupted mid online payment by the phone ringing. Still transfixed by the amount of electricity I apparently used last month, I pulled out the phone without looking to see who it was and answered it.
"You called me again."
I looked at the number on the screen, and sure enough, it was Wrong Number Guy. I tried to remain courteous, I really did. But my exasperation crept out in my voice despite my good intentions.
"No, I did not. I don't know what your deal is, but I didn't call you."
"Well, someone is."
"There isn't anyone else here," I responded testily. "There must be something wrong with your phone."
"Perhaps. I'll look into that. Sorry to have disturbed you."
I didn't even bother to say goodbye before I ended the call. I placed the phone next to my laptop and went back to what I was doing. Ironically, I was just finishing up with the phone bill when the phone rang yet again.
I stared daggers at the now familiar number on the screen and quickly snatched it off the desk. Before I could release the litany of invectives that were forming in my brain, Wrong Number Guy spewed forth a few of his own.
"Look, toots, I suppose someone with your obviously limited intelligence thinks it is amusing to keep phoning me and hanging up, but I find it annoying and extraordinarily rude. What are you, 12 years-old or something? Your parents must be very proud," he fumed.
"Toots?" I spat back. "What are you, 112 or something? I told you twice already, I'm not screwing with you. I AM NOT CALLING YOU! I don't know why you think I am, but I'm not."
I continued describing what he could do with his obviously malfunctioning cellular device when he interrupted my tirade with "What did you just say?"
His tone wasn't angry, he just sounded seriously confused. And truthfully, I couldn't remember exactly what I had just said. Trying to recall what may have caused his seemingly odd reaction, I thought I could buy myself some time by hedging with a feeble, but honest "I have no idea what you are talking about."
"Yes you do. You said, 'Sebastian'."
Now it all made sense. "I probably called you 'bastard' and you couldn't hear correctly because of your piece-of-shit phone."
"No, you said Sebastian, not bastard. There were clearly three syllables."
About the Author: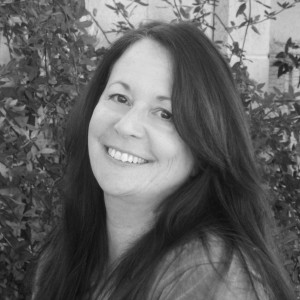 M.L. Ryan is a professional woman – not that she gave up her amateur status, but rather that she is over-educated with a job in which she spends a lot of time writing dry, science non-Fiction. In an effort to strengthen the less logical side of her brain, she decided to write some of the many stories rolling around in her head. She lives in Tucson, AZ with her husband, son, four cats, two dogs and an adopted Desert Tortoise.
Website: http://www.CoursodonDimension.com
Blog: http://CoursodonDimension.blogspot.com
Facebook: http://www.facebook.com/CoursodonDimension
Twitter: @MLRyan1
Goodreads: http://www.goodreads.com/author/show/3384189.M_L_Ryan
Buy the book at Amazon, Barnes and Noble, Smashwords, iTunes, and Kobo.