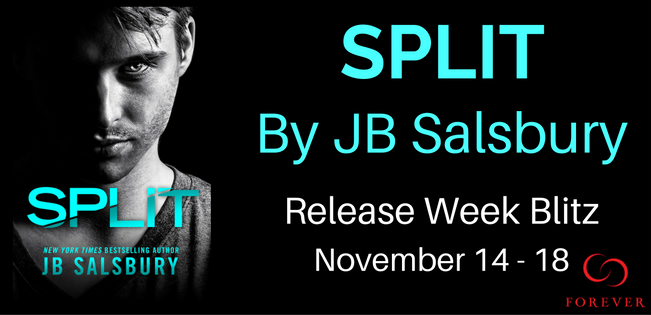 This post is part of a virtual book tour organized by the publisher to celebrate the release of
JB Salsbury
's newest book
Split
. Enter the Rafflecopter for a chance to win a print copy of the book.
What is your most embarrassing moment?
I try to avoid embarrassing myself, but I guess the last time I can remember being embarrassed was when I drank too much and ended up crying because I felt so bad for being drunk.
What is your favorite food? Least favorite? Why?
My favorite is Mexican food, because it pairs well with margaritas. My least favorite is Chinese food, because it does not pair well with margaritas.
What is your strangest habit?
I twirl my hair constantly and tie it in knots.
Have you ever eaten a crayon?
No, I'm waxtose intolerant.
What question have you never been asked in an interview that you have always wanted to be asked? and answer it 🙂
There's not a single question that I haven't been asked, except maybe if I've ever eaten a crayon…wait. Nope. I can check that one off my bucket list.
New York Times bestselling author JB Salsbury makes her Forever debut with a stand-alone unforgettable new novel, with a twist no one will see coming . . .

What do you do when you wake up with no memory of what you did last night?

Lucas spent the first half of his life protecting himself from others, but now his own mind is his biggest enemy. He doesn't know what happens when the blackouts overtake him, but he can recall the feelings—the rage, the confusion, the fear. Thankfully the quiet life he's found in Payson, Arizona has kept the darkness at bay. Until his boss's estranged daughter shows up in town, asking questions she shouldn't and sparking a desire Lucas can't control. Getting close to Shyann is the best thing that's ever happened to him, but when his blackouts return, unleashing the truth he's battled so long to hide, he may just lose her forever . . .
About the Author: New York Times bestselling author JB Salsbury spends her days lost in a world of budding romance and impossible obstacles. Her love of good storytelling led her to earn a degree in Media Communications. Since 2013 she has published six bestselling novels in The Fighting Series and won a RONE Award. JB Salsbury lives with her husband and two kids in Phoenix, Arizona.
Website | Facebook | Twitter | Instagram | Goodreads
Buy the book at Amazon, Barnes & Noble, Books-A-Million, Google Play, iBooks, Indiebound, or Kobo.