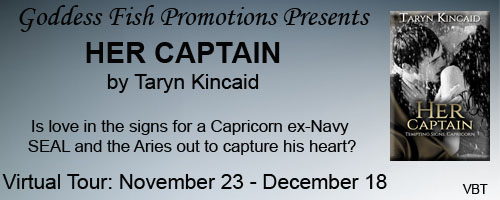 This post is part of a virtual book tour organized by
Goddess Fish Promotions
. Taryn Kincaid will be awarding a $10 Amazon/BN GC + a download of the book to a randomly drawn winner via rafflecopter during the tour. Click on the tour banner to see the other stops on the tour.
SONGS AND STORIES
I may be a Capricorn like my HER CAPTAIN hero, Slate Claybourne…but I'm easily distracted—not exactly a Capricorn trait. Maybe it's all the coffee I consume. Or maybe it's just my "Oh, look, shiny" squirrely nature. Or my innate ability to procrastinate so when I finally have a block of time to glue butt to chair and write, Facebook's Mahjong Trails and Bubble Witch Saga 2 call my name in their screechy loud voices.
But, unlike a great many writers and authors, I absolutely cannot have a playlist going when I'm trying to write. Although I can't carry a tune in a canvas tote bag, I tend to sing along. And if I'm singing along, I tend to type lyrics rather than new, fresh manuscript words. And I also tend to get distracting ideas for other stories from them.
When I'm driving in the car now (a place where, oddly enough, a lot of my plot bunnies pop up and scamper around), I mainly listen to the news these days. But I used to listen to all kinds of music. Country music always seems to tell a story. Really old school 50s/60s-style rock, along the lines of Leader of the Pack or Teen Angel, always told stories. Sometimes I'd get really visceral reactions to the musical story songs, especially poignant ballady-type songs.
Not sure how I happened to hit on the video of Billy Joel's song Downeaster Alexa one random day. But it's the type of song guaranteed to make me feel all sorts of squishy inside. After seeing the video, I couldn't shake the hazy, vague outline of a struggling fisherman-type character from my head. He was always there in the background back burners of my mind, but never quite took shape. Check out the video yourself:
Until Slate came along. All I knew was that he had to be a Capricorn, for the
Tempting Signs
series, and that the story would release during Capricorn time, December-January. (The actual release date is December 15!) Since Cappies are earth signs, I wanted to reflect that in his name, Slate. Born of clay. Playing further on Capricorn, I wanted to make him a captain of some sort. And the Billy Joel song popped back into my head. "Downeaster," which was actually the boat in the song and video, became "nor'easter," a huge winter storm. I thought of some of huge nor'easters that have lashed the east coast in recent years, particularly wreaking havoc on island/coastal communities and knew I had to have a Cape Cod/Nantucket sort of setting. Pieberry Island was born. And then, when my publisher hit on the title, HER CAPTAIN, somehow Slate morphed into an ex-Navy SEAL, returning to his hometown and what he hoped would be a quieter life than he'd known in the service, and his heroine, the irrepressible Aries Holly Harper, became his former commander's daughter.
Things don't always fall into place together from so many crazy patchwork pieces. But when they do, it's so much fun! Putting Slate and Holly together turned out to be combustible. Someone should write a song about them.
Capricorn Slate Claybourne, an ex-SEAL, returns to his bucolic hometown on Pieberry Island, desperate for the mundane, everyday routines he once wanted to escape.

A broken, soul dead man unable to be around people, Slate doesn't count on the arrival of animated Aries Holly Harper, who storms the island set on turning decrepit Pieberry House into a tourist inn, and even more determined to yank Slate back into the land of the living.

First she crashes into him at the island's holiday Winter Festival, dumping a towering stack of pies at his feet. Then she drags him off to a fortune teller. Except for the sizzling attraction smoldering between them, they're incompatible in every way.
EXCERPT:
Yin meet yang. Night meet day. Mutable force meet immoveable object.
Every one of Holly's most compulsive, impulsive brain waves fluttered like a hummingbird wing. Slate Claybourne affected her like the aftershock of an earthquake. Abuzz with excited tremors, she didn't know whether to leap into his arms and climb him or run screaming away in the other direction.
Oh, yes, you do know, girlie-girl, one of the imps on her shoulder crooned.
Danger, danger, Will Robinson, the imp on the other shoulder screamed in warning protest.
Why had her father told her to search out the former SEAL? The "if you're reading this" letter he'd sent—not to be opened until she'd met Captain Claybourne—burned a hole beneath her pillow at Pieberry House, still unopened and unread. Had Dad thought the infamous Sand Shark would protect her from her string of notoriously bad choices?
Just looking at the ripped and cut former SEAL in the flesh made her stupid and silly and all but dissolved the remnants of her filter, always fragile during the most mundane of times and less than a wisp of thread now.
"So how about you help me get what's left of these back to Pieberry House, Captain? And we take it from there?"
His square, sharp-edged jaw solidified like frozen iron, so rigid over his clenched teeth, a muscle ticked in his cheek. She almost laughed at his stunned expression, his cold, gunmetal- gray eyes unblinking, his brows zooming skyward like tarnished McDonald's arches. Except that the face in question devastated her. If she'd thought him ruggedly handsome in the photos her dad had sent home, the giant, live-action figure totally stole her breath away, turned her knees to jelly, and melted her core. Hell, in another second, she'd be coughing and wheezing, trying to draw in a sip of the sustaining oxygen the hot-as-sin SEAL all but sucked out of the surrounding atmosphere. Jeez Louise. Raw, overpowering masculinity poured off him in waves.
Yet, the smiling face she'd often drooled over in pictures had disappeared. Did the grim man before her smile at all anymore? His sharp eyes seemed haunted in a profound way, his stares hyper-vigilant and unwavering…focused on her but, at the same time, a million miles away. She detected no humor dancing in them at all, despite the comical barbs they'd traded over the smashed pies. Hell knew bottomless grief gripped her still from time to time, wringing tears from her when she least expected the reminders of her loss. But whatever embroiled Slate seemed worse, as if he'd slipped into a dark crevice of endless, dismal eternity and couldn't find his way back.
I need to fix him. I have to.
Yeah, and good luck with that, girlie-girl.
The dueling imps on her shoulders clamored again, and she batted them away with a flip of her hair to still their strident voices.
About the Author: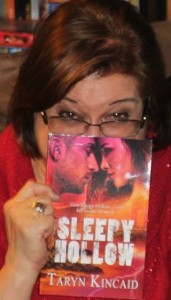 Taryn Kincaid writes paranormal, historical romance and contemporary romance, sometimes spiced with a little humor or a lot of snark. She enjoys pinching and tickling words to make them dance. Her latest, RAIN, a post-apocalyptic retelling of Sleeping Beauty, is out now from Decadent Publishing. HER CAPTAIN, a Tempting Signs romance (Capricorn) from Fated Desires Publishing, will release in December, 2015. HER CAPTAIN is available for Pre-Order now!
Website | Blog | TwitterFacebook | Goodreads  | Amazon | Pinterest
Pre-order at Amazon, iTunes, Google Play, Kobo, Barnes and Noble, or All Romance eBooks.