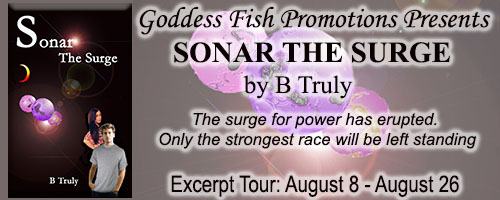 This post is part of a virtual book tour organized by
Goddess Fish Promotions
. The author will be awarding a $15 Amazon Gift Card, Sonar book mark, & Sonar The Surge Photo magnet to a randomly drawn winner, and $10 Amazon Gift Card, Sonar book mark, & Sonar The Surge Photo magnet to another randomly drawn winner, both via rafflecopter during the tour. Click on the tour banner to see the other stops on the tour.
Eclipsed by darkness, the Romelands must face the ultimate quest. If they are forced toward the umbra peak, they will be completely obscured.

Symone struggles with her most challenging battles … the conflict within herself. Losing loved ones steals part of her soul. Despair has created a gaping hole where her heart should be. Symone doesn't even recognize herself. She has to determine if this is the person she's turned into, or if it is who she has always been.

Nile is an attractive aristocrat whose charm and arrogance drives Symone insane. Beyond Symone's control, Nile is spun into her life. But she's not sure if she can have a relationship with him or where that could lead her. Embracing love could make her whole again, but it may also destroy her. Symone must travel through the opaque light in order to find where her destiny lies.

Symone's family, Shiray and Syira, continue to fight in the feuds of their galaxy. Together they have to find the balance between compassion and sacrifice. Kadanans are being held captive, and they hold the fate of their world in their hands. They have only begun to understand the consequences of the devastating realities of war.

The enemy of my enemy is my friend, is the philosophy the Romelands now abide by. With chaos and turmoil at every corner, they may forget what is worth fighting for. The surge for power has erupted. Only the strongest race will be left standing.
Enjoy an Excerpt:
* * * Symone * * *
"Nile, please calm down."
Nile narrowed his eyes at me. "I'm not talking to you." He turned away. My heart stung. I didn't want him to be angry with me. He must think I wanted to be with Cessar. I'm sure it looked that way.
"Bryan, please let me go. I'm not going to start any more trouble."
Bryan seemed unsure, but he complied. Nile stormed out the room without giving me a backward glance.
I looked everywhere for Nile. His room, then the conference and recreation rooms. I ran into Kumar, who told me that he had seen him go down to the basement. I headed downstairs. He wasn't in the cargo department. Maybe he was inside his ship. I placed my hand in the center of the moon triangle symbol on his ship, and beamed aboard. Nile was in the cockpit, sitting at the control panels. He appeared to be running diagnostics.
"There you are. I've been searching for you everywhere."
"Really? I figured you would be with Cessar."
I rolled my eyes. He was still pissed. He wouldn't even look at me. "I don't want to fight, but you've got the wrong idea about me and Cessar." He remained silent. "Well, it's obvious you're still angry. Maybe we can try to talk about this later. I'll leave you alone for now."
"Wait," he said, finally meeting my eyes. I turned around and walked over to him. "How did I get the wrong idea? You were holding hands and he was leaning into you. His thoughts were screaming that he wanted to kiss you."
"Cessar told me he wanted us to be more than friends."
Nile's jaw muscles flexed. "He was about to kiss you."
"Maybe those were his intentions. But I wouldn't have kissed him back. I was telling him that we could only have a friendship … nothing more."
"Oh," Nile sighed, blowing out his breath. "Cessar wants you, though. His thoughts are loud and clear. He'll always want more."
"He will have no choice but to accept that we can only be friends."
"Why? You get along better with him, anyway. You said so yourself."
I took a deep breath to calm myself. He was going to give me a hard time about this. I swirled his chair quickly, so that he was facing me. His eyebrows rose. Then I sat on top of him, straddling him in the chair. I wrapped both of my arms around his neck. This was a very intimate position. He gasped and bit his lip. That was new. Nile never got nervous.
"Because he doesn't make me feel the way you do." I captured his lips. He was taken aback at first, but then he returned my kiss, deepening it. This made me giddy. I'd been scared he would reject me. His grape flavored tongue heightened my senses. My head swam in desire and my body began to burn as his grape enhancer pumped through my veins. I moaned and started to move my body against his. I could feel every inch of him, sitting on top of him this way. I could also taste my pineapple enhancer swirling with his, enticing him. Nile groaned, caressing my back while we continued to explore each other's mouth. Suddenly he pulled back abruptly, just when things were getting electric.
"What's wrong?"
"I don't like feeling like this. I have no control over you," he exclaimed.
"You're not supposed to control people, Nile."
"So, what's next?"
"We continue to see where this leads."
"I'd like that."
"Me too."
About the Author: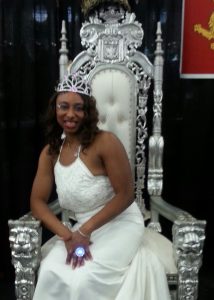 B Truly has wanted to be an author since she was fifteen years old and is grateful to have accomplished this dream. She has very vivid dreams and a wild imagination. She likes to read, watch tons of TV shows, and movies. She is addicted to romance and gets a thrill out of action and suspense. She writes New Adult, Fantasy, Sci-fi, and Paranormal-Romance.
In the Sonar series, B Truly said, "It was fun to explore different elements of Sci-fi romance and create various realms of powers for my characters. I want to show my readers that Sci-fi can be fun, but also traumatic. I hope you guys enjoy the Sonar Series."
B Truly has three wonderful children and a husband who defines the person she is today. She works full-time as an Ultrasound technologist in Sugarland, Texas.
Goodreads | YouTube | Twitter | Facebook
The book will be $0.99 during the tourAmazon.