Long and Short Reviews welcomes Brandon Witt who is celebrating the release of his latest book Son of Money
A Special Excerpt from Son of Money
Son of Money entered the world yesterday. This is a different type of novel for me. Low on angst, high on soap opera dram and intrigue. I'm curious to see how my readers will feel as I try out something new. Since it's already out, I didn't feel the need to try to convince you with how it was written or why. You can probably hop on Goodreads and Amazon and get an earful. (Well, it's only been a day, so maybe not.) Instead, I wanted to give you one of my favorite moments of the book. The 'first' kiss. To me, it's tied as my favorite kissing scene I've written. It was one of those moments during the writing that I could truly feel everything that was happening and it nearly took my breath away.
I'll set the scene simply. Randall and Noah shared a kiss nearly twenty years before. Randall ran into Noah again just a few days before this situation. It's late at night, and Randall is at his favorite spot in the world. A dock right above the surface of the water, the shores of Mercer Island silhouetted against a starlight sky. This moment is only the second time he's seen Noah as an adult.
I hope you enjoy… and swoon, just a bit.
"You know the myth about this place, right?"

I startled at the voice and whipped around, looking back to shore. A silhouette stood at the base of the boardwalk. Though I couldn't see his face, I knew the large, lanky form of his body. The timbre of his voice, soft, even though raised to reach across the distance between us.

My heart blocked the sound of the lapping water and the songs of the night insects. Breathing instantly became a challenge.
Noah stepped onto the boardwalk and walked toward me, speaking all the while. "The legends of the local Native Americans say that Mercer Island is haunted. Each night, under a cloud of mist, the island sinks into the lake and rises again with the dawn."

He was halfway to me, and I simply watched him move with confident grace. His face became visible with the help of the moon and stars. I couldn't think of what to say, so I said nothing. Just watched and tried to breathe.

And then he was in front of me, a mere foot away.

I started to stand, but he stretched out his hand. "No. Don't get up. May I join you?"

Words wanted to come, but didn't. I nodded.

Still graceful, he slipped out of his shoes and sat down next to me. So close our thighs nearly touched. So close there could be no misinterpretation of his nearness.

I met his gaze, his brown eyes clear and bright, catching the starlight. The corner of his lip turned up in a half smile. "I'd be okay if those legends were true. To sit right here with you and sink. Get lost till morning."

My skin tingled, goose bumps racing up my arms. I let out a shaky breath.

He leaned in toward me, supporting his weight behind my back with his closest hand, while he raised his other to cup my face, fingers on either side of my ear, scratching his thumb against my stubble. "I know I should ask permission, but I've thought about this for years, waited too long."

With no other warning, his lips were on mine. Warmth and pressure, but not long enough to give me a chance to pull away before there was heat as well. He moved his hand from my cheek and tightened his fingers on the back of my head and neck, pulling me deeper into the kiss.

A small gasp escaped me as he slipped his tongue inside my mouth. Not forcibly, just a tentative test, the only aspect of the kiss that sought permission.

Without being aware I'd moved, I felt the firmness of his chest beneath my hand. He groaned as I slid my hand over his shirt, feeling his flat stomach and then returning to the swells of his chest. He exhaled warm air into my mouth, never breaking the kiss.

I opened my eyes. Just for a moment. Just to make sure it was real. That he was real after all these years. That it wasn't simply the magic of the lake.

He was. Though it was still unreal despite the proof of his presence.

Satisfied, I closed my eyes once more and allowed myself to get lost in the kiss, soaring through the starry sky as surely as if I had dived off the dark platform.

Though I'd held all other sexual experiences and men up to the standard of that kiss at the beginning of my teenage years, Noah's kiss was not the same as the one from that long-ago night.

This was the kiss of man. A man who knew what he wanted. Who had no fear of repercussions. The kiss of a man who held nothing back in an effort to protect himself, while stripping away every one of my defenses.

This was a kiss that told me I'd never been kissed before.

I sank into it, joining with him as surely as if he moved inside me.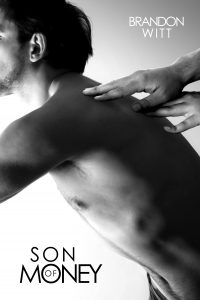 Randall Morgan, youngest son of one of Seattle's wealthiest families, rejected his family's money to live free of their control and pursue his career as a photographer. To make ends meet, Randall does erotic photography and massage—a secret he keeps from his family so he can remain a part of his young niece's life. But the price of that relationship is high, and Randall is slipping under his family's thumb.
Noah Carroll is the spokesperson for the Seattle Humane Society, and the city holds a special place in his heart. When fate intervenes during a pet adoption at the humane society, Noah finds himself face to face with his first love—Randall.
While Noah and Randall are not the teenagers they once were, the flame of a first kiss long ago draws them together. Their romance is just beginning to grow, but someone is out to destroy Randall and expose all he keeps hidden.
When secrets and rumors thrust Randall into the public eye, his relationship with Noah isn't the only thing that comes under threat.
About the Author: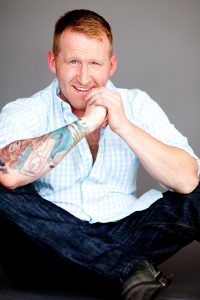 Brandon Witt's outlook on life is greatly impacted by his first eighteen years of growing up gay in a small town in the Ozarks, as well as fifteen years as a counselor and special education teacher for students with severe emotional disabilities. Add to that his obsession with corgis and mermaids, then factor in an unhealthy love affair with cheeseburgers, and you realize that with all those issues, he's got plenty to write about….
Website | Facebook | Publisher Author Page | Twitter | Instagram | Amazon Author Page | Goodreads | YouTube
Buy the book at Dreamspinner Press or Amazon.