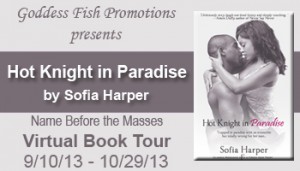 This post is part of a virtual book tour organized by Goddess Fish Promotions. Sofia will be awarding a $25 Amazon GC to two randomly drawn commenters during the tour, so make sure you comment here to be entered. Click on the tour banner to see other stops on the tour.
Write to the Beat
"The only thing you've ever known is to run." ~ Everybody, Keith Urban
Have you ever heard a song and immediately felt a connection? A person or a thought comes to mind once you start to the hear the lyrics. Finding a song that's perfect for a story feels exactly like that. The moment I heard those lyrics I knew I had to add it the book soundtrack.
Back then HOT KNIGHT IN PARADISE was an idea. I knew the heart of the book would be redemption. The TV show Life had inspired me and I wanted to play with what do you hold on to when you've lost everything else? Both Leah and Marshall felt deep guilt about something in their past, something they both felt they had blood on their hands for. But I played this song and I couldn't turn it off.
After hearing the song for the tenth time, Leah and Marshall filled out as characters. All that was left to do was write the story. Several other songs made the soundtrack, but this one is the most important. It draws the picture of the romance.
If you just can't bear to be alone, I'll stay.
What songs have you felt a connection to the first time you heard it?
Stranded in paradise with no way to get home, Leah Smith needs a miracle, and fast.

Instead, she gets Marshall Jackson, surely the sexiest man alive. Too bad he's got an emotional wall around himself–and her only hope of getting off the island … Marshall has a strict no damsels in distress policy, but there's something about Leah that makes him want to break his own rules. He agrees to let her work in his bar until she earns enough to get home. But the more time they spend together, the harder it is to deny the scorching attraction between them. Soon hot island nights provide balm to their wounded souls, but will these two flawed exiles make peace with the past in time to claim the future they deserve together–or will paradise be lost?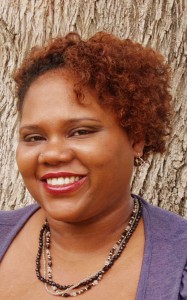 About the author:
In 2004, Sofia Harper began her writing career as a romantic suspense author. A bit problematic because she couldn't write anything mystery-like to save her life or even her characters. On a whim, she penned a contemporary where there was no dead body or explosions to save her from the dreadful middle slumps of a book. It was only the characters and what they had to deal with. She hasn't looked back since. She continues to write contemporary romances, mainly under a different pen, filled with sassy heroines and unlikely heroes. These stories are filled with one-liners, but heartfelt and sexy.
Outside of writing, Harper works as a mail clerk for the federal government, has a paralegal certificate (that she has more use for as a dust pan) and is a mother of two rambunctious children. She lives in California where the wine is good and, despite popular belief, is not always sunny. Harper plans to spend the rest of her days writing, raising her children and drinking good wine. Occasionally she'll brush her hair and get dressed, but that's optional.
Website: http://sofiaharper.com
Blog: sofiaharper.blogspot.com/‎
Twitter: https://twitter.com/sofiaharp‎
Facebook Author Page: https://www.facebook.com/sofiaharper.author‎
Goodreads Page: www.goodreads.com/author/show/7154484.Sofia_Harper