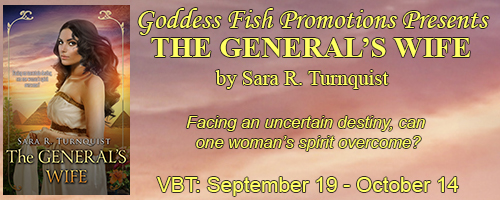 This post is part of a virtual book tour organized by
Goddess Fish Promotions
. Sara R. Turnquist will be awarding a $50 Amazon or Barnes and Noble GC to a randomly drawn winner via rafflecopter during the tour. Click on the tour banner to see the other stops on the tour.
SO YOU WANT TO BE AN AUTHOR?
As you know, I'm on tour for my second novel, The General's Wife. I remember the day it went up for sale in the wee hours of the morning…I know, I was up at 2 a.m. checking on Amazon. It was there. And the next 36 hours, I had so many texts and e-mails from friends and family members congratulating me and wondering what it must be like for an author on book premier day. Or what it is like to be a writer in general. It's never too late to find out.
Make the time for it. This is the most crucial thing about writing. You must carve out and protect the time. And you must practice writing. Work on short stories. Share them with your significant other and close loved ones who won't judge you but who will give you some good feedback. If you don't have a clue what to write about, google "writing prompt" and get some ideas that way.
Join a Writing Group. Find a critique group that meets regularly. Preferably one that is led by a published author. And gather up enough courage to participate by bringing in scenes or short stories to share with the group and open yourself for helpful critique. That is the only way to improve…by allowing iron to sharpen iron.
Go to a conference…or several. Conferences are like crash courses for writers and then some. You sit in on session about the craft of writing and you have the opportunity (in most cases) to pitch to an agent or editor or mentor. This is a rather unique experience and one I would encourage you to take every advantage of. Even if you don't feel ready. Make it a Q&A session or a practice session to ease yourself into the idea of pitching.
Take an online class. I made the decision to join a national writing organization. I joined the ACFW (American Christian Fiction Writers) and they host a monthly online class that I participate in. It is PERFECT for me. They focus on a different topic each month and there is one to two lessons a week (not overwhelming, but just enough to keep the juices flowing). It helps keep me on my toes and keep me learning.
Look for other opportunities to learn/network/connect. My critique group hosts workshops every few months that I participate in. I also joined a local chapter of the ACFW, which meets monthly. Additionally, I do what I can to interact with other authors via social media whether they are other authors that work with my publisher or other authors in the ACFW (they even have a Facebook group for several different genres, so I can connect with ACFW authors in my genre).
I believe that there are people born with certain talents and aptitudes. So, some people have more of a bend toward writing than others, and even some have more passion for it than others (and passion counts for a lot). But no matter your aptitude, natural talent, or passion, there is always room for growth and learning when it comes to the craft of writing.
"Go home!" Ismene is speechless as she reads those words written in blood on the walls of her new home. The young, raven-haired Grecian beauty had traveled all the way from her homeland to marry the Pharaoh's top general. But she never expected this. The hatred of the Alexandrian mob for their Greek rulers is right in front of her. It is the first of many threats she will receive.

Things are escalating out of control. Damaged crops and horses turned loose at night are one thing. But when Ismene receives a death threat, it becomes clear that there is a spy within her own household. She would turn to her husband to deal with this issue, except he left for battle by order of the Pharaoh. Not knowing whom to trust, she fears for her safety as well as the entire ruling class of Egypt.
Enjoy an Excerpt:
Once they were alone, he gathered Ismene into his arms. "Love, are you truly all right?"
"I am." She sighed, closing her eyes and just breathing in the scent of him. "Now."
He kissed the top of her head and rubbed her back. When he closed his eyes he could still see the scene that he had come upon when he had found her on the balcony, and his blood ran hot. He forced his mind back to the present.
"I have a surprise for you."
"Truly?"
"I thought I might read to you."
"Oh?" She pulled back to look into his face. "That is a pleasant surprise. I think, sir, that you have found my weakness."
"I think you know mine too, milady." He said, drawing her in for an intimate kiss.
About the Author: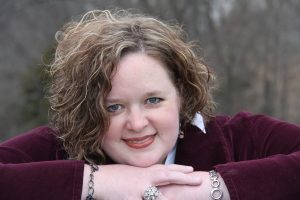 Sara is originally from middle TN. After a short stint in Memphis, where she earned a degree in Biology and began a career as both a Zoo Educator and a Sleep Technician, she then followed a dream to work for a large zoo in Orlando, FL as an Educator. Once she and her husband started their family, they moved back to Tennessee. Sara and her husband now enjoy a full life with their three beautiful and very active children. Sara enjoys many creative outlets – singing, piano, drawing, drama, and organizing anything. And even though she has enjoyed her career as a Zoo Educator, Sara's great love of the written word continued to draw her to write. She has always been an avid reader and, for many years, has been what she terms a "closet writer". Her travels and love of history have served to inspire her to write Historical Fiction. Sara has made several trips overseas to the Czech Republic. Her time among the Czech people and the landscapes of the country inspired her and greatly influenced her work on her debut novel, The Lady Bornekova, set in Hradec Kralove, Czech Republic. Sara is also a member of the ACFW.
Website | Twitter | Facebook | Pinterest
Buy the book at Amazon, Barnes and Noble, Kobo, Smashwords, or iBooks.