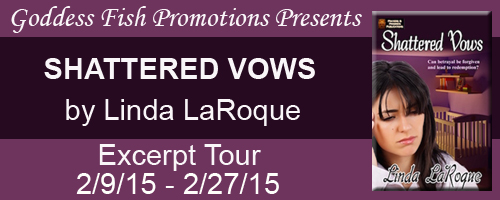 This post is part of a virtual book tour organized by
Goddess Fish Promotions
. Linda will be awarding three individual prizes to randomly drawn winners via rafflecopter during the tour: 1st prize—sterling charm bracelet with baby theme and a handmade wooden jewelry box; 2nd prize—a handmade wooden shawl pin and an ecopy of Shattered Vows; or 3rd prize—an ecopy of Shattered Vows. Click on the tour banner to see the other stops on the tour.
A mother, confronted with her husband's infidelity, must decide whether to help raise his child or end her marriage.

Annie and Stuart Rayburn have loved each other since high school. Their life is idyllic until their baby dies of SIDS, and Annie falls into a deep depression. Months of therapy help her recover, and they look forward to another child sometime in their future.

Despite his own grief Stuart tries to comfort Annie, yet when he reaches for her in the night, his advances are rebuffed. In a moment of weakness, he turns to another woman. Stu learns his night of infidelity produced a baby girl. The mother died in a car crash, and her will gives Stu custody.

Stu can't deny the child is his, and he's determined to raise her. He begs Annie's forgiveness. Hurt and angry, Annie must face her demons, decide if she can forgive Stu, and love the innocent child, or divorce him and move on without the only man she's likely to love.
Enjoy an exclusive excerpt:
In his room, with his few clothes stowed in the closet and drawers, he undressed and put the suit and shirt in a bag for the cleaners to pick up. He yanked the spread back on the king size bed and stretched out in his boxers and a tee shirt. His cell phone on the bedside table rang. He grabbed it hoping it was Annie.
Susan, his assistant, fired a question before he could say hello. "Stewart, will you be in early in the morning?" He'd been gone all day. Most likely she wanted to bring him up to date with the day's activities.
"Yes, I'll be in by seven-thirty. I need to be at the airport at noon, so cancel any afternoon appointments."
"When do you want to reschedule?"
"Day after tomorrow." He paused. "By the way, doesn't the casino have cribs and such as that for when guests come with children?"
"Uh . . . yes, I believe so."
"And a well-screened babysitting service?"
"Yes. Stewart, what's going on?"
He sighed and raked a hand through his hair. "Just get a crib sent up to my office and resumes and credentials on all the sitters on the list. I'll explain everything tomorrow. Good night, Susan." He dropped the phone to his chest and flung an arm across his eyes.
About the Author: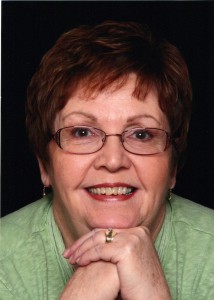 Linda LaRoque is a Texas girl, but the first time she got on a horse, it tossed her in the road dislocating her right shoulder. Forty years passed before she got on another, but it was older, slower, and she was wiser. Plus, her students looked on and it was important to save face.
A retired teacher who loves West Texas, its flora and fauna, and its people, Linda's stories paint pictures of life, love, and learning set against the raw landscape of ranches and rural communities in Texas and the Midwest. She is a member of RWA, her local chapter of HOTRWA, NTRWA and Texas Mountain Trail Writers.
Linda writes contemporary western romances, time travel romances and futuristic romances. Shattered Vows is her first Inspiration Women's fiction.
Blog | Website | Facebook | Goodreads
Buy the book at Smashwords, Amazon, or Barnes and Noble.
Other Books by Linda LaRoque
Contemporary Westerns
Forever Faithful
Investment of the Heart
When the Ocotillo Bloom
Futuristic
Born in Ice
Time Travel
The Turquoise Legacy
My Heart Will Find Yours
Flames on the Sky
A Way Back
Desires of the Heart
A Law of Her Own
A Marshal of Her Own
A Love of Her Own
Birdie's Nest
A Time of Their Own (A collection of three time travels set in Prairie Texas—A Law of Her Own, A Marshal of Her Own, and A Love of Her Own.)