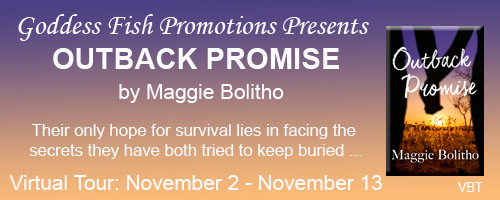 This post is part of a virtual book tour organized by
Goddess Fish Promotions
. Maggie will be awarding an eCopy of Outback Promise to 3 randomly drawn winners via rafflecopter during the tour. Click on the tour banner to see the other stops on the tour.
Shaping Outback Promise
Experience is the hardest kind of teacher. It gives you the test first and the lesson afterward. – various attributions
My novel, Outback Promise started as a tiny grain of sand, carried back home after three months in the outback in 2005. During that trip I wrote a daily journal, over 100,000 words in total, about the places I saw and the people I met. The outback made me feel as insignificant as dust. At the same time I felt connected to that ancient land in a deep, primal way. Stories swirled around me, like distant mirages, out of focus and just as elusive.
When I returned to Sydney, I sat down and tried to shape my impressions into a novel. The result was the sort of book that someone with little training and writing experience produces.
A writer friend read it and said, "This is quite lovely and it's perfect for your family and friends."
She gave me a long list of ways to improve it. Ouch. I had a lot to learn. For the next eight years I gathered skills and knowledge. Every so often, I'd open Outback Promise and work on it. Then I'd shelve it and work on something else, all the while letting the story incubate in the dark spongy part of my brain.
During this time, I went through several life changes. I made one international move, one move from the mainland to an island, and endured the gutting and renovating of a new home. I learned to write in a cramped attic space and in the dust and chaos of a building site.
I learned a lot of other things too:
The only way to finish a novel is to sit down and do it. Set aside the distractions and avoidance behavior and get to work. You can't polish what isn't on the page.
Develop a thick skin. My friend's reaction to my first draft may seem harsh but the market is even harsher.
Writers need other writers. They need to associate with people who will encourage them as well as speak frankly when work misses the mark. Finding productive critique partners may take a while but the benefits are huge. Look for someone who understands what you are trying to do, works at your pace and to your standards.
Never stop studying, going to courses and workshops, or reading books on craft. You don't know it all and there is so much to learn, it takes a lot of time to absorb.
Practice, practice, practice. Write in haste and edit at leisure. Don't be afraid to write fearlessly. Likewise, edit with courage.
When it comes to submission the golden rule is: don't submit too early. Those agents and publishers who see your rough work to may not be interested in a second submission. Avoid burning bridges.
If you are self-pubbing this rule applies even more. Don't burn off tomorrow's readers by rushing to deliver poorly-edited novels today.
I'm grateful that I learned to take my time with Outback Promise. I'm proud of its final, polished form. Given my lack of training and experience at the outset, I shouldn't have expected a faster result. Experience was my teacher and there was no crash course in what I needed to learn.
Six years ago, the Balfours lost their son Cadel to a hit-and-run driver.

A few months ago, Ros discovered Grady's affair.

With their marriage fast disintegrating, they decide to take a three-month camping trip into the heart of Australia to try and mend deep wounds and rekindle the fire that once fused them close. This trip will decide the fate of their relationship: do they have enough strength and enough love left to accept what life has put them both through?

But trust and forgiveness don't come easily, and Ros and Grady have to navigate not only the wilderness of the Outback and the challenges of other travellers, but also the chasm of grief and bitterness they have sunk into over the last six years. Their only hope for survival lies in facing the secrets they have both tried to keep buried …
Enjoy an excerpt:
The day my son died, he ate a Vegemite and banana sandwich for lunch.
His small voice, almost forgotten now, jarred me awake that morning. 'How do bees get to school?'
Forty pounds of energy scrambled onto the bed.
'Who's asking me these questions so very early?' I surfaced from a dream fog.
'Mummy! It's sunny!' Cadel wedged himself between his father and me. His breath smelled like apple juice.
'Okay, so how do bees get to school?'
'On the school buzz.'
His infectious giggle filled the room. I peered out at the bright blue sky and abandoned all hope of sleeping in. We said we'd take him hiking with his new backpack if the weather was good.
Grady rolled over and grunted. His wavy dark hair hung in his eyes as he tried to look stern. 'Lady Rosalyn, do you know this little person?'
'No, Sir Grady, I do not.'
'Should we make him walk the plank?'
'It's me, Daddy.'
'What? When?' Grady shook his head. 'Me? Me who?'
'It's me! Cadel!'
'I don't remember giving permission for you to come aboard. Are you sure you're not a pirate? I'd better give you the pirate test.' He lifted Cadel's pyjama top and blew a raspberry on his soft stomach.
Cadel shrieked and flailed his small arms.
I slid out of bed and left the two of them, wrestling and twisting the sheets into knots.
About the Author: Maggie Bolitho grew up in Victoria BC Canada, where she spent her childhood flying under the radar, constructing alternate universes, and wishing to be somewhere over the rainbow. Shortly after her 17th birthday she set out to see the world. Eventually, she moved on to Australia.
While living Down Under and exploring the outback, Maggie started writing fiction. Her adult short stories have been published in various anthologies in Australia, the US, and Canada. She has written for Quills Canadian Poetry magazine, her YA novel LOCKDOWN was published in 2014, and in 2015 she published OUTBACK PROMISE.
Website | Facebook | Twitter
Buy the book at
Amazon
or
Barnes and Noble
.