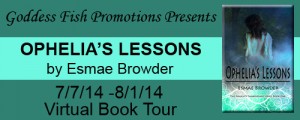 This post is part of a virtual book tour organized by
Goddess Fish Promotions
. Esmae will be awarding the first three ebooks in the series: Ophelia's Lessons, Ravishing Rosaline, and The Taming of the Prude to a randomly drawn winner via rafflecopter during the tour.
Shakespeare and Erotica?
by
Esmae Browder
"To be or not to be? That is the…wait! Stop! Put on thy clothes, woman!"
We all know that's not how Shakespeare's famous line from Hamlet was written! But wouldn't it be fun if it was? In my latest erotic series, I attempt to take some of the Bard's most famous works and spice them up a bit by adding in some steamy sexual adventures. Now before you get all upset and start screaming about how doing such a thing is practically sacrilegious, let me explain a few things…
I adore William Shakespeare. I am certain that in another life I was his girlfriend. Probably even his muse. Probably. However, I do feel that Will could have spiced up his leading female characters a bit! Some of them never really got a chance to explore their back story. Since he's been dead for over 400 years, it's fallen to me to do this task for him. Hence, the Naughty Shakespeare series. Each book in the series is either a prequel to the original Shakespearean tale or a retelling.
Ophelia's Lessons is a modern day prequel to the tragedy, Hamlet. Remember how sweet, innocent, and virginal Ophelia was as Hamlet's girlfriend? How she doted on him? How she was a complete doormat for her father and brother to walk on? I always wondered why she was like that! Ophelia's Lessons sets up trying to explain who Ophelia really is. Trust me. She ain't all that innocent! With the help of Hamlet's best friend, Horatio, Ophelia learns a lot about sex, love, and pleasing yourself in the process of understanding both.
I love erotica and I love re-boots of old ideas. Shakespeare? Erotica? Oh yeah. They definitely go together! Shakespeare created a fantastic play. I just shook a little sexual spice on one of the characters! I hope you'll check out the series in its entirety! It includes Ophelia's Lessons (Hamlet), Ravishing Rosaline (Romeo and Juliet), and The Taming of the Prude (The Taming of the Shrew ). I'll be at the Romance Writers of America Conference July 23-26 and have decided to do a free book giveaway those days for all three books. Be sure and drop by Amazon and get your copy!
May all your nights be steamy!–Esmae Browder
Sweet, innocent Ophelia–she wants nothing more than to marry Hamlet Elsinore. But what does a simple virgin know about pleasing a man like the sophisticated and charming Hamlet? Not a whole lot, but when her seductive roommate, Portia, learns of Ophelia's interest, she gets Horatio to "teach" the innocent girl everything she'll need to know to seduce his best friend, Hamlet.

Set in modern day, this prequel to Hamlet is steamy enough to have even the Bard blushing! Enjoy this first book of Literotica in the Naughty Shakespeare series.
a Rafflecopter giveaway