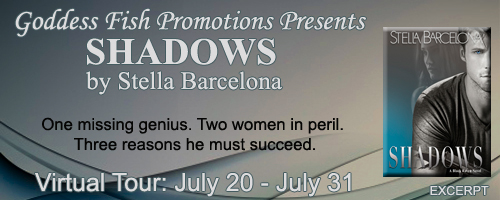 This post is part of a virtual book tour organized by Goddess Fish Promotions. The author will be awarding a $50 Amazon or Barnes & Noble gift card to a randomly drawn winner via rafflecopter during the tour. Click on the tour banner to see the other stops on the tour.
Cataclysm. Now. Run.

A cryptic, urgent text message turns the peaceful life Skye Barrows has created for herself and her sister into chaos. She must follow her father's instructions to the letter, but Sebastian Connelly is blocking her way. Telling Sebastian what she must do is not an option.

What He Doesn't Know Will Get Them All Killed

When a prison break in the midst of a security system upgrade threatens to destroy the reputation of Sebastian's company, Black Raven Private Security Contractors, he goes on the hunt for escaped prisoner Richard Barrows – a delusional and paranoid computer software genius.

Sebastian's mission: find Richard Barrows and return him to prison, but stonewalled by Skye, who refuses to give him answers, and with the added complication of her special needs sister, Sebastian finds himself always a step or two behind vicious killers.

Nothing About This Case is Normal

For Sebastian, it should be simple, but this case will test him in ways he never imagined. As probing interrogation becomes urgent protection, the search for Barrows forces Sebastian and Skye into a murky world of shadows and illusions.
Enjoy an exclusive excerpt:
Cataclysm. Now. Run.
Her father had taught her to act first, worry later. A simple idea, and one with value, although he had the luxury of living in grand schemes and high ideals.
He'd left her to contend with the real world, and to say it was a damn inconvenient day to have to run was an understatement.
She shredded the paper where she'd written his message, put the pieces in her mouth, almost gagging on the wad of pulp. With all that was inside of her, she knew that chewing and swallowing paper as a means of destroying the message was ridiculous. Yet she was committed by blood and loyalty to following her father's instructions, no matter how off-base, so follow them she did. She walked over to retrieve her personal ditch kit—cash, loose diamonds, gold medallions, and weapons—all packed in a backpack that was tucked in a locked trunk in her closet, under spare linens.
The location where cataclysm prompted her to run—a lake house on Firefly Island in Hickory Lake, near Nashville, Tennessee—had more supplies. For now, she just had to get there. Fast. She checked her backpack, put it by the bedroom door, and tried to calm herself by deep breathing. This first step of the cataclysm scenario—getting to the lake house within twenty-four hours and awaiting her father's next instruction—would be a no brainer if she were alone. But she wasn't alone.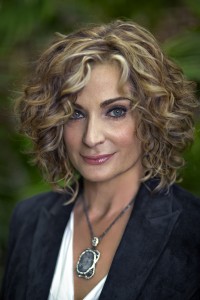 Stella Barcelona has always had an active imagination, a tendency to daydream, and a passion for reading romance, mysteries, and thrillers. She has found an outlet for all of these aspects of herself by writing romantic thrillers.
In her day-to-day life, Stella is a lawyer and works for a court in New Orleans. She lives minutes from the French Quarter, with her husband of seventeen years and two adorable papillons who believe they are princesses. She is a member of Romance Writers of America and the Southern Louisiana Chapter of the Romance Writers of America. Her first novel, DECEIVED, was inspired by New Orleans, its unique citizens, and the city's World War II-era history.
Her third novel, JIGSAW, a Black Raven novel, will be released in 2016.
https://www.facebook.com/stellabarcelona
http://www.amazon.com/dp/0996018514/