Sex Isn't EverythingAs a writer of Romance I often get to a point in my story where I have to ask myself about sex. Should they or shouldn't they? If they have was it too soon or even too late? Did they do it enough or too much? Some may argue the point that sex isn't everything, and both as an author and a reader I'd have to agree. It often depends on my mood as to what I want while I'm reading. But when I write, my characters run the show. Every now and then they surprise me, but when it comes to the sex scenes I usually know what I'm going to get at the start of the story.
My newest release, Too Hard to Break, is a sensual romance. It's published under Ellora's Caves' Blush line because there aren't as many sex scenes as the usual. However, there is still some sex and a very romantic thread. If you haven't read the other two books in the series I encourage you to do so, but it isn't necessary to read this one. I actually struggled a bit with the sex in this book because the characters just didn't need it. I'll admit a bit of sexual tension can be fun. I wanted to convey the anticipation both characters felt at knowing they might be together. Once it was all said and done I actually had to tame the one sex scene a bit for Blush, but I feel it worked out well.
What is your sex threshold in books? And if you read a non-Romance are you bothered by sex scenes? Comment below for a chance to win a Missy Jane swag pack (includes a deck of Ellora's Cave playing cards). Please include your email in your comment and I'll choose a winner in two days. Good luck.
Here's a little taste of my newest release. I hope you enjoy it!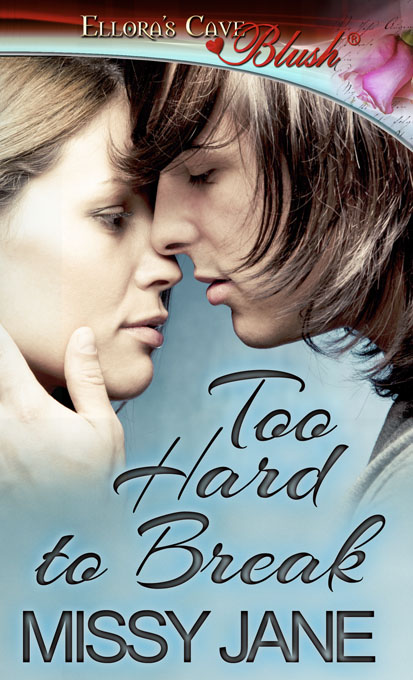 Blush sensuality level: This is a sensual romance (may have explicit love scenes, but not erotic in frequency or type).

Book three in the Love Beyond Barriers series.

A few months ago I finally moved on with my life and got away from my abusive ex-boyfriend. That should be a good thing, right? But now I'm living with Hunky Hank, my ex's former friend turned my Knight in Shining Armor. He's great at everything and treats me like a queen. Unfortunately that makes me feel needy when I'm trying to be more independent. When I need to be more independent. So when I started getting vibes of another woman, I knew it was time to move out and move on. So much easier said than done. It's not so easy to leave behind the temptation of the most perfect guy I've ever known. He's the only one who looks at me and instead of seeing a shattered image, he sees someone who is too hard to break.

A Blush® romance from Ellora's Cave
Want more? Click on the publisher's link and then look for the magnifying glass on the book cover. There will be the option to read an excerpt on the left hand side. Enjoy!
http://www.ellorascave.com/too-hard-to-break.html
About the Author:Ms. Missy Jane is the alter ego of a married mother of four who was born and raised in Texas. A few years ago she finished reading a book by Mercedes Lackey and thought "Now, what if…" and a monster was created. Missy now spends most of her time lost in worlds of her own making, alternately loving and hating such creatures as vampires, shape-shifters and gargoyles (to name a few). When not writing, she spends her time reading, taking photos of her beautiful daughters and training her husband to believe she's always right. She lives near Houston and doesn't understand why everyone hasn't moved to the South.
Website: http://www.authormissyjane.com
Blog: http://www.msmissyjane.blogspot.com
Facebook: https://www.facebook.com/pages/Missy-Jane/208776832491620
Twitter: https://twitter.com/msmissyjane