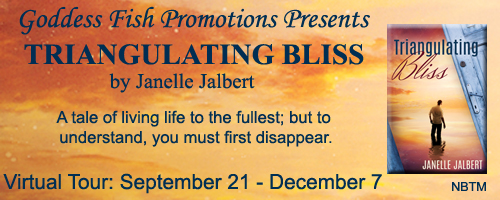 This post is part of a virtual book tour organized by
Goddess Fish Promotions
. Janelle will be awarding a $20 Amazon or B/N GC to a randomly drawn winner via rafflecopter during the tour. Click on the tour banner to see the other stops on the tour.
Secrets about Magical Realism
In planning my master's thesis in 2004, I wanted to do something different, fresh, and fun. The traditional literary canon became stale after studying the usual suspects for years. I'm drawn to stories that explore unexplained elements to daily life. Those mysteries are where the magic in everyday living reside. Luck, fate, destiny, serendipity, synchronicity are all things that prove a twist in the daily grind, as does a belief that there's more to life than what appears on the surface. These are part of the foundation of Magical Realism. This often dismissed and misunderstood genre offers more to readers than flights of fantasy. Before you join the masses in turning your nose to Magical Realism, take a moment to see if a little magic can add some spice to your reading experience.
How Magical Realism Differs from Fantasy
The fundamental difference between Magical Realism and Fantasy comes down to orientation. In Fantasy, the reader is completely immersed into a different world as opposed to Magical Realism where alternative "magical" elements are introduced into reality as it appears before us.
Fantasy relies on a different world in which the characters reside or travel. Any and all of the rules and laws governing our world are subject to question, modification, and termination. In fantasy, the world in which the story develops is of equal or more importance to the success of a story as any other element.
Magical Realism on the other hand is set in the world as it appears. It relies on a balance between the believable and the unbelievable. In the case of TRIANGULATING BLISS, the believable setting of a bar & grill in suburban Southern California is balanced with the unbelievable notion that the door at Bliss leads to another reality, the Bliss Triangle. There are certain conditions to make the doorway work as such, which further mixes the magical with the realistic. Typically, in Magical Realism, the unbelievable requires specific criteria to materialize.
A common misunderstanding about Magical Realism is that it is a lazy writer's form of fantasy. I argue to the contrary. In fantasy, the writer can create their own world and ways of living completely independent of reality. With Magical Realism, the writer has to skillfully blend what appears to be "real" with what is magical. The writer has to be skilled in knowing how far reality can be bent or stretched to provide a plausible, if not likely, tale. There is a necessary suspension of belief that the more literary folks note makes Magical Realism more of a challenge to readers, but I find that argument difficult to swallow. After all, is it more difficult to believe that supernatural forces may play a role in day-to-day existence, or is it more difficult to believe that Hogwarts exists?
Defining Magic
As Romance can range from the sweet to the erotic, the concept of magic can range from serendipity and synchronicity to supernatural/paranormal elements to the use of magic in the more stereotypical form of spells and such. The original works of Magical Realism were more paranormal and traditional culture oriented rather than magical in any witchy way. Ghosts and spirits were common features in the works of the grandfather of Magical Realism, Gabriel Garcia Marquez, and those that followed. Indigenous cultures were highlighted with nature based practices being included in many works. Myths and folklore about elements such as the influence of the skies on human experience were common as were holistic practices that were later transformed into magical potions and food-related powers.
The use of the term 'Magic' can be off-putting to some because of religious considerations, but the truth is that many religious traditions share more with Magical Realism than those who would argue a Fantasy element to religious doctrine. Personally, I find it easier to appreciate Magical Realism because elements such as shape-shifting, visiting spirits, and miracles are all part of various religious cannons. In many ways 'Magical' and 'Mystical' could be used interchangeably.
A Voice for Those on the Margins
The origins of Magical Realism are attributed to the literature of South and Central America as a reaction to colonial domination resulting from European exploration. The more traditional interpretation of Magical Realism calls for some sort of political statement – harkening back to the aspect of the genre being a means of socio-political commentary against domination – but today's Magical Realism often focuses on aspects of living in more of a mystical rather than political sphere. There has always been a separation of 'Us' versus 'Them' inherent in Magical Realism, and it extends to the notion of 'This Reality' versus 'The Other Side' in the form of paranormal/supernatural participation. Magical Realism is also a genre that allows people (characters) that live in the margins to have a voice. Many works feature protagonists that represent groups that are often silenced or ignored by the dominant society. Women are portrayed as strong and possessing a deeper wisdom than the scientific notions of knowledge. Ethnic minorities are often highlighted protagonists. The poor, the old, and the young also find a similar voice. Even those that are non-conformists find a home in Magical Realism (think of the work of Tim Burton – yes, he does movies, but it still translates – with Edward Scissorhands, Beetlejuice, etc.). In that way, Magical Realism provides a unique opportunity to highlight all forms of life in all its diverse forms.
For Those Who Want More Than a Cookie-Cutter Read
Just as Romance as a plethora of subgenres, Magical Realism fits and compliments a variety of other genres. TRIANGULATING BLISS features romance and mystery alongside Magical Realism. Paulo Coelho combines parable, religion, spirituality and travelogue with Magical Realism in The Alchemist and The Pilgrimage. Even cookbook recipes have been combined with stories in the form of Like Water for Chocolate. For that reason, Magical Realism is ideal for readers who enjoy a variety of genres and seek something fresh to read.
A struggling veteran reads about the mysterious death of a local athlete and wants to learn more. He meets the owner of the business linked to the crime and discovers others have "disappeared".

All stories include a man with dark hair, blue eyes, and a strong jaw.

Then, it's his turn.

The mysterious forces at Bliss change everything. What brought them all to Bliss is not as it appears and their lives are powerfully interconnected across space and time.
Enjoy an excerpt:
Greg's hand shook. It wasn't enough for the woman behind the counter to notice though. It wasn't from his morning caffeine rush. He'd skipped his morning pick-me-up in favor of completing the mission in short order. It was too many months overdue.
The pen slipped from his hand, more from the sheen of perspiration than the shaking. Get it together man! He shouted within the confines of his mind. You're a soldier…were a soldier. Man up! You want to do this. The decision's been made. Sign it. He grabbed the pen once again, and let it flow automatically across the paper.
The woman took the form, and her nails began clicking away on the keyboard. Her eyes darted between the form and the computer screen. Seconds, maybe minutes, passed. Greg wasn't sure. There were no clocks to tick off the time, just the woman's ping-ponging eyes. Greg felt the weight shifting, finally, and continued to wait. Complete relief, however, remained elusive. I took the plunge…took action…that's what matters. He reassured himself. It'll just take some time.
"Here you go," the woman gave a tight, polite smile. "It's official. If you need transcripts, it will take 7-10 days for your records to be updated."
"Thanks," Greg took the paperwork and turned towards the door. It was deceptively simple. Law school was officially part of the past, yet the weight of expectations remained.
About the Author: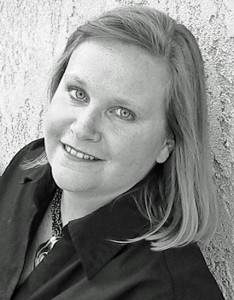 Janelle Jalbert has ghostwritten 15 nonfiction books on topics ranging from productivity, money management, marketing, cooking, and relationships. She also worked as a copywriter for some of the biggest online names and worked as a motorsports reporter covering NASCAR. Jalbert enjoys bringing stories to life that celebrate the magic in everyday living. To learn more about her current and upcoming releases and promotions visit www.janellejalbert.com. Jalbert currently lives in Southern California, though she regularly returns to her second home in North Carolina when her pack of pups grants her a vacation.
The "Bliss Challenge" is an effort to take the spirit of the novel's beloved character, Lois, and help make wishes come true. Ten percent of the proceeds from Triangulating Bliss and 100% of the proceeds from the novel's companion guide, The Backdoor to Bliss, will be given to a Make-A-Wish program voted on by readers. Selections are based on reader votes for their favorite characters: Los Angeles for Greg, Henri, and Mikel; Chicago for Lois; Charlotte for Jen; and New York for Richard. The goal is to grant at least one wish for a child in the winning city based on funds raised from the novel and guide. Voting and challenge updates can be found at www.TriangulatingBliss.com/BlissChallenge.
Twitter | Facebook | Website | Goodreads | Amazon Author Page | Barnes and Noble | Author's Extras
Buy the book at Amazon or Barnes and Noble.