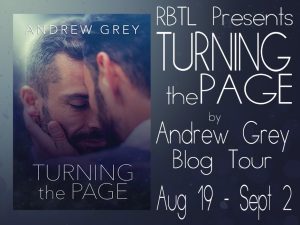 Long and Short Reviews welcomes Andrew Grey whose latest book, Turning the Page, will be released on August 19.
*****
I love second chance at love stories or second time around stories. I'm never sure what to call it exactly. We all don't always get our happy ever after the first time around. The relationship ends in divorce, or the love we've held in our heart for years passes away. That's what happens in
Turning the Page
. Malcolm has lost the man he thinks of as the love of his life and he's thrown himself into work. It isn't until Hans steps into his office for help and then into his life that Malcolm realizes eventually that just maybe, once in a lifetime, could actually mean that he'd get a second chance. I love these kind of stories because as I get older, I'ld like to think that is something happened to myself or Dominic, that the other would get that very same chance.
Malcolm Webber is still grieving the loss of his partner of twenty years to cancer. He's buried his mind and feelings in his legal work and isn't looking for another relationship. He isn't expecting to feel such a strong attraction when he meets Hans Erickson — especially since the man is quite a bit younger than him.

Hans is an adventure writer with an exciting lifestyle to match. When he needs a tax attorney to straighten out an error with the IRS, he ends up on the other side of the handsome Malcolm's desk. The heat between them is undeniable, but business has to come first. When it's concluded, Hans leaps on the chance to make his move.

Malcolm isn't sure he's ready for the next chapter in his life. Hans is so young and active that Malcolm worries he won't be able to hold his interest for long. Just when he's convinced himself to take the risk and turn the page, problems at the law office threaten to end their love story before it can really begin.
Enjoy an Excerpt
"You know I'm not going to let this go, Mal. He was really nice, handsome if you like that sort of thing."
Which Malcolm certainly did. Hans was the entire physical package for him if Malcolm was honest.
"And to top it off, he was definitely interested."
"Will you leave me alone?" He tried to sound angry, but Peter knew him too well.
"I don't want you to be alone for the rest of your life, and if things were left up to you, that's what would happen. You'd go to work and stay in your house, mourning David. Now you may be a queen sometimes, but acting like Queen Victoria is not going to happen."
"Where did you learn about that?" Malcolm was surprised David knew who Queen Victoria was. He'd never figured Peter for a history buff. Then it hit him. "Let me guess. Susan made you watch a movie about her."
Peter mumbled something, and Malcolm turned to stare at him.
"I pissed her off, and she said she'd cut me off for a week if I didn't. God, that thing was long and boring, and you are forbidden from ever becoming like that. So…." Peter leaned forward. "Are you going to call him?"
"You're like a broken record."
"Dude. I'll make a deal with you. I'll stop harping on it if you agree to call him and ask him out."
"Is this high school?" It sure as hell was starting to feel like it. "I'm fifty-two years old, not fifteen."
"I don't care how old you are."
Malcolm swallowed. "I saw his birthdate when I was reviewing his updated tax forms."
"So you looked?" Peter asked with a self-satisfied glee.
"That's ten years."
"At your age it doesn't matter. You're a guy and you still like guys, I hope, because there are few things you can count on in this world, and my big brother being gay is one of them."
When Malcolm rolled his eyes and nodded, Peter continued.
"Okay, then. You like guys, he likes guys, and he flirted with you. Also, and here's a big qualification, he's not dead, and neither are you. So…."
Peter crossed his arms over his chest, cocked his eyebrow, and waited. Malcolm did the same and stared right back at him. They used to do this for hours until one of them flinched.
"I'm a lawyer. I can do this all day."
"Call… him," Peter snapped.
"Fine," Malcolm said, and Peter started the damned movie already.
About the Author: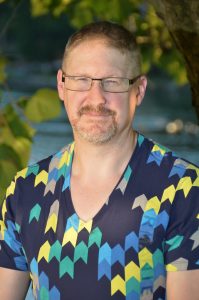 Andrew grew up in western Michigan with a father who loved to tell stories and a mother who loved to read them. Since then he has lived throughout the country and traveled throughout the world. He has a master's degree from the University of Wisconsin-Milwaukee and works in information systems for a large corporation.
Andrew's hobbies include collecting antiques, gardening, and leaving his dirty dishes anywhere but in the sink (particularly when writing) He considers himself blessed with an accepting family, fantastic friends, and the world's most supportive and loving partner. Andrew currently lives in beautiful, historic Carlisle, Pennsylvania.
Amazon Author Page | Barnes and Noble Page | Dreamspinner Press | iBooks Page | Facebook | Facebook Group All the Way with Andrew Grey  | Goodreads | Twitter | Website
Buy the book at Amazon, Barnes and Noble, or Dreamspinner Press.