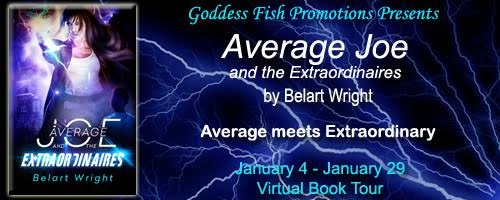 This post is part of a virtual book tour organized by
Goddess Fish Promotions
. Belart Wright will be awarding a $10 Amazon or Barnes and Noble GC to a randomly drawn winner via rafflecopter during the tour. Click on the tour banner to see the other stops on the tour.
Hi ladies and gentlemen, my name is Belart Wright and I am the author of Average Joe and the Extraordinaires. Today I'm here to talk to you about my process of creating characters for my various stories. Hopefully all of you writers out there will find some value in my process.
For me, the process of creating characters starts with the very creation of the story. I ask myself a very simple question, "what does this story need?" I'll have an idea of what I want a character to be and their basic function in the story at the very beginning. With Average Joe for instance, I knew that I wanted Joe to be an average kid from a small town, but I didn't know if Joe would be college age or younger and I didn't have a clear idea of his motivations or even his appearance. Those ideas came later. I knew I'd need some extraordinary characters for the world of Average Joe and so I came up with some archetypes for the others and some very basic motivations.
With the second part of my process, I've figured out and tightened the random ideas I've had for the book into a more cohesive skeleton of a plot and have some idea of where I want to put the characters to move the plot forward. At this point I typically flesh the characters out more. I'll briefly go into their appearances and will deeply go into their motivations and their relevance to the plot. I'll also add in some of their history or backstory so that I know where the character is coming from. Knowing these details, each character's complete story, feeds into future ideas and is useful in helping me truly understand that character so that I can easily stay true to them while I'm writing. At this stage I'll also create those personality, physical, and dialogue "tics" that make each character unique enough to stand out from the other characters.
With all this in play, I'll start writing the character in the scene and oftentimes my previous ideas about the character will be changed once I start writing. Sometimes it's a personality change, sometimes it's a change in the way they look or talk, but more often than not it's usually just an expansion into their history as I get new ideas from simply writing. By the middle of whatever novel I'm writing, any particular character is usually fleshed out fully with most of their specific details now set in stone. Oftentimes the story also takes a few odd turns (even for me) and I may introduce a new character and I have to do a much faster version of the same process which usually requires more intensive thought about a character's current and future role in the story's events. I'll think of all the ways that the new character can be effectively utilized besides the reasons I brought them into the story for. I'll work much harder to make sure the new characters need little change, since the story and plot are nearly finalized at that point so I try to avoid major changes.
I didn't say much about creating the appearance of my characters. It's usually my least involved part of the process and I keep it as simple as possible. Each character takes a visual cue from something I've seen in the past. For Average Joe and the Extraordinaires, most of my reference came from DC comics animated shows. This wasn't a conscientious decision. There were simply several characters who popped into my head as I was creating my own characters (http://belartscorner.blogspot.com/2014/08/design-inspiration-average-joe-and.html). Of course, I always think even deeper about the characters and make sure that their various appearances are more unique than even those mental images that I produce to create them.
And that folks is my process for creating characters. It's not the most complex method by any stretch, but it gives me what I need to create the most fully realized, well balanced, and fun characters that I believe my readers love to read about.
On a dark and balmy Floridian night, a strange and mysterious dark haired woman stalks the shadows of the local college football stadium, on the prowl for secrets buried deep beneath the Earth. These secrets, she knows, may change everything including this small town.

While knocking back illegal drinks with his friends at the hallowed Orangetown Pickers' college football stadium, average kid Joe Black finds himself desperately trying to save the life of a beautiful dark haired woman after a deadly explosion violently interrupts his fun and games. While trying to fathom why he would even do something so reckless he soon finds himself entangled in a dangerous game of terrorist plots, mistaken identities, hard boiled detectives, the criminal underworld, and of all things magic as he tries to escape with his life and make sense of it all.

Joe faces many challenges from all new enemies, assassins, and even his own friends. Can Joe navigate all this danger, escape with his life, and handle his biggest challenge to date, finding something about himself that is truly extraordinary? Find out within the pages of Average Joe and the Extraordinaires.
Enjoy an excerpt:
She rode off, down the street on her motorbike that was now a sky blue color to match the highlights in her hair, her ponytail, and her full face helmet. As she drove, she thought of her next move. She had a long list of places she wanted to visit, mostly associated with Grabas and the secrets he held beneath the stadium. But now her focus was on getting Joe out of trouble. She needed to figure out who has gunning for him…or better yet, she had to convince the man who hired this assassin to call off his killer. That man was definitely Robert Grabas.
About the Author: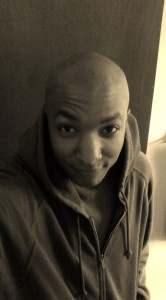 Belart Wright was born and raised in Detroit Michigan with a short but adventurous stint in St. Ignace during his childhood. Always poor, Belart had to learn to use his imagination to fuel the fun he had. Whether it was drawing cool and dangerous looking heroes to creating fully fledged storylines with his action figures to writing stories about kids similar to himself with fantastic abilities and destinies, Belart was always an expert in delving into other worlds that were not his own.
Always naturally talented at writing, it took the advice of his brother, and a little creative boost from his high school creative writing teacher to get him to realize that writing was something he could do really well and pursue as a career. To this day he revels in building worlds and characters from the ground up such as the worlds of Hell Warriors, Story of K, Cyborgs and Deadmen, and Pannam which are all working titles.
In his spare time Belart tries to update his two blogs whenever he can, but mostly just ends up writing or editing. As a huge gamer he plays a lot of games online and off with his favorites at the time being Borderlands 2, Phantasy Star Online, X-Men Legends, and Dark Souls. He just wishes he had more time to whittle his impossibly long gaming list down which goes all the way back to PS1 and Sega Genesis classics. He and his buddies at FlubberKnuckle Studios are also working on several new game IPs. He is also patiently waiting for the next installment of the superb Legacy of Kain series.
Personal Blog | Story Blog | Google+ | Goodreads
Buy the book for $0.99 at Amazon.