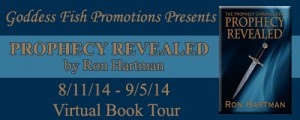 This post is part of a virtual book tour organized by Goddess Fish Promotions. Ron will be awarding a $25 Amazon gift card to a randomly drawn commenter. Click on the banner to see the other stops on the tour.
Science Fiction and Fantasy—What is the Appeal?
By Ron Hartman
I love fantasy. I like a good science fiction story too, but to me there is nothing quite like a well-written fantasy novel. To me the appeal for both sci-fi and fantasy should be obvious: it's that ANYHTING can happen! You could see starships, sorcerers, aliens, vampires, wormholes, black holes, teleportation, or dragons. With fantasy and sci-fi, there are no holds barred. They offer the promise of something
amazing
happening.
Yes, some people look down their noses at these two genres. They say sci-fi and fantasy aren't mature, that they're the bottom rung of literature. I disagree. I think these genres are the epitome of literature. They look at man, not how he is, but how he should be. They look beyond the petty differences we obsess about today and show us vastly more interesting…well, petty differences we could one day strive for!
But seriously, when fantasy and science fiction are presented at their best, they don't focus on the differences of mankind, they focus on the similarities that bind us all together. They open our eyes to new possibilities and motivate us to strive for a greater version of ourselves. You know it's out there somewhere, waiting beyond the stars or in a monster's lair.
One galaxy is not enough to contain all of humanity. Hell, one continuum is barely enough! Sci-fi and fantasy give us the promise. There will be hardship. There will be pain, and sometimes there'll be humor, but through it all we will persevere. We will rise above a current world where humanity is bogged down by racial and religious intolerance. We will unite for the greater good.
In a word, fantasy and science fiction offer the purest form of escapism. In this strange world we inhabit, most of us are looking for a couple hours of release. We want to lose ourselves in something amazing, where our hopes and dreams can flourish. Just look at the success of superhero movies these days. Did anyone go watch Guardians of the Galaxy? Did you go because you wanted to hear how Abraham Lincoln passed the Emancipation of slaves, or did you go to escape for a couple hours?
Sure, you could escape into a good western, or a steamy romance novel. Will there be something amazing there? With sci-fi and fantasy you can get the same story, but there will be something along the way that will open your mind. It will expose you to new ideas, concepts, and people you'd never expected. And if you're lucky, if you strap into the starship and ride all the way in hyper-drive, you just might learn something about yourself. You just might find that better version of you just waiting beyond the rainbow.
As I said, my favorite is fantasy. So come, escape with me. I'll weave you a tale about sacrifice and destiny. I'll tell you about magic, and dragons, foretold saviors, and vampires. It'll be a fantastic voyage, and I promise you, something amazing will happen on the way.
Daniel Marten crossed the Burning Sea and convinced himself that he is the Prophesied One. But what does that mean? In this second installment of the Prophecy Chronicles trilogy, Daniel forges new alliances in his bid to save Naphthali from the Emperor. He meets the Tene'breon, a magical race that has evolved to use the Weave as effortlessly as he breathes air. The leaders of this race recognize him for what he is…but they also see something more.

Naphthali has been dramatically altered by the rule of a new governor, a man whose power is tied to Daniel in a horrifying way. How far will Daniel go to save Naphthali? And what is the secret that binds his destiny with his new allies? Only time will tell in The Prophecy Chronicles: Prophecy Revealed.
Enjoy an excerpt:
Rage started to build inside Daniel. He closed his right hand into a tight fist and felt a dull ache that quickly gave way to burning pain. Of course that was alright too, because that was as it should be. He looked back to his desk and there, on the now cluttered surface was—Ah! His solace. The ones he turned to at his darkest moments. Ashley and the kids beamed at him from photos.
He turned to the thing doing a poor job of mimicking one of his closest friends. Her eyes flashed orange and she gave off a series of clicks as realization struck. She may be orchestrating this, but it's my mind, and I can control what happens. He looked at the pictures of his beloved family and considered his office, his refuge. She'd perverted it, desecrated it. Rage continued to build, and Daniel knew soon he would be powerless to stop it. Let it. He didn't want to stop. Still looking at the photos, he started to speak, his voice shaking with fury. "These are my family, my friends. I give them my time, and my care." He turned to not-Meg. "You are not one of them, and you will have no more." The last came out in a roar as he closed the distance between himself and his tormentor.
He opened his right fist and clamped it around not-Meg's throat, slamming her to the wall. The burning grew to encase his entire arm when he tightened his grip, but he refused to let go. He pulled his face to within inches of hers, and glared with suddenly steely eyes. "Who are you?" he growled.
About the Author:
Author Bio: Ron Hartman has had a life-long passion for the written word and is an avid reader. The Prophecy Chronicles are his first written works. The first in the series, Prophecy Foretold, was released in October of 2012. Prophecy Revealed is the second in the trilogy. Ron graduated from the University of Iowa College of Pharmacy in 2000 and lives in Ottumwa, Iowa with his wife and three children.
Website link: www.prophecychronicles.com
Purchase link at Rogue Phoenix Press