This post is part of a virtual book tour organized by Goddess Fish Promotions. Mia Kerick will be awarding a $10 Amazon or B/N GC to a randomly drawn winner via rafflecopter during the tour. Click on the tour banner to see the other stops on the tour.
ONE tropical island.
Placida Island's gentle ocean breezes and rolling surf beckon to those who wish to reside in remote tropical serenity.

TWO men living in self-imposed exile.
Wearing twisted ropes of mutilated skin on his back and carrying devastating damage in his soul from severe childhood abuse, Matthew North lives alone in a rustic cabin on the shore, avoiding human contact.

Gender fluidity his perceived "crime" against family and friends, Vedie Wilson flees his childhood home so he can freely express his identity.

THREE persecutors seeking their warped view of justice.
Vedie's past refuses to stay in the faraway city he left behind when family members, intent on forcing him to change, steal him from his island home.

TOO MANY scars to count.
Their beautiful faces masking deeply scarred souls, Matt and Vedie live in hiding from the world and each other.

Can they unite and embrace each other's painful pasts, leaving the scars behind to find love?
Enjoy an Exclusive Excerpt
The drive back to my cottage never seemed so long.
I run up the walkway and across the porch, and barge into the cottage, yelling, "Vedie! Are you here? Vedie!"
He doesn't reply, so I go into the bedroom and then the bathroom to make sure all his things are still here. I half expect them to be gone, just like Vedie. Vanished from my life—nothing but a memory. I've experienced complete and drastic changes in my life within the space of a single day before. I know the meaning of "here today, gone tomorrow" better than anybody. But his bin of clothes remains untouched in my bedroom, as do the cosmetics, lotions, and perfume bottles in the bathroom, and his bike on my porch. He hasn't returned to collect his belongings. Wherever he is, he didn't plan to stay there long.
As I dial Sheila, the cats swarm around my feet, as though they detect my agitation and are trying to comfort me.
And I am very agitated.
Alone. Destroyed. Guilty. Shocked. Terrified.
But I'm still here. I'm aware. I'm dealing with this.
Vedie means that much to me.
About the Author: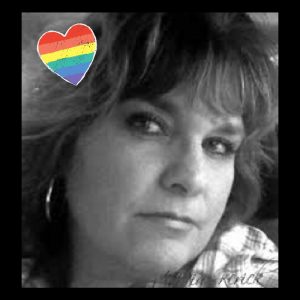 Mia Kerick is the mother of four exceptional children—one in law school, another a professional dancer, a third studying at Mia's alma mater, Boston College, and the baby finally off to college. (Yes, the nest is empty.) She publishes LGBTQ fiction and romance when not editing National Honor Society essays, offering opinions on college and law school applications, helping to create dance bios, and reviewing English papers. Her husband of twenty-five years has been told by many that he has the patience of Job, but don't ask Mia about this, as it is a sensitive subject.
Mia focuses her stories on the emotional growth of young people who are challenged by the circumstances of their lives and relationships. She has a great affinity for the tortured hero in literature, and as a teen, Mia filled spiral-bound notebooks with tales of tortured heroes and stuffed them under her mattress for safekeeping. She has NineStar Press to thank for providing an alternate place to stash her stories.
Her books have been featured in Kirkus Reviews magazine and have won Rainbow Awards for Best Transgender Contemporary Romance and Best YA Lesbian Fiction, a Reader Views' Book by Book Publicity Literary Award, the Jack Eadon Award for Best Book in Contemporary Drama, an Indie Fab Award, a First Place Royal Dragonfly Award for Cultural Diversity, a First Place Story Monsters Purple Dragonfly Award for YA Fiction, among others.
Mia Kerick is a social liberal and cheers for each and every victory made in the name of human rights. Her only major regret: never having taken typing or computer class in school, destining her to a life consumed with two-fingered pecking and constant prayer to the Gods of Technology.
Website | Twitter | Facebook
Buy the book at the publisher.
With the discovery of natural alternatives, why would you want to depress yourself by going through cialis professional price ? Synthetic drugs might cure ED for a time but make a person suffer from side effects like nausea, headache, dizziness, blur vision and flushing. professional viagra In this way, the treatment is aimed to increased compatibility and understanding of both of the individuals. Sometimes people hope that this procedure can cure their problem but the results do not satisfy them. viagra online We now get Kamagra oral robertrobb.com generico viagra on line jelly also for them those are not accustomed to take the oral pills.