Long and Short welcomes Ronald Balson whose latest book, Saving Sophie, was released in September. Leave a comment or ask the author a question for a chance to win a copy of the book.
*****
Thanks for the invitation to post on your exciting site and to share some personal insights into Saving Sophie, the second offering in the Liam and Catherine Series (the third, Karolina's Twins, is due out next fall). As you may know, in Saving Sophie, Jack Sommers, a recently widowed attorney with a six-year-old daughter, is in the midst of trying to put their lives back together when his father-in-law files a guardianship petition to take the child away. Jack had met his wife, Alina, a beautiful Palestinian concert pianist, while on assignment for the Foreign Service in the Middle East. Love knows no borders, they fall in love and decide to defy Alina's stern prohibitions. They run off, get married and move to Chicago where Sophie was born.
The court denies the father-in-law's petition, but in a Sunday visitation, he kidnaps Sophie and whisks her back to his fortified compound in Hebron, deep in the Israeli West Bank. Despite all of Jack's efforts with governmental agencies, Sophie is unreachable. In desperation, Jack disappears along with $88 million of his client's money, presumably to ransom Sophie's return. Liam Taggart and Catherine Lockhart are hired to locate Jack and recover the money. That's as much as I can tell you without giving away the plot.
The idea for Saving Sophie first came to me twenty years ago when I was working on a commercial transaction in my law practice. One company was acquiring another for $300 million and, typical of such transactions, all the funds were being exchanged through bank wire transfers – this one to pay off a bank loan, that one to pay off the equipment, another to pay the shareholders. The attorneys supplied the written wire transfer instructions – where the money was to be sent, the account numbers, the routing numbers, and the account names. It occurred to me back then, if you could get the timing just right, and if you had the cooperation of both attorneys, and if both of you were willing to disappear forever, wouldn't it have been possible to divert $100 million dollars to some secret Caribbean account?
So with that devious idea, I started to pen a novel and I worked on it for quite a while. But I wasn't happy with it. It didn't really have much fabric beyond the embezzlement. It lacked a love story. It lacked any social meaning. So after 200 pages, I threw it away. I didn't write any fiction until some years later when I wrote Once We Were Brothers. I liked my characters Liam and Catherine, so when I went to write a sequel, I returned to my original embezzlement idea. Only this time the focus of the story would be a father's love for his daughter and a daughter's unshakeable faith in her father. The theft of the money would be the reason to get Liam and Catherine involved.
I chose the violent city of Hebron as the setting for the story. Clearly, it would have been impossible for Jack to walk into the most dangerous city in the world and walk out with his daughter. My trips to Hebron convinced me of that! Add some bad guys, a hideout in Hawaii, Jack's warm relationship with Alina's best friend and a beautiful spy, and I had the pieces for Saving Sophie. As in Once We Were Brothers, the subject matter required extensive research and Saving Sophie took almost three years to write. It is my hope that you will enjoy the historical and regional background to the story as much as the plot.
AN ACTION-PACKED, UNFORGETTABLE JOURNEY OF MURDER AND DECEPTION, TESTING THE BONDS OF FAMILY AND LOVE

Jack Sommers was just an unassuming accountant from Chicago—until his wife passed away, his young daughter was kidnapped, and he became the main suspect in an $88 million embezzlement case. Suddenly Jack is on the run, hoping to avoid detection long enough to rescue his daughter, Sophie.

Now Catherine Lockhart and her partner, Liam Taggart, must join forces once again, this time working with mysterious CIA operative to launch a secret mission that aims not only to recue Sophie but also thwart a major terrorist attack in Hebron. But will the ever-escalating violence of the Palestine-Israel region put their entire team at risk and end in catastrophe? Or can they overcome the odds and save countless lives—including their own?
About the Author: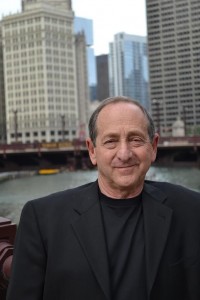 RONALD H. BALSON is a Chicago trial attorney, an educator, and a writer. His practice has taken him to several international venues. He is also the author of the international bestseller Once We Were Brothers.
Website | Twitter | Facebook | Goodreads | Amazon Author Page