Long and Short Reviews welcomes
Meg Bawden
who is visiting with us today to celebrate the upcoming release of
Rushing Love
. Enter the Rafflecopter at the end of the post for a chance to win an autographed paperback.
******
Hi there! My name is Meg Bawden, and Long and Short Reviews has graciously accepted me on their blog today for the release of my new story,
Rushing Love
.
Rushing Love is a M/M romance story set in South Dakota, USA. I wrote it for the States of Love line from Dreamspinner Press and I can't wait for its release. I had so much fun writing it and I can't wait to share it with you. Please allow me to share the blurb with you: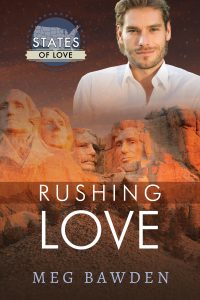 After a devastating break-up with the man he thought he'd spend his life with, Flynn Webb takes a holiday to a South Dakota dude ranch. It's something completely different from anything he's done before, and it helps that it's as far away from his ex as possible. Trapped in his own depressive thoughts, Flynn is surprised to meet Grayson Harland. Not only is Grayson a sexy cowboy—one fifteen years younger—but he's the most charming man Flynn has ever met.
Flynn doesn't have much experience with being seduced, and he has even less with guys like Grayson taking an interest in him—and Grayson is definitely interested. What begins as a fling while visiting iconic South Dakota sights soon develops the potential for much more. But Flynn is afraid that falling in love again so soon—and with a man so much younger—will lead only to another catastrophic heartbreak. Luckily for them both, Grayson isn't giving up without a fight.
If you're interested you can find the story here: Dreamspinner Press or Amazon.
To celebrate the upcoming release, I'd like to share an excerpt with you.
*****
"Tell me about yourself. If we're on a date, I should get to know you, right?"
Grayson glanced at him briefly and smiled. "All right. But I expect the same from you. I'm Grayson, born on September 13, 1995. I was a big baby, and Mom loves to remind me of the pain I put her through."
Flynn laughed.
"I don't watch TV, don't have time. But if I did, I'd watch something with hot guys in it."
"Queer as Folk."
"What's that?" Grayson pulled onto another road. It looked like it led to the monument, because farther down, there was a ticket booth where people were collecting money.
"You haven't heard of it?" Flynn went to get his wallet, but Grayson grabbed his hand and entwined their fingers. The touch sent a thrill through Flynn's body. Grayson's hand was warm and rough, and his fingers were much longer and wider than Flynn's.
"Nope, should I have?"
"It's a gay TV show. Full of hot gay guys that fuck. Brian…. Oh God, I'd bend over for Brian."
Grayson's eyebrows furrowed. There was a line in front of them, so they weren't getting anywhere fast. He looked more than happy to drive with one hand and hold Flynn's with the other. "Reality TV show?"
Flynn laughed. "Nope. Made up. But Brian is still hot."
"Should I be jealous?"
"Are you jealous?" As soon as it escaped Flynn's mouth, he pursed his lips. Goddammit. He had to remind himself that he'd only known Grayson for two days. Two damn days! He had no reason to be jealous.
"Yeah, I am." Grayson stared at him. "I like to think I can make you mine."
Words escaped Flynn. His chest felt tight, constricting until he could barely breathe, and his stomach was doing these silly little backflips. He liked those words, a lot, and he didn't understand it. Couldn't.
"Was that the wrong thing to say?"
"No…." Flynn cleared his throat. "No, it wasn't." He leaned in for a kiss, but before he could make it, the car behind them beeped their horn.
"Later," Grayson promised. "So what about you? You haven't really told me much about you yet."
Flynn shrugged. "There's nothing much to tell. I grew up in a religious home. My mom was a single mother after my dad left her for one of his groupies. He was a musician."
"You're joking."
"Nope. And you know how they were in the seventies, even the late seventies. They liked their music and pot and sex. So Dad ran off and Mom raised me on her own. We were looked down on by the church, no matter how much Mom tried. She was never good enough for them."
"Not all churches are that bad."
He shook his head. "No, not all. But a lot are. Are you religious?"
"I suppose I believe in something being out there, but I don't go to church. Mom used to, but she gave it up when some of the townsfolk started talking bad about me and Thomas for being gay."
Flynn sighed. "Yeah, that's how bad it got for Mom, even worse when some of the women from church saw me kissing a boy when I was fourteen. There are so many bigots now, but imagine in the early nineties. We were ridiculed. We had to pack up our stuff and move. Eventually, though, Mom sort of just gave up. She fell into depression and committed suicide when I was seventeen."
"Jesus, Mary, and Joseph!"
"Yeah…." Flynn shook his head, pushing the memories out of his head. "It doesn't matter. It happened and I'm over it. Well, not over it, but I've moved on."
"I'm sorry, Flynn."
He smiled and squeezed Grayson's hand. "It's fine. I'm fine. How about we focus on more positive things. Like how gorgeous I am."
Grayson laughed and released Flynn's hand as he drove up to the ticket booth. He handed the attendant the money and started to drive again. The road from the booth led straight to the parking lot, and it was a little hard to find a parking space, but they finally did.
They both exited the cab, and when Grayson reached him, he slipped his hand into Flynn's again. Flynn knew he should have been worried about other people's reactions. He knew from experience that not everyone was okay with seeing gay affection, but at that moment, as he stared up into Grayson's eyes, he didn't give a damn.
About the Author: MEG BAWDEN was born and raised in North Queensland, Australia. She's loved stories since before she can remember and has always enjoyed creating characters of her own, even if it did begin with drawing faces on toilet rolls and giving them names. Writing has always been a passion of hers and she's loved the M/M genre since 2004, the first book she read being Rainbow Boys by Alex Sanchez.
Writing M/M since 2007, Meg has never had the confidence to attempt publishing her own stories, but in 2015, she decided that it was all about to change thanks to the amazing friends she's made in the M/M genre and their support and encouragement. So watch out world, Meg Bawden is coming out to have some fun!
Facebook | Twitter
Are you interested in winning some signed paperbacks from me? Then now is your chance: