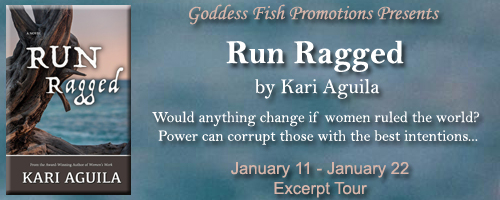 This post is part of a virtual book tour organized by
Goddess Fish Promotions
. Kari will be awarding a $20 Amazon or B/N GC to a randomly drawn winner via rafflecopter during the tour. Click on the tour banner to see the other stops on the tour.
In a devastated country, those in charge rule by fear, inequality, and oppression. Rhia, a strong and independent sea captain, just wants to keep her head down and do her job, unitl she finds herself trapped in a re-education facility designed to help people fit into the rules of the New Way Forward. The warden claims to be guiding those in her care, but Rhia quickly sees the cracks in the system. As she is faced with torture and brainwashing, those cracks become gaping holes that threaten to pull her down into the depths of despair. Can Rhia resist the slow subversion of re-education and become the reluctant hero the new world needs?

RUN Ragged is the thrilling second story by the award-winning author of Women's Work. This brilliantly imagined novel is both a scathing satire and a profoundly poignant look at the price we are willing to pay for peace and what we are willing to ignore to keep our conscience clear.
Enjoy an exclusive excerpt:
When the last board was pounded into place, they began to clean up. William carried the tools outside and checked them back in with the guard at the toolshed while Rhia collected the few nails that littered the floor around the small metal can. When he returned, he stood in the bright doorway, silently watching her. His long shadow covered her as she squatted to drop the last nails into the can, the cool umbra of his body draped over her back, but she didn't turn around.
"Looks good." William's deep voice resonated in the small space.
The smallest hint of a smile tugged at Rhia's lips, and she turned to look at him. "You mean the floor?"
His eyebrows crinkled together for a second, then he quickly looked away. "Of course. The floor."
"Step out of the doorway. You're blocking my light."
William walked inside, his tattered shoes clunking across the newly lain floor as he moved to Rhia's side. He squatted beside her, held out his hand for the can, and nodded at the floor. "Good job."
Rhia sat back on her heels and wiped her brow. "You too."
"Yeah."
Rhia watched him as he continued to nod, looking around at the floor, the nails, the walls, everywhere but at her. Once his mouth opened as if to speak, but closed again, his lips pressing together. She couldn't figure out if he wanted to praise her work and was hesitant to say too much, or if he thought he should say more but couldn't think of anything. She waited, hoping he would look into her eyes again.
Finally, he cleared his throat, stood up, and walked to the open door. "We'll be working on the plumbing in here soon. You can either help with that or move on to the next box to do another floor."
Rhia followed him out the door and was glad when he turned back to look at her. She stood straight, her shoulders back and her head lifted.
"It's up to you," he added.
"William," Rhia said softly. "Where are you going to be?"
"I'm doing the plumbing."
"Then I'll work here, too."
William stared at her for a moment. He blinked, his broad chest expanding with a deep inhalation. Cocking his head to one side, he studied her intently, perhaps trying to gauge her meaning and wondering if he dared reciprocate the affinity she was suggesting. His dark eyes flitted quickly down the length of her body and back up again to meet her gaze.
Rhia saw the confusion in his eyes, as if he both feared and longed for the companionship she offered. Then there was the slightest softening of his brow, and the corner of his lips curled into the faintest smile. He had made his decision. Rhia smiled.
About the Author: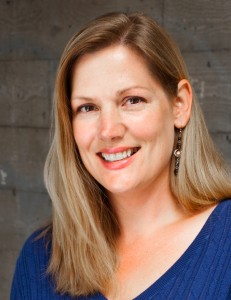 Kari Aguila was the recipient of an IndieReader Discovery Award for her first novel, Women's Work. Her stories are gripping and thought-provoking looks at gender stereotypes and relationships set in a dystopic future. She is also an avid gardener, geologist, outdoor enthusiast and mother of three. Aguila lives in Seattle with her family. RUN Ragged is her second novel.
Website | Twitter | Facebook | Goodreads
Buy the book at Amazon.