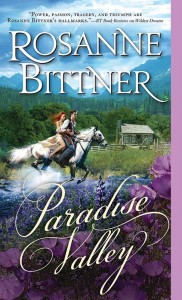 Hello! My name is Rosanne Bittner from southwest Michigan, and I have been writing for 30 years with 58 books published.  My latest publication is PARADISE VALLEY (from Sourcebooks), a western romance set in 1880's Wyoming, and I'm here celebrating this new title by telling you about a virtual contest I am running at http://rosannebittnerbookparty.blogspot.com/.  Be sure to visit this fun site and enter your name in contests for several nice prizes, including a $100 gift certificate to Amazon!
 I am the winner of several writing awards and am published in many foreign countries with several million books in print.  If you visit my web site at www.rosannebittner.com you can find out a lot more about me and all my titles!  You can also read some of my writer's musings at my blog – www.rosannebittner.blogspot.com.  I love hearing from my readers, who can e-mail me at rbamericanhistory@parrett.net.  I am also on Facebook and Twitter.  You can find PARADISE VALLEY at Sourcebooks.com, Amazon.com or on store shelves soon!
I have a deep love for American history, especially the Old West and Native Americans.  Nearly all my books are of the western romance genre, many of them family sagas, all of them solid love stories with memorable characters, their fictitious stories set against real American history and historical locations.  I have been studying the Old West for many years and have traveled to nearly all the places I mention in my books.  You name the 1800's historical event and I have probably written about it.  Not long ago I was named one of the "legends of romance" by Romantic Times magazine, an icon of the romance genre.  

I grew up on TV westerns and western movies with stars like John Wayne and Clint Eastwood.  I'm not sure if that's the reason I write westerns but I've always been drawn to that theme, including my reading when growing up, which was always about pioneers and Native Americans.  One of my goals is to tell the truth about America's history, especially the Native Americans.  So much was left out of what we were taught in school, and from the reader feedback I receive, I am accomplishing my goal, as many ask me if "this" or "that" really did happen.  I absolutely love the western landscape and have been complimented on my vivid descriptions of the vast and breathtaking scenery that is our American West. 
Three books that had a lot to do with my interest in writing about pioneers and our history are A LANTERN IN HER HAND, by Bess Streeter Aldrich, THE PROUD BREED by Celeste de Blasis, and BURY MY HEART AT WOUNDED KNEE by Dee Brown.  I read books about American history in my growing-up years and started writing the genre about 35 years ago.  My advice to new writers is to never give up.  I had close to 100 rejections and had already written 9 books before one of them finally sold.  I just kept trying and made sure editors knew I was here to stay and could definitely write more than one book.  I have never suffered from writers block.  To the contrary, I don't have time to write all the books I would like to write.  Because I love my subject with such passion, the stories pour out of me; and America's Old West history provides endless food for plot.
One of the most important elements for writing a good book is to do your research, love your subject and be "real."  Write from the inside – out.  BE your character in your heart.  Envision everything happening to you, not a fictitious character.  How would you react?  What would you say or do?  What emotions would come to surface?  Write from the character's point of view – not from the point of view of the "writer" looking "down" on what's happening and then explaining that to readers.  You never need to explain anything if you are letting the story happen naturally.  The readers will pick up on everything they need to know and understand.  And if you're doing your job right, they will feel all the emotions you want them to feel and they will be rooting for your hero or heroine to overcome all obstacles before them.
PARADISE VALLEY is set in 1880's Wyoming along the famed Outlaw Trail (which really exists).  It is a western historical romance that takes a young woman and a rugged rancher on a journey in search of outlaws who wronged both of them.  Along the way they fall in love, but the dangers they face and secrets they hold could destroy their relationship.  Their journey leads them back to the hero's ranch, called PARADISE VALLEY, where final decisions must be made that will affect their future together.  The story is filled with adventure and romance as well as wonderful descriptions of western Wyoming.  To learn more about the Outlaw Trail I recommend reading the full-color, hard cover book THE OUTLAW TRAIL by Robert Redford.  Wonderful reading and great pictures!
I am already at work on my next project, called DESPERATE HEARTS.  It is about a young woman named Elizabeth Wainright, who runs from the civilization of New York City to a tiny gold town deep in the mountains of Montana, where she hopes to hide from someone who is out to accuse her of theft and murder.  Circumstances leave her at the mercy (and in the arms of) one Mitch Brady, a lawman who borders on lawlessness because of his vigilante attitude.  Mitch sees everything in black and white, and Elizabeth worries what he will do if he finds out the real reason she has come to little Alder, Montana.  It's a great love story filled with action and adventure, drama and romance, and a good sprinkling of humor.
My writing schedule varies, depending on activities with my 3 grandsons, who all play sports, and on the bookkeeping I do for a family tool and die business.  Usually, once I get my idea straight in my head (and in my heart) and a publisher has accepted my story, I can whip out a good 100,000 word western romance in about 3 months.  I have been studying the West and its history for so long that I don't have to stop and look up every little thing.  It's already in my head!  Still, I will zero in on the specific location and historical event involved in my story and do some new research and refresh my mind on that particular subject so that my story is true to history.  I have received many, many compliments on my research.
I don't usually think about plot per se.  I think about a particular historical event and develop a fictitious story around that.  I really hate worrying about a synopsis.  I personally don't want to know what is going to happen.  My favorite way of writing is to just start a story (based on some historical location and event) and let the characters take me on their journey.  I have to fall in love with the characters (especially the hero!) and I have to be able to identify with the heroine.  I wrote my entire 7-book Savage Destiny series without ever writing a synopsis or even an outline.  The story wrote itself as I followed 16-year-old Abigail Monroe from her first journey west, where she met her beloved Zeke, a half-Cheyenne scout, on through their marriage of many, many years, into the lives of their children and finally some of their grandchildren through the growth of Colorado.  SAVAGE DESTINY is now available for Kindle at Amazon.com.
The worst writing advice I ever received was to try writing about other subjects and perhaps try writing contemporary stories.  It's just not in me.  I lost several years of writing by messing around with genres I didn't care about and failing at all of it.  I am born to write westerns, and the best advice I ever received came from my heart … WRITE WHAT YOU KNOW AND LOVE!  As soon as I went back to western romance and American history, I wrote PARADISE VALLEY and sold it – my first brand new title in ten years!  That's a perfect example of why I should be writing in the western genre.
Sometimes I do listen to music when I write – usually themes from big westerns like HOW THE WEST WAS WON and THE BIG COUNTRY.  To this day I still watch reruns of GUNSMOKE and watch old westerns on TCM and The Western Channel (Encore).  In answer to what makes me happy? – Traveling out west, especially Highway 70 through the Rockies.
Something I absolutely can't live without? I guess it would be my hearing and listening to birds – or hearing the wind or a thunderstorm in the Rockies.
If I had the power to adapt any of my books to the big (or little) screen, it would be SAVAGE DESTINY as a TV mini-series – or my MYSTIC INDIAN trilogy as a big movie – or OUTLAW HEARTS, SONG OF THE WOLF, my new book PARADISE VALLEY – oh, there are just too many.   I picture all my stories unfolding on the "big screen!"
My favorite color is purple, orchid, lavender – anything in those shades.  My bedroom and personal bathroom are in orchid and mint green.  My favorite weather is warm and DRY!  I HATE HUMIDITY, which literally makes me ill.  That's why I love the "dry" west.  Too humid here in Michigan in the summer, but I was born and raised here, my family and the family business is here, so that's where I live.  Michigan is a beautiful state, especially near Lake Michigan where I live, but I do hate the humidity.  In the winter my husband and I live in Las Vegas for a couple of months, where we own a condo.
One of your questions was could I ever co-author a book with someone?  I don't think so.  I'm too set in my ways and have too clear a vision of what I want to do.  I would be a poor writing partner – I'd want to change everything the other person wanted to do!  The farthest I could go is for someone to give me a good idea and then let ME write the story!
Wow, this is a lot, but your blog post said to write as much as I wanted, and once I got started going down your list of questions I just kept going and going!  Thanks so much, and be sure to look for PARADISE VALLEY coming in July, a great summer read –  and visit my "virtual" 4th of July party!  Have a great summer!  Rosanne Bittner