Long and Short Reviews welcomes back Valerie Bowman who is visiting with us to celebrate the upcoming release of her newest book The Right Kind of Rogue from the Playful Brides series. Leave a comment for a chance to win a copy of the book (US only please).
Can two star-crossed lovers come together—until death do they part?

Viscount Hart Highgate has decided to put his rakish ways behind him and finally get married. He may adore a good brandy or a high-speed carriage race, but he takes his duties as heir to the earldom seriously. Now all he has to do is find the right kind of woman to be his bride—ideally, one who's also well-connected and well-funded. . .

Meg Timmons has loved Hart, the brother of her best friend, ever since she was an awkward, blushing schoolgirl. If only she had a large dowry—or anything to her name at all. Instead, she's from a family that's been locked in a bitter feud with Hart's for years. And now she's approaching her third London season, Meg's chances with him are slim to none. Unless a surprise encounter on a deep, dark night could be enough to spark a rebellious romance. . .for all time?
Enjoy an Excerpt
"How in Hades's name can you drink at this hour of the morning, Highgate?"
Hart tossed back his brandy, swallowed, and laughed at his brother-in-law's words. The two sat across from each other at Brooks's gentlemen's club. It was decidedly before noon. The only reason Hart was up at this hour was because he'd promised to meet Lord Christian Berkeley. His brother-in-law rarely asked for favors and Hart suspected this meeting was his sister Sarah's doing, but he would humor the viscount just the same.
"Berkeley, old chap, you don't know the half of it." Hart clapped the viscount on the back. "Helps with the devil of a head left over from last night, don't ya know?"
Berkeley lifted his teacup to his lips. "No. I don't. But I'll take your word for it."
That reply only made Hart laugh harder, which made his head hurt more. Hart liked his brother-in-law a great deal, but the man was decidedly humdrum when it came to amusements. Berkeley rarely drank, rarely smoked, and preferred to spend his time at his estate in the north of England or his hunting lodge in Scotland. Berkeley enjoyed quiet pursuits like reading or carving things out of wood much more than the amusements London had to offer. But Viscount Berkeley was a good man and one who clearly adored Hart's sister, and that was what mattered.
The viscount had gone so far as to dramatically interrupt Sarah's wedding to a pompous marquess and claim her for himself, thereby not only proving his commitment to Sarah but also saving Hart from having the self-involved Marquess of Branford as a brother-in-law. Overall it had been quite a fortunate turn of events for everyone. Everyone except Hart and Sarah's enraged, thwarted parents, that is.
Berkeley tugged at his cravat. "How are your—ahem— parents getting on?"
Hart cracked a smile. "Still angry, of course, even after all these months. You and Sarah made a good decision, staying up north for the winter. Gave Father and Mother time to calm down." His father's anger at having a scandal mar his family name and his daughter marry a mere viscount as opposed to a marquess who had the ear of the Prince Regent had barely abated over the winter, but no need to tell Berkeley as much.
Berkeley leaned back in his chair and crossed one silk-stockinged ankle over an immaculately creased knee, his hands lightly clutching the arms of his chair. He shook his head. "They're not calmed down, are they?"
"A bit." Hart stopped a footman and ordered another brandy. "Don't worry. They'll be civil when they see you. For Sarah's sake."
"Well, that's something. Are you seriously ordering another drink?"
"Are you seriously surprised?" Hart scratched his rough cheek. He'd been running late and hadn't bothered to ask his usually drunken valet to shave him this morning. For Christ's sake, that man drank more than he did. Not exactly someone he wanted near his throat with a straight razor. "Besides I have quite a good reason to drink today."
"Really?" Berkeley tugged at his cuff. Ever since Sarah had taught him how to dress properly, the viscount was much more attentive to his clothing. He was downright dapper these days. "Why is that?"
"I'm getting married." Hart emitted a groan to accompany those incomprehensible words.
Copyright © 2017 by Valerie Bowman and reprinted by permission of St. Martin's Paperbacks.
About the Author: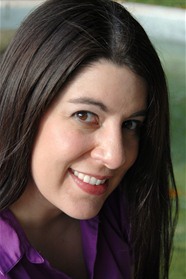 VALERIE BOWMAN grew up in Illinois with six sisters (she's number seven) and a huge supply of historical romance novels. After a cold and snowy stint earning a degree in English with a minor in history at Smith College, she moved to Florida the first chance she got. Valerie now lives in Jacksonville with her family including her mini-schnauzer, Huckleberry. When she's not writing, she keeps busy reading, traveling, or vacillating between watching crazy reality TV and PBS. She is the author of the Secret Brides and Playful Brides series.
Author Website | Twitter | Facebook | Pinterest
Buy the book at Amazon,
Barnes & Noble,
Books-A-Million, Indie Bound, or Powells.