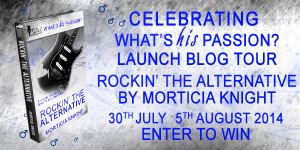 To celebrate the launch of What's his Passion? Totally Bound Publishing are giving away a bundle of great prizes. Enter for your chance to win here:
An Interview with Rock Singer, Aubrey King
1. We're here today with legendary rock music idol and former lead singer of the alternative rock band, Falling in Stereo. Thanks for sitting down with us today. How does it feel to be getting back out there on the scene after so long?
AK: Great man, really great. But, legendary? I don't know about that. Plus, it makes me sound really old. (chuckles)
2. Hardly, you look great, and the word on the street is you sound better than ever. When can we expect to get a preview of the new songs?
AK: Soon, I hope. I'm still in the studio, but my manager is trying to work out something where I can do a few gigs unplugged, get a chance to show off a few of the new babies.
3. Right on. I know everyone'll be looking forward to that, myself included. So, you've been out of the loop for almost ten years. What made you decide to come back after so long?
AK: The music. That's the only reason. When I left it was because I needed to step back for a while, remember what really matters. All the other bullshit, the fame, the money, it's not what counts. I love my fans and back then, well, I wasn't being honest with them. I'd lost my hunger and the tunes were becoming more and more lifeless, bland. I couldn't do it anymore.
4. You mentioned not being honest. Would that have anything to do with the rumors that have always circulated about your sexuality?
AK: I've never understood why my sexual orientation should be of any interest. The music is what matters. The rest is yet more bullshit.
5. Right, but you have to admit that a lot of what you write about in your songs is incredibly personal, revealing. You've never been linked to anyone of any gender. You don't think that people would be curious about that aspect of your life?
AK: Look, I do reveal a lot in my songs, a lot of personal shit. But those are my feelings, my thoughts. They have nothing to do with anyone else.
6. Yet you write a lot of love songs, or should I say, songs of lost love. Those lyrics have to be inspired by things in your own life. Why don't you want to share that with your fans?
AK: I share my soul with my fans. It doesn't matter who I do or don't love, or who that person is.
7. Okay, how about this? Is there anyone special right now?
AK: I hold out hope that someday there will be, I guess I'm a sucker for love. Like you said, it's a recurring theme in my songs. But it would take someone incredibly unique and special to put up with me. I can get lost in myself for days when I'm creating. I tend to talk about nothing but music around the clock. That can be pretty fucking annoying to a partner that isn't as turned on to rock 'n' roll the way I am.
8. Final question. We've heard that you plan on putting out a memoir, getting someone to help you with that. Any hints on who that might be?
AK: Sorry, but the deal hasn't been finalized yet so I can't give out any details. But I will say that I'd be the luckiest man alive if I get who I want.
9. If I know you Aubrey, you'll get what you want. You always do. Thanks again for being here with us.
The chance of a lifetime and the touch of a rock god are offered to music journalist Bryan Gallagher on the same day. Embracing one is easy, but resisting the other is harder than he'd anticipated—especially since Bryan has never been with a man.

It could be his dream assignment. Aubrey King, the legendary god of alternative rock music, has requested to meet with journalist and writer Bryan about penning the star's memoir. Aubrey and his dark, angsty songs are the reason Bryan was inspired to become a leading rock journalist. His obsession for his career has alienated the women in his life, but Bryan doesn't care. What really matters to him is the music.

Aubrey King has been out of the music scene for almost ten years—ever since his alternative rock band, Falling in Stereo, broke up. Questions about his sexual preferences have always surrounded him, and now that he's ready to make a solo comeback, he wants to tell his story, his way. He's followed journalist Bryan Gallagher's career for a while and believes that Bryan's obvious passion for music mirrors his own. He loves his writing style, but is also enraptured by the boyishly handsome writer.

Brian finds pushing his fanboy nervousness aside is difficult when Aubrey finally stands before him. He's amazed at how little Aubrey has changed—his intense gaze, his unique style and his still youthful looks epitomise the star he's always been. But Aubrey's vulnerability when he sings and shares the deeply personal lyrics of a new song triggers something in Bryan that he never knew was there. The need to give himself to Aubrey, to let the rock god do to him what he's never before desired a man to do.

Buy Rockin' the Alternative at the publishers.

About the Author: Erotic Romance author Morticia Knight enjoys a good saucy tale, with MM and MMF pairings. Since she loves several genres, you may find your heroes in a contemporary, historical, paranormal or sci-fi setting. One of her passions is bringing people's fantasies to life on the page, because life is too short for even one boring moment. Her stories are volcanic in heat, deep in emotion, and sprinkled with doses of humor.

When not indulging in her passion for books, she loves the outdoors, film and music. The Pacific Northwest is the ideal spot to enjoy both hiking and beachcombing. Once upon a time she was the singer in an indie rock band that toured the West Coast and charted on U.S. college radio. She currently resides on the northern coast of Oregon, where the constant rain and fog remind her of visits to her family in England and Scotland when she was a child.

She is currently working on a new historical MM series, as well as a steampunk horror and sci-fi ménage.