Revenge has never been such fun
Sarah Rayner
We authors get our inspiration in the strangest of ways. When my cat, Othello, jumped on my bed in the middle of the night a few years ago, he gave me the idea for Getting Even, my latest novel. But rather than simply rewrite Shakespeare's tragedy (and let's face it, the playwright did it rather well first time round) I thought I'd twist events and characters to my own end.
'Write about what you know' is advice often given to struggling novelists. It was then I had a Eureka moment. 'Aha!' I said to the cat. 'Advertising is highly social, dynamic, political and often bitchy, it would be the perfect backdrop for a revenge story.' Othello looked nonplussed, but it was a world I knew well – I joined my first agency many moons ago (a small, unglamorous wing of Saatchi and Saatchi), and just like Ivy, the wicked anti-heroine in my novel, for many years I worked as a copywriter, crafting ads for clients as diverse as Anchor Butter and Zurich Insurance.
It's the convention for a copywriter to work hand-in-hand with an art director – not only do copywriters and art directors come up with concepts together, but the best teams often swap roles, so writers come up with visual ideas and art directors devise tag lines. They tend to be on a par with one another in terms of kudos and power, and even though advertising is cut-throat, teamwork is the key. It's this relationship – at the start of the novel Ivy is paired happily with art director Orianna – that is at the heart of Getting Even. Thus having shifted the action from sixteenth century Italy to contemporary London, this is the second major edit I gave Shakespeare: I made his male protagonists (Othello and Iago) female.
Given the mutuality of the relationship, you can imagine that it's not the 'done thing' for an art director to get one over on her copywriter, but that's exactly what happens in Getting Even. Early on in the novel it's revealed that Orianna has been having an affair with an influential colleague behind Ivy's back, and then when Orianna is offered promotion, all hell breaks loose. I won't reveal more of the plot, I'll simply confess that writing Getting Even was probably the most fun I've had with my clothes on. Actors often say they enjoy playing villains, and now I understand why. Creating vengeful Ivy was a blast – because she could say and do all the things I'd like to say and do, but don't. We all have to keep a lid on voicing our innermost thoughts much of the time, and to have a character who can just let rip was very cathartic.
I hope the finished novel gives readers a similar thrill. Meanwhile I'd like to thank my cat, and Shakespeare, for giving me the inspiration.
Getting Even was published by St Martin's Griffin on 23 September.
To find out more about Sarah or get in touch, please visit her website at www.TheCreativePumpkin.com.
Revenge has never been such fun. How would you feel if your best friend at work betrayed you? Was secretly having an affair with an influential colleague? Won a coveted promotion, then teamed you up with a mere junior, leaving you feeling completely demoted? What would you do? For Ivy there's no choice. The only person she has ever trusted, Orianna, has blown it big time. So there's only one way forward: revenge.

Ivy's campaign is brilliant, if horribly destructive, and she's determined to get even with the woman who has dared to cross her. But is Ivy really the innocent party? Or is she hiding secrets of her own?
About the Author: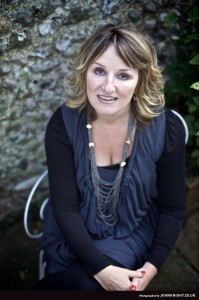 SARAH RAYNER, international bestselling author of One Moment, One Morning, was born in London and now lives in Brighton with her husband and stepson. She worked for many years as an advertising copywriter and now writes fiction full-time.
Find Sarah on the web!
http://www.thecreativepumpkin.co.uk/
https://twitter.com/#!/creativepumpkin
https://www.facebook.com/pages/Sarah-Rayner/272812046079462
http://pinterest.com/pumpkinpinning/
http://instagram.com/thecreativepumpkin
http://www.beachhutwriters.co.uk/
http://www.goodreads.com/author/show/1021011.Sarah_Rayner
http://www.amazon.com/Sarah-Rayner/e/B0034PC34E