This post is part of a virtual book tour organized by Goddess Fish Promotions. Emily Mims will be awarding a $10 Amazon or Barnes and Noble GC to a randomly drawn winner via rafflecopter during the tour. Click on the tour banner to see the other stops on the tour.
Researching Along the Way-Using Life Experiences in the Smoky Blue series
I am frequently asked how I go about researching my stories. There is no one answer to this, as the answer depends on what I am writing about and what I need to know. When writing battle scenes, for example, I go to Google and play some of the videos posted, or talk to soldiers about their experiences. If I'm writing about a health issue, I run it by a health professional. If a plot point involves a point of law, I find a lawyer and ask. If I need to know about a certain career, I find someone in that career and pick their brain. But the best research is the kind I do when I'm experiencing something myself, for myself, that I can later use in a book. Most the research I did for the Smoky Blue series, 'Smoke' in particular, was done along the way-that is, while I was seeing or doing or experiencing something myself that I would later use in my story.
I became interested in mountain and bluegrass music in 2012, the same year I sold my first book to Boroughs. That book was set in the Texas Hill Country and I had plans to write more in that series, but in the back of my mind I was already thinking about what direction I would go when I'd written the Texas series. I had bought my first dulcimer on a trip to Eastern Tennessee and found a group to play with here in San Antonio. They told me about a dulcimer festival that was held every year in Palestine, Texas, and said I would find it fun. As I attended the workshops and listened to the concerts in Palestine, I kept thinking 'Wouldn't this be a wonderful backdrop for a series? Books about bluegrass and mountain musicians and the men and women who love them?' The idea for the Smoky Blue series was born that weekend.
Never one to let grass grow under my feet, I cornered a couple of the musicians who I particularly enjoyed and pumped them unmercifully for their background story and what their life as a professional old timey musician was like. I stored the notes away. I kept playing and learning the music. I made two trips to Hawaii and brought home three ukuleles and a love for Brudda Iz's music. Over the next three years I continued to amass ideas. I talked to numerous luthiers peddling their creations and bought instruments in Tennessee, Hawaii, Missouri, California, and Texas. I learned to play the dulcimer and the ukulele, and am working on the bowed psaltery. I went to music festivals all over Texas. I went to the workshops associated with these festivals. I listened to street musicians in Gatlinburg and teenaged bands at the Ozark Folk Center in Arkansas. I talked to more musicians, picking their brains every chance I got. I bought countless CD's from festival performers and street musicians and played them as I barreled down the highway. Would I have gone to the festivals and bought the instruments anyway? Sure. But knowing I was going to write about it all just made it that much more fun.
I made music myself. With the dulcimer group, I played old time mountain tunes at jams and street concerts and festivals. With an all-ukulele group, I played Hawaiian music at luaus and rock and roll tunes at murder mysteries and parades. I jammed with a friend's bluegrass group in Florida. I went to Mountain View, Arkansas and jammed in their 'Pickin' Park' right off the courthouse square. I experienced the same joy in making my music that my characters do when they make theirs.
When it came time to write, I was ready. I had lived it. I could now write it.
Did I know everything I needed to know to write 'Smoke'? Of course not. I knew very little about classical violin, and spent considerable time enjoying You-tube postings of fabulous young musicians playing Vivaldi and Corelli, among others. I did a little Googling of Brooklyn, the setting of the prologue, since it had been years since my last visit. I took an on-line tour of Bass Hall. Although Cooper wasn't the first amputee I've written, I did do a little research into prosthetic arms and how he would wear and operate one. Since I wasn't sure how a psaltery and a fiddle would sound together, I found a fiddler and played a fiddle-psaltery duet with her.
But the heart and soul of 'Smoke', the joy of making music, the magic of the old timey mountain tunes? I already had all the background I needed. I had done my research along the way. I wrote what I knew. I wrote what I love.
A concert violinist and musical prodigy, Francesca Giordano is internationally acclaimed and always in the spotlight—right where she doesn't want to be. Not after she's witnessed a murder. Suddenly on the run, she finds her way to Bristol, Tennessee, and to the music club Acoustics. There, as " Chessie Hope," she can hide out in the open. But with this newest gig comes a different kind of danger. Older and impossibly sexy, bluegrass singer Cooper Barstow is everything she's ever wanted in a man, and his daughters are just as easy to love. Yet Francesca cannot enjoy the luxury of such a relationship, not even if he could protect her from the men on her trail or if she could be honest with him about who she is. Cooper is as wounded as he is strong, and he needs someone who will stay by his side for the rest of his life. Just as Francesca does. And the smoke on the mountains and the haze of desire almost make her believe that could happen.
Enjoy an Excerpt
"No, it was more than that. You're wise for your tender years, Chessie. How did you get to be so smart?"
"I'm not all that smart. You'd eventually have figured it all out."
They stared into one another's eyes for a moment. "I was jealous." Cooper was abrupt. "Of Jeremy. When he came on to you."
Chessie cupped his face between her hands. "Cooper, why?"
Cooper put his good hand on Chessie's shoulder. "He's young and he's cute and he has both his arms."
"If I were into boys, I might have been impressed. But I'm not into boys, Cooper. I'm into men. One man, in particular. And you know what? I'm going to kiss that man, right now."
Cooper stood, not moving, as Chessie went up on her tiptoes and placed her lips against his. She held his face in her hands and nibbled, touching and seeking in the gentlest of caresses before deepening their embrace. At first Cooper let her take the lead, but as hiss torment became unbearable he crushed her to him, her soft curves fitting just right into his hard, muscled body like a cool drink of water in the parched Arizona desert. She wrapped her arms around his body and held him even closer. Her nipples stiffened with desire and poked into his chest. Cooper was overcome with longing. He wanted this woman so badly he could taste it.
About the Author: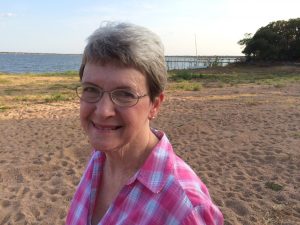 Author of thirty romance novels, Emily Mims combined her writing career with a career in public education until leaving the classroom to write full time. The mother of two sons and grandmother of six, she and her husband Charles live in central Texas but frequently visit grandchildren in eastern Tennessee and Georgia. She plays the piano, organ, dulcimer, and ukulele and belongs to two performing bands. She says, "I love to write romances because I believe in them. Romance happened to me and it can happen to any woman-if she'll just let it."
Website | Facebook | Twitter
Buy the book at
Amazon
or
Barnes and Noble
.