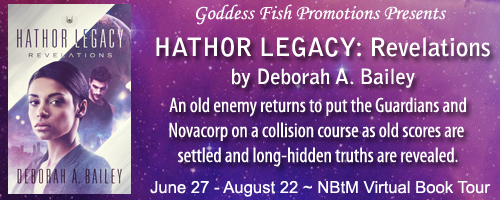 This post is part of a virtual book tour organized by
Goddess Fish Promotions
. Deborah A. Bailey will be awarding a $30 Amazon or Barnes and Noble GC to a randomly drawn winner via rafflecopter during the tour. Click on the tour banner to see the other stops on the tour.
Research for the Hathor Legacy Series
When I wrote the first book in the series, Hathor Legacy: Outcast, I started out with one idea. What would happen if a disease could change someone's DNA and cause them to have heightened senses beyond our "standard" five senses? Since I was writing science fiction, and not fantasy, I needed to create a plausible explanation for it. So, I decided to put the setting on the planet, Hathor in the 23rd century. Shortly after settlers from Earth arrived on the planet, they contracted a disease caused by the terraforming. This disease led to their descendants developing psychic abilities.
I researched things like telepathy and telekinesis to get a feel for what could be possible, then I expanded on it for the story. The thing is, who knows what future research will determine about psychic powers? They might turn out to be less paranormal and more reality-based as researchers learn more about the brain.
When it came to picking planets for my story, it was actually quite easy! There's a lot of research about "goldilocks" planets that have been discovered beyond our solar system. These planets are Earth-like and might be able to sustain human life. Or, they could be terraformed to prepare them for human inhabitants. The NASA website has a lot of good information, and links to other sites.
As far as technology, it's constantly changing and advancing. My first book didn't include replicators (which I remember from Star Trek) but in that case science fiction has already become science fact with 3D printers. I also found a prototype of an aircar with retractable wings that can also be used as a regular car on the highway.
For the most part, I used the internet for my research. So, if I had a question, I simply typed it into Google! It's easier than ever for an author to create a science fictional story world with all the research at our fingertips. The toughest part is keeping up with all the advances. As I continue to add books to the series, it will be interesting to see how many of the things I've added actually come to pass in the present.
Hathor Legacy: Revelations – Book Three of the Hathor Legacy Series

An enemy returns to spark new tensions between the Guardians and Novacorp. In the midst of the crisis, Nadira is given information about her parents that threatens to destroy her relationship to the Guardians and to Jonathan.

While Nadira searches for answers, Jonathan is enticed into the hedonistic world of the Novacorp executive class. His entertainment club attracts the elite of Hathor, but his notoriety comes with a price.

The worlds of the Guardians and Novacorp are put on a collision course where only one side may come out on top. Nadira is called on to make the ultimate sacrifice to save the legacy of the First Families, the original settlers of Hathor, while Guardians, Kasema and Deshtu groups are faced with the choice to unite or be brought completely under Novacorp control.

Old scores are settled and long-hidden truths are revealed, and at the end Nadira and Jonathan's relationship and their world will never be the same.
Enjoy an Excerpt:
"I just got word from security." The words tumbled out so quickly that Azure had to stop to take a breath. "It's Mikal. He's escaped the penal colony on a ship. Novacorp security lost track of it. They don't know where he is right now."
"He what?" It took her a moment to get her thoughts in order to reply. "But how could he? They did the Burn Order. It was supposed to destroy his mental functions, right?"
"Not all, obviously. The injection was only meant to destroy his PSI abilities. But he was still able to break out of the colony, steal a ship and get past all the security checks."
How had Mikal been able to escape a penal colony? He was supposedly neutralized by the chemical injection he was given after he'd been taken off Hathor. How had he even had the awareness to escape? Yet again, they'd underestimated him.
"He might have had help from someone at the colony," Nadira suggested. "Otherwise, how could he escape? Isn't it maximum security?"
"My child, I have no idea. We're still waiting for an update from the colony," Azure replied, "But we must be on our guard. I'll stay in Nova City until we receive word of his capture."
About the Author: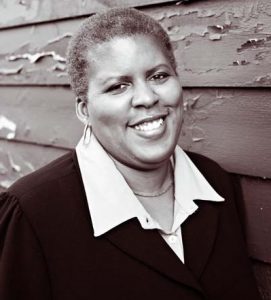 Deborah A Bailey's Science Fiction & Paranormal Romance novels include suspense, a bit of mystery and a lot of romantic heat. Her books include the Hathor Legacy science fiction romance series and the Family Pride shapeshifter paranormal romance series.
Her short stories have won awards from the Philadelphia Writers' Conference and have been published in US1 Magazine and the Sun and are included in, Electric Dreams: Seven Futuristic Tales. In her "other" life, she's a freelance technical writer and author of non-fiction books and articles for various online publications. http://www.BrightStreetBooks.com
Website | Twitter | Facebook | Pinterest | Instagram | Google+
Buy the book at Amazon.