Hi, everyone. I'm Samantha Grace, historical romance author, and it's great to be at LASR on my RELEASE DAY! There's hardly anything more thrilling or scary for an author than the day her book hits the shelves. Yet, no matter how excited I am to share One Rogue Too Many (Rival Rogues #1), today pales in comparison to January 7th sixteen years ago.
My baby boy was born that day!!! Of course my son wouldn't like me calling him my baby now that he's all grown up, but he'll always be that adorable little sweetie with blue eyes and a contemplative stare. I was smitten from the moment I saw him.
I had a similar reaction to the heroine in my new book. Granted a character can never generate the kind of love a mother has for her child, but author love is a strong force too. When Lady Gabrielle Forest first appeared on the page, I couldn't wait for her to grow up and have her own love story.
Lady Gabrielle Forest is the hero's younger sister from my debut book Miss Hillary Schools a Scoundrel (Beau Monde Bachelor #1). When Gabby showed up in her brother's story, I knew she deserved her own romance one day. I loved how she gave her rakish brother a hard time. She is outspoken, confident, and perfectly capable of holding her own in a battle of wits.
Anthony Keaton, Earl of Ellis, is the neighbor boy Gabby has known most of her life. At a young age, he lost his father and brother in an accident and inherited the earldom. His mother was heartbroken and turned to drink to dull her pain, ignoring Anthony. Fortunately, he found his own escape from his troubled home by becoming a semi-permanent fixture at the Forest household where he was warmly welcomed.
When Gabby's brother teased her, Anthony joined in, sometimes pulling pranks on her that made her so mad she would turn red. He liked getting a reaction out of her and eagerly sought new ways to incite her temper.
Not everything was contentious between them, however. Sometimes Anthony would sit quietly in the garden watching her paint her watercolors. He even posed in whatever ridiculous ways she could imagine when she did her sketches. He was mesmerized by how differently Gabby saw the world. She showed him there was beauty all around when he saw only ugliness at home.
Gabby realized she and Anthony were meant to be together long before he did, and she tried to convince him to wait for her. Even though Anthony cared for her, he thought she was too young to know her mind. He did what every dutiful gentleman does when he reaches the appropriate age. He found a wife. But Camilla was not the right woman for him, which he soon learned when she ran off with her lover.
Now that Anthony is a widower and a few years have passed, he has a second chance to marry the woman meant for him all along, but first he must deal with the competition.
Here's a sneak peek at One Rogue Too Many:
Gabby's feet felt fashioned of iron and her legs like taffy as her brother escorted her to the drawing room. She glanced over her shoulder at Anthony following behind them, silently praying he hadn't said anything about that day at Ellis Hall. She couldn't bear the thought of her family knowing she had disgraced them once again. He smiled reassuringly and her pulse slowed a smidge.
She and Luke sat beside each other on the settee while Anthony remained standing.
"Earlier today I asked for your brother's permission to marry you, and he was correct in withholding his consent."
Gabby shot a glance at her brother, but his expression revealed nothing. She didn't know how her brothers did it. Everything she felt showed on her face. It was quite unfair.
"In my zeal to become your husband," Anthony said, "I forgot an important step to any union. A proper courtship."
Luke's frigid posture melted and the beginnings of a smile showed at the corners of his mouth. But Anthony wasn't looking at her brother. He was watching her.
Pleasant warmth expanded in her chest.
"Therefore, my lady, I would very much like the opportunity to woo you as you deserve with flowers, rides in the park, and sweet words. May I have the honor of courting you, Lady Gabrielle?"
He wanted to court her, just as she had dreamed of many times. How could she refuse him?
She considered teasing him for his clichéd ideas on how to woo a woman, but in truth, she would welcome every overused romantic gesture recorded if it came from him. She wanted flowers, odes to her composed. She wanted trips to Gunter's and sweet nothings whispered in her ear during the waltz. Most of all, she wanted to feel as cherished as the women who had come into her brothers' lives, even if deep down she worried she didn't deserve that kind of love.
Anthony sighed, reminding her that he was awaiting her answer.
"Yes, Lord Ellis, you may court me. But don't think I will make it easy on you. If you insist upon wooing me, I expect you to be committed to seeing it through to the end."
Luke chuckled and patted her hand. "That's my girl. Well, Ellis. Do you agree to her terms?"
He nodded, a wide smile plastered across his face. "I do."
"You may begin tomorrow." Luke stood and offered her a hand up. She allowed her brother to escort her to the set of double doors but drew to a halt.
"May I see Lord Ellis out?"
"Don't linger. There is no understanding yet." Her brother patted her shoulder before leaving her in the foyer with Anthony.
Wesley brought his hat and cane forward, then discretely retreated to another part of the house. She knew the butler wouldn't go far, but she appreciated the small amount of privacy afforded them.
Anthony offered his arm, and when they reached the front door, he held her hand.
"Thank you for the flowers," she said. "They are lovely."
"I wasn't sure you had received them."
"I did." Gabby looked down at the marble floor and contemplated the rust colored veins. She felt unreasonably shy all of a sudden. The urge to ask why he insisted on courting her was on the tip of her tongue. He could have forced the issue if he truly wanted her by revealing what had happened between them at Ellis Hall.
A soft touch on her chin encouraged her to meet his gaze. His blue eyes shimmered with warmth. "I owe you an apology, Gabby. You deserve to be courted, and I missed that important piece. I don't blame you for not wanting to marry me."
"I never—" It was true her desire for him hadn't waned, but she had told him she changed her mind. "I'm sorry for turning you out this afternoon. Perhaps a fresh start is wise."
His thumb sketched a slow arc over her knuckles. "I agree. There is, however, one demand I have as we embark on this new beginning."
She raised her eyebrows. "A demand?"
"Yes, a demand. I won't compromise either."
She pulled her hand free of his grasp and crossed her arms. "Let me hear this demand, Your Majesty."
"End any involvement with Thorne. Either you want him or you want me."
She nearly laughed in relief. Discouraging Thorne seemed a reasonable request, one she would gladly grant. Making the baron listen was another matter.
She captured Anthony's hand again and aimed a flirtatious glance at him from beneath her lashes. "Lucky for you, it is you I want. Otherwise, you would be in a pickle. Ultimatums are a risky endeavor, Lord Ellis."
A corner of his mouth lifted as his arms snaked around her waist. Her heart leapt into her throat as his lips closed the distance between them. But he didn't kiss her.
"Is that so, Lady Gabrielle? Perhaps I think you are worth any risk."
"More likely you already knew what I would say."
"No. I hoped for the best, though." He touched his lips to hers briefly then pulled away, leaving her wanting. How many times had she relived that glorious moment in his drawing room at Ellis Hall?
She sighed when he released her to open the door. "Where are you going?"
"Another time, my lady. You heard your brother; I may begin my courtship tomorrow."
She followed him to the front stoop. "Well, you'd better be good at it to make up for that lousy kiss."
Anthony chuckled as he sauntered toward his carriage. "Prepare to be wooed."
Gabby rolled her eyes, but she couldn't hold back a laugh. "I shall retire early, though the anticipation may keep me awake all night."
He waved before climbing into the Berlin. "Sweet dreams, Lady Bug."
Oh, she would have dreams, but sweet they would not be.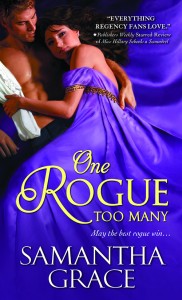 Thank you again to LASR for allowing me to share One Rogue Too Many, a book that is dear to my heart. To show my appreciation, I would like to offer a print copy to two readers. (US and Canada only, please.)
What event are you looking forward to in 2014?
Bio:
Samantha Grace is the author of several Regency romance novels. Publisher's Weekly describes her stories as "fresh and romantic" with subtle humor and charm. She writes what she enjoys reading: romantic comedies about family, friendship, and flawed characters who learn how to love deeply.
Samantha is a part-time hospice social worker, moonlighting author, and full time wife and mom. She enjoys life in the Midwest with her husband, two witty kids, and a multitude of characters that spring from her imagination.
To Connect with Samantha, you can find her at:
Samantha Grace Author | Facebook | Twitter | Goodreads | Lady Scribes