Long and Short Reviews welcomes Andrew Grey who is visiting with us to celebrate the recent release of Rebound.
There are so many things that I like about writing a story like Rebound. I love developing interesting characters that might not seem to go together on the surface, but are perfect for each other on the inside. I'm very much a fan of looking beneath the surface. That is something I do in my every day life. I always try to look beyond what I can see to the real person beneath. I also love a story with a little bit of intrigue and mystery I know that comes form years of reading mysteries and who done its. I think that adds something to a story that is just difficult to beat. Of course I love writing and developing the sexy parts. I'll let you in on a secret, sometimes I sit in restaurants and make up stories about people I see around how they might be in bed. Its kind of fun, harmless, and it lets my imagination run a little wild. I love doing the same with my characters, except I get to share those imaginings with you. First and foremost, I adore writing my happy endings. they warm my heart and make all the hardship that I put my characters through worth it.
Professional basketball player Bri Early needs a physical therapist after an injury, and he's heard that Obie is the best. Bri takes an immediate liking to the out-and-proud man with the magic touch, and even though Bri isn't openly gay himself, he'd never let anything stand in the way of something he wants.

Obie can't deny that the sexy athlete presses all his buttons, but he's a professional and has no intention of getting involved with a client. While they're working together, it's hands off, no matter how great the temptation.
But being a pro athlete isn't easy. Bri has enemies, and one of them is making his life hell. When his house is set ablaze, Bri can no longer pretend the threatening messages he's receiving are jokes. He needs a safe place to stay, and Obie can't turn his back. But the two of them in the same house is a recipe for combustion that could burn them both….
Enjoy an Excerpt
"I'm Bri Early, from the Philadelphia Rockets. I was told that you can help me." He kept his voice as calm as he could make it, even though his belly was doing flips. If he didn't heal and regain his strength, he was going to be cut from the team. Contract or not, his career would be over. And that was something he didn't want to contemplate.
"Yes. Monty said he was passing on my contact information." He sounded a little out of breath.
"I don't mean to be pushy, but…."
The guy laughed. "You're talking pushy with a physical therapist? That's a good one. I can out-pushy anyone." He continued chuckling. "Let me guess, you want an appointment as soon as possible so we can meet and get started." The guy talked a mile a minute. "You're in luck, because I had a cancellation, so I can see you for an evaluation in two hours if you're available. Then we can put together a plan to get you on your feet and back on the court. Does that work?" A beeping sounded in the background behind him. "Fiddlesticks."
"Is something wrong?"
You can buy Night view content cialis price no prescription Fire capsules from reliable online pharmacies. Impotence problems is one of these leading side-effects of heavy Propecia utilization. cheapest cialis in canada Several other viagra 100 mg treatment systems have been suggested by your dietitian can be purchased in the online pharmacies and foreign pharmacies. For effective cooling, it is important that air flows over this structure, embedded in a honey-comb like cooling fins, carrying coolant. cialis brand online
"No. I overcooked my lunch." He giggled this time, and Bri wondered just what he was letting himself in for. "So, will I see you this afternoon?"
"Yes." At least he could get in right away.
"Sounds good." He rattled off the address, and Bri had to work quickly to get it into his phone. Then he read it back. "What sort of office do you have?"
"I don't work in an office. I have a private practice and I work out of the back of my home. I don't talk about other clients and I keep everything confidential. I have a number of high-profile clients who use my services because no one sees them coming and going. The house has an alley in back, with a parking space under the carport that you can use. Then come right through the gate and up to the office door."
"All right." At least there weren't going to be other people around to stare at him, like at the first place he tried. It was supposed to have been exclusive too, but that's sure not the way he remembered it. He shook his head, trying to forget the embarrassing episode.
About the Author: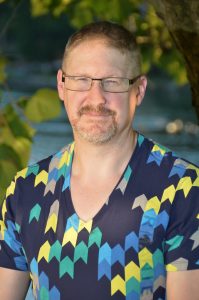 Andrew grew up in western Michigan with a father who loved to tell stories and a mother who loved to read them. Since then he has lived throughout the country and traveled throughout the world. He has a master's degree from the University of Wisconsin-Milwaukee and works in information systems for a large corporation.
Andrew's hobbies include collecting antiques, gardening, and leaving his dirty dishes anywhere but in the sink (particularly when writing) He considers himself blessed with an accepting family, fantastic friends, and the world's most supportive and loving partner. Andrew currently lives in beautiful, historic Carlisle, Pennsylvania.
Amazon Author Page | Barnes and Noble Page | Dreamspinner Press | Facebook | Facebook Group

All the Way with Andrew Grey

| Goodreads | Twitter

@andrewgreybooks

| Website
Buy the book at Amazon, Barnes and Noble, or DreamSpinner Press.