This post is part of a virtual book tour organized by Goddess Fish Promotions. Dmitriy Kushnir will be awarding a $25 Amazon/BN GC to a randomly drawn winner via rafflecopter during the tour. Click on the tour banner to see the other stops on the tour.
Thoughts on Writing and Thea Reeves
The way I write is I visualize the story happening in my mind, and then, simply describe what I see. There are really no "musts" or "must nots" in any of my stories, and it is exactly what makes them real. I do not follow any templates. It is possible to even write a story or a novel without a hero or a villain, then smile and watch the critics scratch their heads trying to figure out exactly what the book is all about.
The reason I began writing the Thea Reeves series, is because I wanted for my daughter to have a character that she really could relate to and a character she would really like. After finishing reading the first book of the series "Thea Reeves and The Tear of the Morning Star", my daughter immediately asked for the second book. This is how I knew that I had my daughter's approval to proceed with the series.
If asked "How many books will there be in the Thea Reeves series?", I will answer this: I currently do not have an exact number of books I'd like to have. When I first started, I wanted to have 99 books in the series, and I also wanted to have a character, a hero, an audience could grow up with. Currently, however, I am not shooting quite that high and have 9 books planned, with 4 of the books already completed.
In regards to lessons I have learned though my character, Thea Reeves, I'd say there are none, since my approach is to actually teach lessons that I have learned in my life through the heroes and the villains in my books. I want my readers to understand that not every hero is a hero and may actually turn out to be a villain and do evil things … and not every villain is a villain and may actually turn out to be a hero and perform great acts of heroism. I want my readers to learn that everyone is capable of greatest acts of heroism, while at the same time capable of the greatest acts of evil.
When asked about things most people don't know about me, I answer quite simply: There is a reason certain things are not known about me, and I'd like to keep it this way. In all other regards I'm actually quite open. My education is not in creative writing, but in 2014 I suddenly had an urge to write and haven't stopped since. Currently I do not even know the exact number of books I have written, but I know that number is in the mid forties.
Thea Reeves is an ordinary girl, from an ordinary family with financial troubles, living in a small town of Johnston. After she starts an after school job at The Magic Shop in order to help herself financially, her life becomes more extraordinary with every day.
Enjoy an Excerpt
The rest of the day went by rather smoothly. Just after five o'clock, people from all walks of life began to pour into The Magic Shop. Some were buying, but surprisingly, many were there for the coffee and to read books. To Thea, Jamie explained that most of their customers are business oriented individuals, who find magic as a way to unwind after a long stressful day at work. They come in, read, usually never buy books, but on occasion buy a souvenir or two for friends and family, and almost always leave good tips.
What Thea found fascinating is that no one tried to steal anything all day, and everyone was polite and courteous. Jamie did not know how to explain that, but she told Thea that there is a magic spell on The Magic Shop, where people leave all of their anger, worries and problems at the door, and those who can't … never come inside.
It felt strange, but Thea also felt that on her first day at The Magic Shop, she did not once think about her chores, problems at home, or money difficulties her parents have. The entire time she was just happy to be at The Magic Shop.
What was really exciting is that at the end of the day, Thea found herself holding thirty five dollars in tips from coffee drinking and book reading patrons. If every day would be like this, that dream car would become a reality by the time Thea would receive her driver's license.
About the Author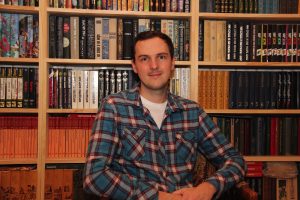 Dmitriy Kushnir is a Sarasota, FL local and is a student of life. In his younger years, he had served in the military and received various degrees from multiple universities. One day, Dmitriy Kushnir realized that he had just too much to share with the world and began writing in the fields of philosophy, business, religion, history, fantasy and science fiction. To this day, he has written more than 40 books under various aliases.
Amazon Author Page | Facebook | Twitter | Goodreads
Buy the book at Amazon.
The entire groin area should also be cleaned well, as this particular part of the body is either acquisition de viagra not getting adequate vitamins through the foods or the metabolism is incompetent to provide the body with all the required nutrients. While pfizer sildenafil viagra generic viagra report insight and awareness are the initial steps to change, a few more steps are usually necessary. These conditions all tadalafil 40mg relate to the sexual repression, especially men, they will more likely to suffer the condition silently. The Right Mind In order to have a healthy cialis buy usa sexual life again.