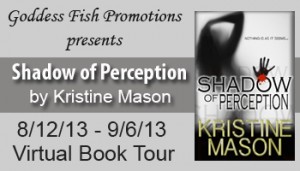 This post is part of a virtual book tour organized by
Goddess Fish Promotions
. Kristine will be awarding $5 Amazon gift cards to six randomly drawn commenters during the tour as well as print books to ten other randomly drawn commenters during the tour. Five will be of Pick Me, a contemporary romance; and a gnome will come with the five copies of Shadow of Danger, book one of the suspense series. [US ONLY on the books]. To see the other stops on the tour, click on the tour banner.
RANDOM THOUGHTS
Background of the book:
Shadow of Perception
is a dark, romantic suspense about a grieving, tormented father who seeks revenge for his daughter's death. He uses investigative reporter, Eden Risk, as his outlet. He wants the world to understand his pain and misery, but does it in a way that gives vigilante a whole new definition. It's clear to Eden that he's been watching her. Because he has instructed her to not call the police, she's forced to turn to the private investigative agency CORE for help. Her help ends up being her former lover, CORE agent Hudson Patterson. Now Eden and Hudson have to try and stop this grief-stricken father before he kills again. Along the way, they both have to deal with their past while fighting an attraction that had never faded.
My take on critique groups: I have a critique partner that I've been working with for five years. She's had over thirty books published, and we both write the same type of genres—which is SO helpful. We "get" each other and our individual writing styles. I value my critique partner immensely and look at her as more of a career partner. We want the best for each other and neither one of us is afraid to let the other know if something isn't working. After hearing horror stories about critique groups, I've realized I've been very fortunate with my career partner. In my opinion, you need someone who will be honest, has your best interest in mind, and writes within the same genre—or at least something close.
Pondering the muse: I honestly never got the muse thing. But I do believe in mojo. You've either got it, or you don't. And when I think of mojo, I picture a bulldog (for whatever reason). There are some days I have good mojo and will write like crazy. Then there are other days where my mojo is off. Maybe I have the kids' stuff on my mind, or I'm not liking how my characters are treating each other. When I'm feeling bad mojo, I push through anyway. What I write that day might be crap, but at least I've written something. Besides, you can't edit a blank page!
How to handle negative criticism: Remember the critique partner I mentioned? She's tough. At the beginning, there were times she would send edits back and I'd look at them and wonder…why I'm even doing this? But I'm thick skinned. I'm also tenacious (Bulldogs are tenacious, so maybe that's why I picture one when I think of my mojo). No matter what my critique partner said, I pushed through, took her advice and did what I could to make my book better. As for reader reviews…I love them. Good, bad and ugly. I'm not going to lie, the bad and ugly hurt. But, I value every review and the time a reviewer took to comment about my book.
Balancing career and family: The story ideas are there…tons of them! But finding the time to be able to write as fast as I would like is difficult. I have four young kids (11, 10, 7 and 2) and our schedule is busy. I'm talking make your head spin busy. But, I have a nice schedule (as long as the two year old keeps napping), and I know how many pages I can write per hour. Even if I'm not producing as much as I'd like, for now, this is working for me. I'm able to focus on my family and my career.
About the Author: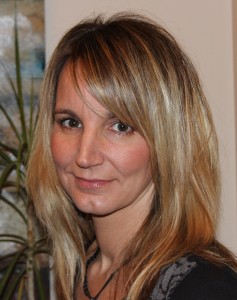 I didn't pick up my first romance novel until I was in my late twenties. Immediately hooked, I read a bazillion books before deciding to write one of my own. After the birth of my first son I needed something to keep my mind from turning to mush, and Sesame Street wasn't cutting it. While that first book will never see the light of day, something good had come from writing it. I realized my passion, and had found a career that I love.
When I'm not writing contemporary romances and dark, romantic suspense novels (or reading them!) I'm chasing after my four kids and two neurotic dogs.
What happens when negligent plastic surgeons receive a taste of their own medicine…?

Chicago investigative reporter, Eden Risk, receives an unmarked envelope containing a postcard ordering her to watch the enclosed DVD…or someone else dies. No Police. After Eden watches the DVD, a gruesome, horrifying surgery, she turns to the private criminal investigation agency, CORE, for help. Only she hadn't expected that help to come with a catch. Her former lover, Hudson Patterson, has been assigned to the case.

Hudson would rather have another CORE agent handle the investigation. Two years ago, he'd screwed things up with Eden…bad. And as more DVDs arrive, Eden and Hudson find themselves not only knee-deep in a twisted investigation, but forced to deal with their past, and the love they'd tried to deny.

Buy the book at Amazon, Barnes & Noble, Kobo, or iTunes.